The Lemann Foundation Programme is a comparative research programme with an emphasis on Brazil, which generates and disseminates knowledge to improve the public sector and its associated institutions.
What can Brazil learn from other countries, and what can other countries learn from Brazil? These are the questions that the Lemann Foundation Programme explores from the point of view of the people and organisations who compose the public sector, as well as those that engage with it.
Because we want our research to have real-world impact, we develop policy briefs, case studies, events and workshops – all taking aim at the challenges and opportunities facing those with professional responsibilities to serve their fellow citizens.
Our research projects are clustered into three themes. These themes are major challenges to good government and policymaking in Brazil, as well as issues of primary importance in many other countries.
Building back from Covid-19
The COVID-19 pandemic has brought unprecedented disruption around the globe. It has exposed and widened inequalities in many areas, including health and education. We aim to understand the pandemic's impacts as precisely as possible so that they may be substantively addressed, especially in the world's most unequal countries, such as Brazil.
Building integrity alongside an anti-corruption agenda
In Brazil, as in many other countries, corruption is consistently among citizens' top concerns. Meanwhile trust in institutions and in society at large are low. We seek to generate knowledge about how to reduce levels of corruption and nurture a trustworthy public sector in the long run. Our projects focus on institutional reform; how public organisations relate to one another; digital government; and the pressures facing civil servants, especially when it comes to issues of diversity.
Polarisation and service delivery
Political polarisation is acutely felt by many in the public sector. We investigate roadblocks faced by leaders and civil servants in this climate, and how these can affect public service delivery. Our aim is to identify pathways for overcoming negative impacts.
Newsletter
Our first official newsletter is now available to download.
Launch
Our official launch was held in November 2021. Thank you to everyone who attended. Over three sessions, we heard about opportunities for public sector reform from Timothy Power, Professor of Latin American Politics and Head of Oxford University's Social Sciences Division; we gleaned insights into three of Oxford's cutting-edge COVID-19 research projects – OxCGRT, CADDE and the Oxford Vaccine Group; and we discussed some common challenges that civil servants face, along with possible solutions. All three sessions are available on the Blavatnik School's YouTube channel.
In July 2022, the LFP hosted the international module of the master's program from Centro de Liderança Pública (CLP), a Brazilian NGO focused on leadership in the public sector.
For one intensive week, the 35 participants attended classes, case study sessions and practical exercises led by BSG faculty on working across political differences and using evidence in public policy.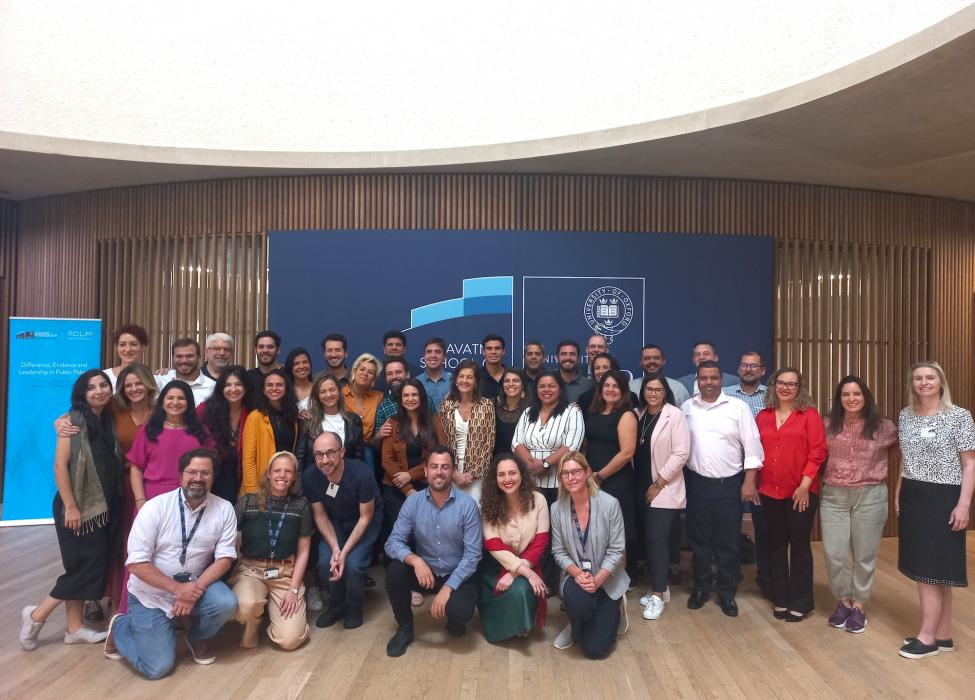 In Michaelmas 2021, the Programme kickstarted our Fellowship scheme. We are committed to offering at least one fellowship per academic year to an experienced academic or practitioner who dedicates themselves to the challenges facing the public sector, and who will be a valuable, long-term partner of the LFP in the years to come. The scheme allows fellows to visit the Blavatnik School of Government to further develop their understanding of specific policy issues, make connections in Oxford, and reflect on practices and outcomes across countries.
In 2021, the Programme welcomed two outstanding visiting fellows, Gabriela Lotta, professor in the Public Management and Government School of the Getúlio Vargas Foundation, São Paulo and Guillermo Toral, assistant professor at Vanderbilt University, United States, as the Visiting Astor Lecturer. Our 2022 fellow is Vera Monteiro, professor of Administrative Law at Getúlio Vargas Foundation, São Paulo.
This year, the Programme will also receive our first Fellow of Practice, Leany Lemos, former Planning Secretary of Distrito Federal and the State of Rio Grande do Sul and the first woman to head a subnational development bank in Brazil.
Please keep checking this page for new information about the selection process for 2023 Visiting Fellows.
The team supports a diverse community made of those who come to the Blavatnik School sharing our goals and ambitions. We also aim to encourage MPP and DPhil applicants from under-represented parts of Brazil and the Global South more broadly.
In the video below, Beatriz Azevedo De Araujo, from Fortaleza in Brazil's northeast, discusses the process of applying to the Blavatnik School and reflects on her year in Oxford.
Recent publications from the programme.