2020: a year like no other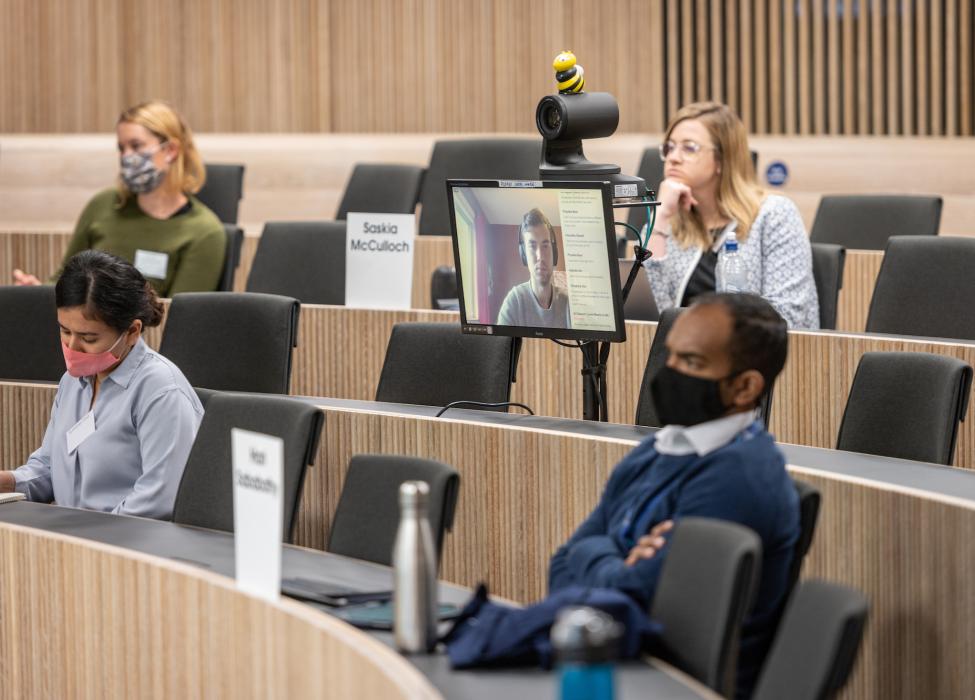 The importance of good government to the lives of every individual has rarely been so universally felt than in 2020, as leaders worldwide confront a pandemic and the trade-offs between health, livelihoods and freedoms.
COVID-19 has brought opportunities as well as challenges for us as a school of government, both in contributing to the global response and in adapting our own operations. Through flexibility and innovation we have emerged from challenging times stronger, closer, and more determined than ever in our goal to improve government worldwide.
Contributing to the global knowledge base
Faculty and students acted at high speed when the pandemic took hold to create the Oxford COVID-19 Government Response Tracker, which tracks and compares policy responses to the pandemic, and is powered by hundreds of volunteers around the world. Covering 190 countries and many subnational jurisdictions, it has become the primary information source worldwide for comparative information on what governments are doing in response to coronavirus. Its open data have been used by governments and media throughout the pandemic, and its findings have appeared everywhere from the BBC to the New York Times to speeches by New Zealand's Prime Minister Jacinda Ardern or Spanish Prime Minister Pedro Sanchez.
Even before the recent news of successful vaccines – including the University of Oxford vaccine – our faculty wrote about ethical frameworks for a fair allocation of vaccines as well as the ethics of risk in a pandemic. More on our COVID-19-related research and thinking.
Responding as a community
Many of our alumni have spent the year involved in the COVID fight. Humanitarian workers Aleksandra Wisniewska (MPP 2017) and Mariam Mikadze Giorgiadze (MPP 2016) stayed on in Yemen after COVID-19 broke out, even as other humanitarian workers were evacuated, to help with health, safe water, and even dead body management. Aleksandra wrote a moving blog about the support they provided one another. Mrunmai Joshi (MPP 2018) worked in the Government of Kerala's COVID-19 War Room; Zuzana Hlavkova (MPP 2018) volunteered in Slovakia's nationwide testing programme; Leimer Tejeda (MPP 2018) worked on the COVID-19 response in Cox's Bazar, Bangladesh, as part of her wider work responding to the Rohingya refugee crisis; and Serene Singh (MPP 2019) led a campaign to tackle misinformation across South Asia. Several of our alumni were right on the front line as doctors.
Moving the MPP online
In the second half of March, due to the rapid spread of the virus, people in the UK – including students – were asked to stay at home. But as soon as Trinity Term started, thanks to the efforts of everyone involved, our MPP students were able to continue their studies uninterrupted, albeit in a different format – fully online.
"Even in 'normal' times, there's nothing ordinary about the pace of innovation at the Blavatnik School", wrote MPP course co-directors, Karthik Ramanna and Adam Webster, highlighting how the MPP adapted to online teaching.
Students were also fantastic at adapting to the crisis, keeping the community spirit alive from all corners of the world. Dhruv Gupta wrote about community-building at a distance in his blog, and Michael O'Keefe underlined the importance of studying government in times of crisis.
Hybrid teaching
By the time September arrived and a new MPP class of 2020 was ready to start, the restrictions set out by the UK government had changed, allowing educational activity to take place in person, with social distancing measures and compulsory face coverings indoors. Michaelmas Term was delivered through 'hybrid teaching', with some students in the building and others joining online.
Learning from a changing reality
As a school of government grounded in evidence and practice, learning from real-life policy issues is central to our teaching and research. This year we took that up a notch and made the most of the learning opportunities that COVID-19 was putting in front of us. From testing leadership and crisis management through a case study that followed a day in the life of Professor Meghana Pandit (chief medical officer at Oxford University Hospitals NHS Foundation Trust) at the beginning of the pandemic, to adding a COVID-19 simulation to the Policy Challenge simulations, students were able to imagine themselves in the situation that many policymakers around the world were experiencing at that very moment, and to learn directly from those involved, including David Nabarro, World Health Organization Special Envoy for COVID-19.
Launching two brand new online courses
With life moving online for a lot of people, there was no better time to launch two new online courses (both open for enrolment right now). Inspired by MPP teaching, both courses are delivered fully online in eight weeks. The topics were timely too: Evidence in Public Policy looks at how to ensure policy has solid foundations based on facts – something particularly important for all governments this year – and Values and Public Policy explores the key moral and ethical concepts that underpin public policy, and helps understand the values behind questions such as: "Who should get a COVID-19 vaccine first?".
Admitting our biggest-ever class of MPP students
The unpredictable and changing situation caused by the pandemic over the summer left many of our offer-holders unsure about taking up their place on the MPP. The admissions team and faculty made an enormous effort to reassure everyone, and in September not only were most students able to join us in person, but we also welcomed our biggest ever intake of MPP students and awarded the highest ever number of scholarships. We also welcomed four new DPhil students.
Throughout the year, we have continued to adapt and innovate, delivering many public events in livestreaming (all available on our YouTube channel), welcoming new starters including a new Professor of Practice, and connecting with our global community of alumni who shared their thinking and experience on the blog.