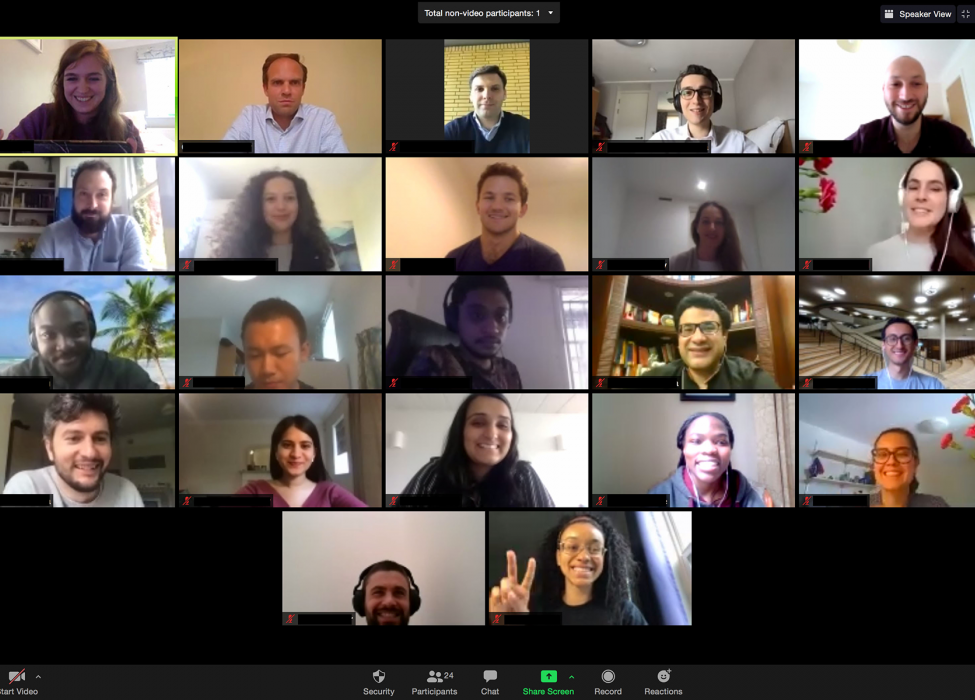 As Trinity Term draws to a close, the Master of Public Policy (MPP) class of 2019 have spent the past month taking part in Policy Challenge II simulations. Policy Challenge II is a key component of the MPP's applied approach, requiring students to draw together their theoretical knowledge and practical skills to address current policy dilemmas.
The circumstances of this year's simulations – with students logging in from across the globe to deliberate on their topics – highlight the need for policymakers to respond to evolving policy challenges, and the simulation topics reflected the complex and adaptive nature of policymaking. Alongside 'tried and tested' climate and counterterrorism options, a COVID-19 option was developed at speed by Emily Jones, Associate Professor in Public Policy, and Anna Petherick, Departmental Lecturer in Public Policy. Students were tasked with developing policy briefings to inform response and recovery strategies – firstly as members of the UN's COVID-19 Task Force, then as members of South Africa's COVID-19 Response Committee. "Many MPP students will soon have to grapple with this challenge in very real terms – some as decision makers in positions of power," says Anna. "These simulations help students develop the negotiation skills that will be essential to those leading these efforts."
In the weeks preceding the simulations, students gathered evidence and heard from expert practitioners and policymakers. This year's experts included David Nabarro, World Health Organization Special Envoy for COVID-19, Kelley Kizzier, Associate Vice President for International Climate at the Environmental Defense Fund, and David Waskow, Director of the International Climate Initiative at the World Resources Institute. A playlist with these expert interviews is available below (and on our YouTube channel).
Each of the options reflected the need for policymakers to think across disciplines, drawing on subjects they have covered throughout the MPP – from ethics and law, to healthcare and economics – and grapple with complex ethical challenges. The counterterrorism simulations, co-convened by Dapo Akande, Maya Tudor and Jeff Holzgrefe, saw students develop briefings for ministers or social media platform CEOs on the governance of online terrorist incitement. "Students had to get to grips with broader questions around defining terrorism and terrorist incitement," Maya says. "But they also needed to understand the technological, political and legal complexities of developing international regulations within the context of overlapping and contradicting cyberspace jurisdictions."
The climate change option, convened by Tom Hale, simulated preparations for the 26th Conference of the Parties (COP26) to the UN Framework Convention on Climate Change, now postponed to take place in 2021. Five years after the adoption of the Paris Agreement at COP21, governments' actions are currently deemed insufficient to keep to the agreement's target of limiting average global temperature changes to 1.5C. The Paris Agreement introduced a commitment to reviewing and, ideally, augmenting countries' commitments every five years. "With those new pledges now due, COP26 presents the biggest test to international climate cooperation since the Paris Agreement," says Tom. Students had to carefully navigate the intersection between science and policy, as well as surrounding questions on climate finance, trade and COVID-19 recovery, as they developed ministerial briefings in preparation for COP26. They then designed new or updated national pledges for seven countries.
Policy Challenge II crystallises the skills and subject expertise developed throughout the MPP, providing an opportunity for students to reflect on how to apply them in the workplace. These lessons will be fresh in the minds of the class of 2019 as they embark on their summer projects and continue in their careers as leaders and policymakers.