Oxford COVID-19 Government Response Tracker
Governments are taking a wide range of measures in response to the COVID-19 outbreak. The Oxford COVID-19 Government Response Tracker (OxCGRT) aims to track and compare government responses to the coronavirus outbreak worldwide rigorously and consistently.
Systematic information on which governments have taken which measures, and when, can help decision-makers and citizens understand the robustness of governmental responses in a consistent way, aiding efforts to fight the pandemic. The OxCGRT systematically collects information on several different common policy responses governments have taken, scores the stringency of such measures, and aggregates these scores into a common Stringency Index.
Data is collected from public sources by a team of dozens of Oxford University students and staff from every part of the world.
Data
OxCGRT collects publicly available information on 11 indicators of government response (S1-S11). The first seven indicators (S1-S7) take policies such as school closures, travel bans, etc. are recorded on an ordinal scale; the remainder (S8-S11) are financial indicators such as fiscal or monetary measures. For a full description of the data and how it is collected, see this working paper.
Download
You can download the data and notes. Recommended citation for database: Hale, Thomas and Samuel Webster (2020). Oxford COVID-19 Government Response Tracker. Data use policy: Creative Commons Attribution CC BY standard.
Please note
This is an ongoing collation project of live data. If you see any inaccuracies in the underlying data please contact us on the feedback form below. The underlying index is evolving as the situation and data evolves from country to country, and will change over time as the data gets more accurate.
Government Response Stringency Index
Our baseline measure of variation in governments' responses is the COVID-19 Government Response Stringency Index (Stringency Index). This composite measure is a simple additive score of the seven indicators (S1-S7) measured on an ordinal scale, rescaled to vary from 0 to 100. Please note that this measure is for comparative purposes only, and should not necessarily be interpreted as a rating of the appropriateness or effectiveness of a country's response.
World map indicating current stringency:

Relationship between number of COVID-19 cases and government response: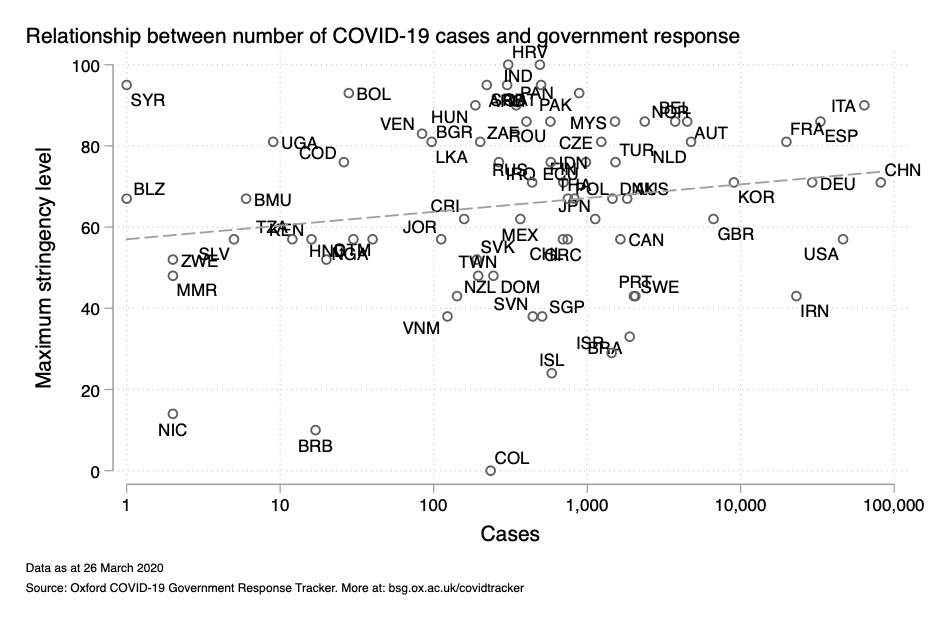 Comparison of six countries stringency by day: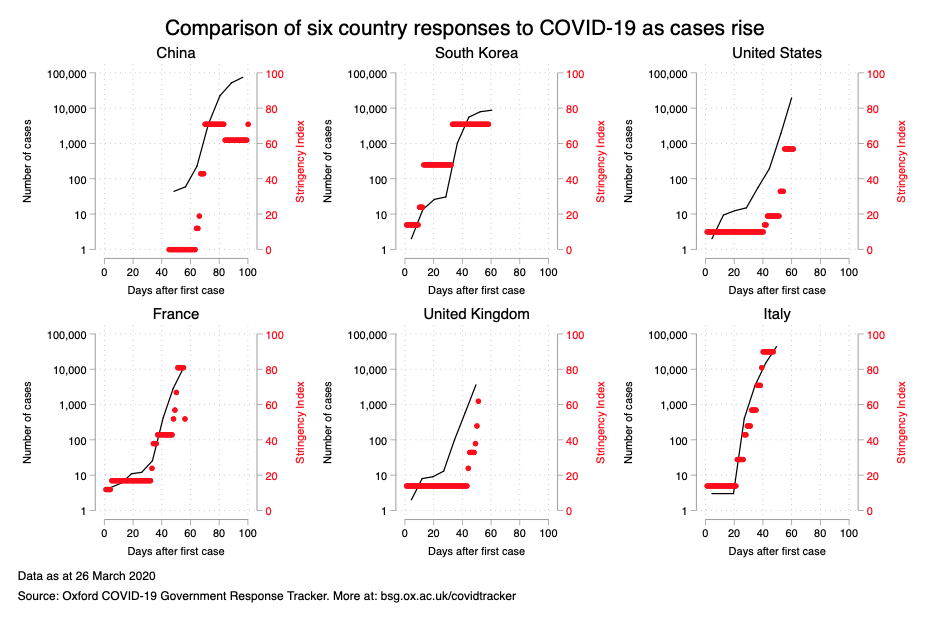 Feedback
For specific feedback on the analysis or any aspect of the data please fill in this form and submit to the OxCGRT team.
This data is provided free of charge. However, please consider contributing to the COVID-19 Fund for the World Health Organisation.  You can also find out more about supporting the work of the Blavatnik School of Government.
Media 
View the full press release about the Oxford COVID-19 Government Response Tracker. For media enquiries contact Giulia Biasibetti.
Contributors
Contributors to the project include: Andrew Wood, Anindita K. Listya, Arkar Hein, Babu Ahamed, Barbara Roggeveen, Ben Luria, Bronwyn Gavine, Charlotte Rougier, Chloë Mayoux, Clara Pavillet, Dane Alivarius, Dário Kuteev Moreira, Eric Cheng, Fatima Zehra Naqvi, Femi Adebola, Finn Klebe, Francesca Lovell-Read, Francesca Valmorbida McSteen, Hakeem Onasanya, Helen Tatlow, Ilya Zlotnikov, Isabela Blumm, Iyone Agboraw, James Fox, James Green, Javier Pardo-Diaz, Jenna Hand, Jessica Anania, Juhi Kore, Kangning Zhang, Katherine Tyson, Kristie Jameson, Laura Angelica Chavez-Varela, Lian Najami, Lin Shi, Liu Yang (Victoria), Louisa-Madeline Singer, Lucy Goodfellow, Marcela Reynoso Jurado, Martina Lejtreger, Maurice Kirschbaum, Melody Leong Mei San, Michael Chen, Natalia Elizabeth Espinola Lopez, Negin Shahiar, Oksana Matiiash, Olga Romanova, Pollyana Lima, Robert Gorwa, Salim Salama, Silvia Shen, Sophie Pearlman, Tanyah Hameed, Tatsuya Yasui, Tim Nusser, Tiphaine Le Corre, Twan van der Togt, William Hart, Zoe Lin and Zunaira Mallick.