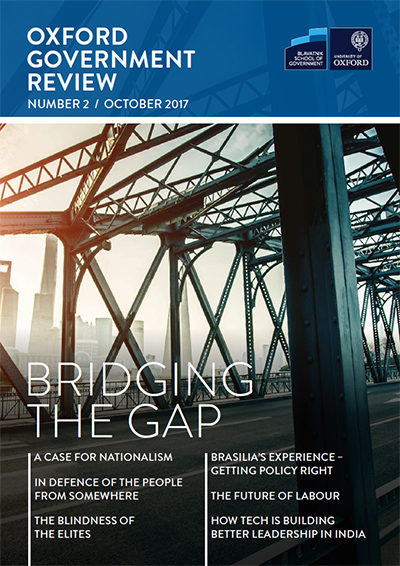 We are very proud to present the second issue of the Oxford Government Review, which tackles the issues faced by governments and leaders across the world.
Nationalism, for example, is often seen as part of the problem, but what if we looked at it as part of the solution, rethinking the narrative of democracy? In their contributions, Blavatnik School's Tom Simpson and Maya Tudor discuss the sense of identity and inclusive nationalism respectively.
Leany Barreiro Lemos, secretary of state for planning, budget and management in Brasilia, brings the successful experience of her city in creating policy that responds to needs of citizens. Blavatnik School's Jonathan Wolff explores the questions raised by technological change for the future of employment, while Janaagraha's Srikanth Viswanathan discusses how technology can enable large scale citizen participation.
Contributors to Bridging the Gap also include, amongst others, the former Israel minister and current president of Shenkar College (as well as visiting scholar at the Blavatnik School) Yuli Tamir, who shares her reflections on the "liberal blindness" and argues that "liberalism expected individuals to live beyond their psychological means."
The Oxford Government Review is inspired by conversations and discussions of the 2017 Challenges of Government Conference, the annual flagship event of the Blavatnik School of Government, which this year was focused on bridging the gap.
The publication also features interviews carried out by our former MPP students with key practitioners and speakers at the conference. Former US senator Russell Feingold makes the case for populism to help 'fix America', American sociologist Arlie Hochschild shares lessons from her time with president Trump supporters, and businessman and philanthropist Aigboje Aig-Imoukhuede discusses the importance of leadership in Africa.
The Challenges of Government Conference and the second issue of the Oxford Government Review were made possible thanks to the support and contributions from our knowledge partner, McKinsey Center for Government.