MPP students attend Global Education Summit
Six MPP students attended the 2021 Global Education Summit last July. We've asked them to share their reflections.
Estimated reading time: 5 Minutes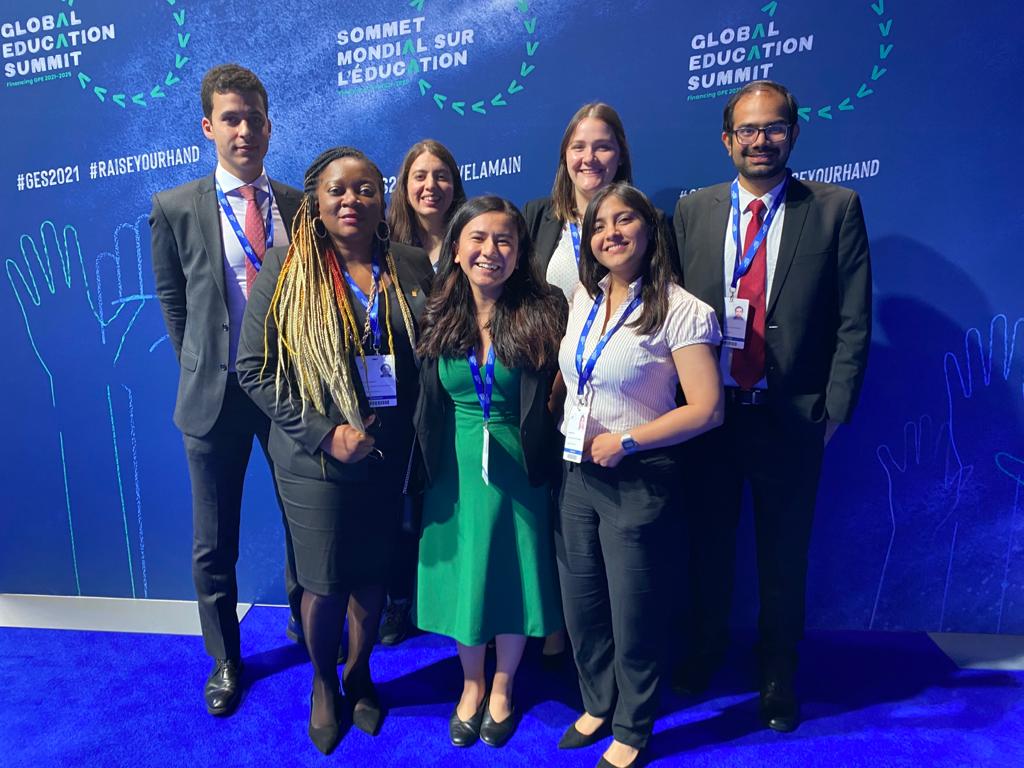 Last July, Rachel Hinton, a Visiting Fellow of Practice at the Blavatnik School and a Senior Advisor at the UK's Foreign, Commonwealth and Development Office (FCDO), supported a select group of six (then) MPP students to attend the 2021 Global Education Summit.
Hosted by the UK, Kenya, and the Global Partnership for Education, the Global Education Summit was a key moment that brought together Ministers of Education from around the world to advocate for increased funding to address the learning crisis. The MPP students were selected to participate because they are all future policymakers in their countries' education systems. The event is an example of how the School strives to create opportunities for MPP students to not only learn in the classroom, but also meet and learn from the world's top policymakers who are on the frontlines of change.
Taylor Panzer, United States
Because of my background as a high school teacher, I was honoured to have the opportunity to attend the Global Education Summit in London. Over the summer, I also got the chance to research and write about the learning crisis with the Research on Improving Systems of Education (RISE) programme at the Blavatnik School of Government. Around the world, most children attend formal schooling but many are not learning basic skills like reading and arithmetic. So I went into Global Education Summit excited to learn how governments were planning to tackle this problem.
I spoke with the Honourable Mamookho Phiri, the Minister of Education from Lesotho. While we were only booked for 10 minutes, our conversation lasted over 30 minutes as we discussed education in Lesotho and its various successes and challenges. When I asked Minister Phiri about the learning crisis, she detailed the vast urban-rural learning divide due to the mountainous and hard to access regions of the country – Lesotho isn't called the 'Kingdom in the Sky' for nothing! We spoke about innovative solutions to the learning crisis, including community-based approaches that work to involve parents, community members, and even retired teachers.
While many conversations at the Global Education Summit were focused on access to schooling, our conversation with Minister Phiri stood out due to her passion for education, her willingness to innovate, and her acute awareness of the need to improve learning, especially for rural children. With people like Minister Phiri leading the fight for educational equity, I am confident that we can create a world in which all children have the opportunity to learn.
Luiz Guilherme Pretti, Brazil
The opportunity to participate in the Global Education Summit and represent the Blavatnik School of Government was an inspiring experience. We started the day with a thought-provoking conversation with the Blavatnik School's RISE Director Professor Lant Pritchett, who exposed the differences between investment and funding, and stressed the importance of the first 100 days of schools reopening after COVID for the future of global education. Following speeches by Heads on State on the importance of education, I had the opportunity to interview Ministers of Education from different countries, including Tanzania, DRC, Côte d'Ivoire, and Sierra Leone, speak with leaders of third sector organisations, and meet Julia Gillard (former Australian Prime Minister and Chair of the Board of the Global Education Summit) and UK Prime Minister Boris Johnson. One of the highlights for me was voicing my concern to the UK Prime Minister's Special Envoy on Girls' Education, Helen Grant, regarding the lack of Latin American representation at the conference and in the Global Partnership for Education more broadly. Attending such an event was an empowering experience – one that reminded me of my own responsibility to take concrete steps to better our society once I've completed my degree at the Blavatnik School of Government.
Much to my excitement, I was chosen as a global youth leader for the Global Education Summit in late July. At the Summit I had the opportunity to meet various heads of government and interact with them on how they were "raising their hands" not only for this financing campaign, but also for the state of education in their countries.
I started my day with a conversation with Ghulam Farid and Shafqat Mahmood, Minister of Education Secretary and Minister for Education and Training respectively, both from Pakistan. Lant Pritchett, RISE Research director at the Blavatnik School of Government, also with me in the meeting, highlighted how devolution was a way forward and how distributing education authority would prove beneficial for the grim education affairs across the world. This surprisingly came at the right time when Pakistan was aiming to pass a National Single curriculum law. Moving to Urdu as a medium of instruction from English in place of a triple-tracked education system, the law aims to end the social and economic dominance of private schools over public schools and madrasas. I asked them why instead of capacitating the latter, Pakistan was using a regressive approach to bridge the divide forcing millions of children from English schools to not only adopt Urdu as a medium of instruction in their primary years of learning, but also undo the historic efforts made towards education, the portrayal of women in society and maintaining a secular approach in textbooks – a longstanding concern of minority groups. The Ministers stood on this with their Prime Minister Imran Khan, who believes that this devolved system had created a chasm between the rich and the poor in society, with the rich reaping most of the benefits, and this was the only way to end this slavery.
The most exciting part of my day was toward the end of the summit when I also had the opportunity to meet Helen Grant, a Member of Parliament in the UK. As a special envoy for girls education and a passionate advocate for women's rights, we spoke at length about the need for growing intervention to put girls in schools and how this solution could assist communities out of poverty, end gender-based violence and increase women's representation in public policy and governance. The conversation ended on a heart-warming note when I narrated to her my difficulties of receiving education during the shutdowns and curfews in Kashmir and having to bridge my foundational learnings all by myself. To my surprise, she said she knew about the situation in Kashmir. She said: "Sahreen, girls in Kashmir need you." To which I responded: "Of course, with help from the likes of you". This summit stood as a reminder of the burden of the responsibilities I carry on my shoulders because of the privileges I gained from my education at the Blavatnik School of Government.
My interest in education is a natural outcome of my interest in child development. Investing in education is investing in the future of our children. Thus, when I was informed that I had the opportunity to visit the Global Education Summit, I was over the moon. During my time in Oxford, I have met brilliant academics and students who wholly echo the need to place education at the centre of all international development agendas. I have also taken a course on education by Yuli Tamir as part of my MPP programme that reiterated the same message. But there was always a missing voice in these conversations.
The Global Education Summit, which focused on financing the Global Partnership for Education from 2021 to 2025, was my opportunity to interact with the missing voice – the practitioners and the politicians. This was my opportunity to peek into the minds of education ministers, senior bureaucrats, and heads of civil society organisations. At the Summit, I had the honour of interacting with the Minister of Basic and Senior Secondary Education for the Government of Sierra Leone – Dr David Moinina Sengeh. After completing his PhD at MIT and working extensively in healthcare across Africa, Dr Sengeh was now leading the education ministry for his country along with being the Chief Innovation Officer for the government. For me the biggest takeaway was the importance of tackling work culture when heading a legacy organisation (Education department) in comparison to setting up a new organisation (Innovation department).
I also had the opportunity to talk to the Director-General of Ghana Education Service, Dr Kwasi Opoku-Amankwa. In resource-constrained Ghana, where most of secondary schooling is delivered through boarding schools, the COVID-19 pandemic posed a greater challenge than in most other countries. Dr Opoku-Amankwa gave generously of his time to detail the government's remedial measures to recover the learning loss due to school closures. His humbleness amidst deep expertise was moving.
Last but not the least, the absolute highlight of my day was the conversation with Ms Baela Raza Jamil – a public policy specialist, an educationist, and an activist at heart. Ms Jamil hails from Pakistan. I hail from India. We spoke of the similar socio-cultural issues in India and Pakistan and how both countries' education systems can learn from one another. If there is one thing that my field work in India has taught me, it is that no change can be sustained without taking socio-cultural norms into consideration. Ms Jamil spoke in detail of her collaboration with the NGO Pratham – a pioneer in India's education space – that leads the renowned annual Annual Status of Education Reports, also known as ASER reports. Fruits of the India-Pakistan civil society collaboration can be seen through Ms Jamil's own work as she now also leads the ASER Pakistan reports. It was a delight to hear the story of how citizens in both countries came together for the future of our children. Interacting with Ms Jamil – an opportunity that would be hard to find in India today – left me with the heart-warming sensation that there is hope. Together, we need to fight for better education for all children. After all, as the Sanskrit phrase aptly puts it, Vasudhaiva Kutumbakam – the world is one family. We must all come together to fend for the future of our family – our children.
"There is no right age to be in politics. The younger the better", said Dr David Moinina Sengeh, the 34-year-old minister of education from Sierra Leone, when asked what he thinks is the right age to be in politics. This is a question I've been grappling with for many years now. Should I start my political endeavours right away? Or should I first gain professional experience outside of politics so as to be able to do justice to my 'chosen path'?
The Global Education Summit provided me with the answer I had been longing for. The summit was an experience that gave me many memories to cherish and learnings to reflect upon for life. After all, how often do you get an opportunity to do an elbow punch with Boris Johnson or to have lunch with multiple Heads of State. Amongst many important conversations that I have had on that day, the most striking for me was the one with Minister Sengeh. When I asked him whether his fellow ministerial colleagues take him seriously because of his age, he said: "At the beginning people don't take you seriously. But it is your work then that starts speaking. And then you become an integral part of all the discussions, because of your hard work and your skills". Intrigued by his response I further asked him if he ever felt that he could have been a better minister with some more work experience. To this his reply was simple: "Experience and learning are never enough. We all learn on the job".
This conversation immediately reminded me of one of the sayings of my idol, Mahatma Gandhi – "First, they ignore you, then they laugh at you, then they fight you, then you win". Dr Moinina's personal story gave me a strong anecdote against my long-held belief that experience first and politics later is the most apt way. I am convinced more than ever before that I should start transitioning towards my political endeavours right now – all thanks to the Blavatnik School for giving me the platform to attend Global Education Summit. 
Taylor, Luiz, Sahreen, Arunima, Anirudh studied for a Master of Public Policy (MPP 2020) and are now alumni of the Blavatnik School.