Confronting corruption and driving institutional change: a new case study featuring an MPP alumna
The Case Centre on Public Leadership has published the School's first case study that features a former MPP student, Soledad Núñez.
Estimated reading time: 3 Minutes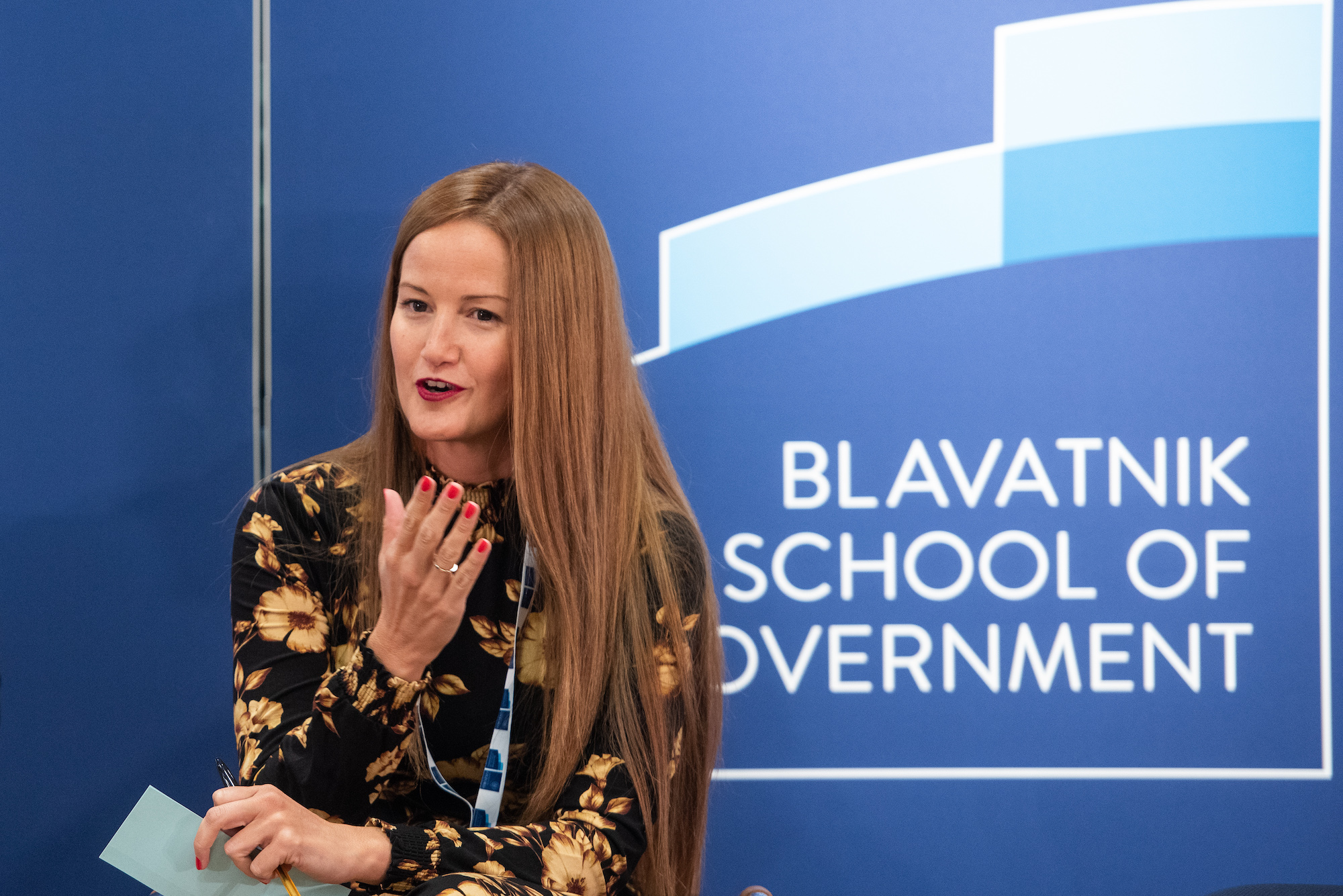 Endemic corruption is an issue which affects public administrations around the globe, with profound impacts on societies. Not only is corruption linked to diminished state capacity, increased polarisation, and greater organised crime, but it also has a large economic cost.
According to a 2016 IMF report, bribery alone represents a total economic loss of approximately 2% of global GDP every year. And when corruption is embedded in the culture of an institution, reforming such practices can prove challenging, something alumna Soledad Núñez (MPP 2018), the protagonist of a new case study by the Case Centre on Public Leadership, knew well.
Núñez was a 31-year-old civil engineer from the NGO sector with no experience in public administration when she was appointed housing minister of Paraguay in October 2014. The ministry had a reputation as one of the most corrupt agencies in the country and it repeatedly failed to reach its housing targets. Núñez knew that if she took on the role of minister, she would make powerful enemies, and her appointment would be opposed by many within the political establishment. But Núñez was determined to reform the ministry and fight the system of corruption that had gripped it so far.
The new Blavatnik School case study 'Confronting corruption in Paraguay's housing ministry' follows Núñez during her difficult first year in office, setting the scene for the complicated decisions she had to make as part of her role. The case-method style of teaching uses case studies to help students immerse themselves in a challenging situation from the protagonist's perspective, analyse the issue and come up with possible solutions.
Over the course of her first year in office, Núñez created new regulations and processes, committed to transparency and improved the reputation of the organisation, all while increasing the delivery of homes sixfold.
As part of her reform efforts, she also dismissed high-ranking officials revealed to be involved in corruption. However, as 2015 came to an end, one of these officials returned to the ministry when a court issued an order to reinstate him. Núñez had heard stories of the official handing out money and using agency funds to build a football pitch at his own house. Removing him, Núñez believed, had been an important signal to the whole system. Now, as news of his return spread through the offices, Núñez received word that some members of her staff were celebrating. Núñez was shocked: she had worked hard to change the culture of the ministry, but the official's return seemed to be threatening to undo her work already.
The case study ends with Núñez realising she needed to act quickly if she was to retain control of the situation, and asks students to decide what they would do in her situation. The case study was prepared as part of the new Lemann Foundation Programme for the Public Sector. It was taught for the first time by Professor Karthik Ramanna in Policy Challenge 1 in Michaelmas 2021, and Núñez was able to join the class in person for a Q&A session following the case discussion. We asked several students for their reactions.
"The case was very close to me since dealing with corruption schemes is, unfortunately, a reality across many countries in Latin America. An outstanding balance between real politics and personal experiences brought up a unique vision of significant political decisions. It was a privilege to meet alumni and learn from their knowledge on how to serve better. It was exciting, practical, real, human, and incredibly inspirational."
Iván Chanis Barahona (MPP 2021, Panama)
"Soledad's case teaches us about the value of radical transparency for decision-making. To build trust between her organisation and the public, it was absolutely fundamental that citizens were able to scrutinise the work of the public officials. But more importantly, radical transparency improved the decisions made inside the Ministry because Soledad and her colleagues were constantly aware that they had to be able to justify their choices to others. These lessons apply far beyond Paraguay and are of great value to anyone with leadership aspirations."
Nina Möger Bengtsson (MPP 2021, Denmark)
"It was thrilling to read a case about a young female protagonist who was about my age at the time of the case, working in an influential government appointment that had tangible effects on the lives of the population in Paraguay. I could relate to many of the challenges of working in male-dominated spaces and needing to prove yourself. Meeting and hearing Soledad's experience and decision-making first-person as she walked us through that dramatic day made the case even more real. It was an inspiring case to say the least, and I am looking forward to seeing what Soledad does next."
Brittany Powell (MPP 2021, USA).
The Case Centre hopes this will be the first of many case studies featuring Blavatnik School alumni and would like to encourage any alumni with a story that could be relevant to MPP teaching to get in touch with Sarah McAra and Oenone Kubie at casecentre@bsg.ox.ac.uk.
The new Blavatnik School case study 'Confronting corruption in Paraguay's housing ministry' was co-authored by the Director of the Lemann Foundation Programme Anna Petherick, Professor of Practice of Public Integrity Christopher Stone, and Senior Case Writer Oenone Kubie.