What can governments do if they want the support of their citizens?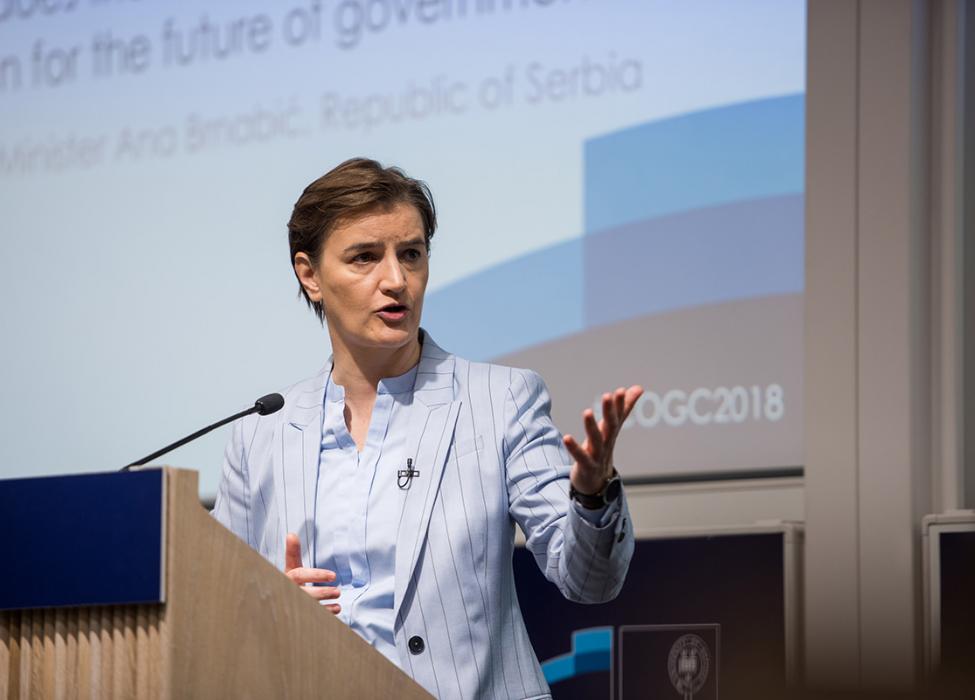 What's the 'future of government' in an era of changing politics, technological revolution, and growing inequality?
This was the theme of the Blavatnik School's annual Challenges of Government Conference. Over 300 participants from around 80 countries joined our faculty, students and staff for the two-day event, which featured keynote speeches from Serbian Prime Minister Ana Brnabić and Jennifer Musisi of Kampala Capital City Authority.
The list of speakers included, amongst many others, Canada's chief trade commissioner Ailish Campbell; YouTube's chief of staff (and MPP alumnus) Alexander Diaz; Diego Piacentini, who led the digital transformation for the Italian government; Vera Songwe, executive secretary of the UN Economic Commission for Africa; Bronwyn Hayward, one of the authors of the recent IPCC report on climate change; Sir Clive Cowdery, founder and chairman of the Resolution Group; and Jamie Drummond, co-founder of advocacy organisation ONE.
At the end of the conference, Professor Ngaire Woods, dean of the Blavatnik School, shared the following five thoughts on what governments urgently need to be doing if they want the support of their citizens:
Use technology to eliminate the queuing and tyranny of bureaucracy (inspiration here from Prime Minister Ana Brnabic and Italy's Digital Commissioner Diego Piacentini). Some basic advantages are not being reaped in spite of how cheap technology has become (as evidenced by World Bank Economist Shanta Devarajan).
Use digital platforms to help bring local communities together on local issues (Miguel Lago from Meu Rio cites reversing the closure of a local school). But these platforms needs to be designed to give voice to minorities and some of the weakest in society, or they will be megaphones for loud majorities to trample the rest.
Regulate social media platforms as publishers. They are fuelling fires which put us all at risk. In the Philippines where Facebook gives free data to all its users, two bloggers reaching 7.1 million people spread conspiracy theories and shout down, hound and harass their critics (as presented by Davey Alba of Buzzfeed). Violent and hate-filled content is not just being posted to sites but is being steroided by companies keen to reap the profits from such compelling clickbait. Governments need to require all social media companies to take responsibility for the content they are publishing and promoting.
Governments need to be better referees if free markets are to work. Public policies, not markets, have driven a dramatic increase in inequality over the last 30 years – especially policies on tax, labour markets, trade unions, inflation, and housing (as Resolution Group's founder Clive Cowdery showed). The government as referee needs to remember that politicians are not elected to seize public power and use it to project personal whims. They are elected to make well-informed decisions which balance competing interests, demands and beliefs. To do that they need an outstanding public service - to inform and challenge them, and to implement policies in the public interest. 
Three steps to making public service great again were recounted by global leaders from UK, USA, Uganda, Georgia, and more. First, let public servants find solutions rather than imposing plans and targets. Second, empower them to act rather than  designing rules to stop them making bad decisions. Finally, enforce zero tolerance on corruption. Back them on all things except corrupt decisions.
The Blavatnik School would like to thank McKinsey Center for Government who made it possible for the School to make the conference accessible to all. 
All the panel discussions and keynote speeches are available to watch online.
If you are interested in attending future Challenges of Government Conferences register your interest here.