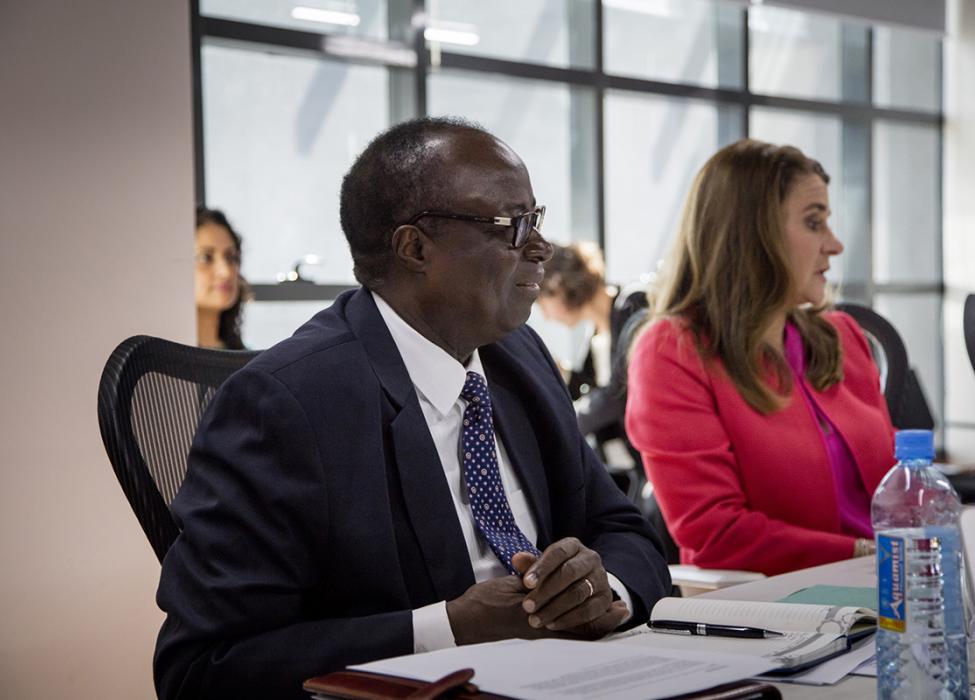 The School is sad to learn that Professor Benno Ndulu has died.
Benno, an economist and the former Governor of the Central Bank of Tanzania, was a longstanding Visiting Professor at the School, the Academic Co-Director of the Pathways for Prosperity Commission (based from the School), and a Senior Adviser on the Digital Pathways at Oxford programme.
Benno officially became a Visiting Professor at the School in 2018, but his involvement with the School began in late 2017 with the inception of the Pathways for Prosperity Commission on Technology and Inclusive Development, of which he was academic co-director with Professor Stefan Dercon. The Commission focused on providing evidence and policy recommendations about technology's potential for inclusive growth to developing countries' governments.
Professor Ngaire Woods, dean of the Blavatnik School, said:
    "Benno Ndulu exemplified outstanding public leadership. A brilliant, humane man with wonderful humour, whose sharp incisive mind made sense of complex issues, and whose empathy kept him in close touch with all those he served." 
In 2020, as the Commission concluded its work and developed into the Digital Pathways at Oxford programme, Benno remained closely involved as a senior advisor to support the programme's aim of facilitating inclusive digital transformation.
Elizabeth Stuart, Executive Director of Digital Pathways at Oxford, said:
"Benno was passionately committed to digitalisation as a solution for the poorest countries to finally be able to make the advances their populations so desperately need. The energy he dedicated to this was unwavering, whether it be financial inclusion, the potential of the platform economy to create jobs for young people, or – work he was excited to start next – more detailed empirical work on gender and access, which would, as always with Benno, have been as academically rigorous as it was immediately available to policy makers. Just before he died he was to present an important study in which he set out in great detail evidence for how African policy makers should tax digital services – an urgent, live policy question.

His guidance of the Digital Pathways work in all of the above was priceless. He was a brilliant tactician – always knowing just what to say and who to talk to to unblock the sticky political blockages that so often stand in the way of change.

That he was an extraordinarily prolific man was evident from his resume – central bank governor, set up Tanzania's revenue service, long time World Bank senior economist, established a pan-African economic research network, was on President Ramaphosa's economic advisory council, represented the IDA-recipient countries in negotiations with the World Bank about lending priorities.

But what could not have been told from reading the long list of his achievements was his humility. He was a true public servant, deferential to everyone in his urgent desire to support progress, when others in his position might have demanded deference to themselves.

And at the same time as all the above (he had at least four day jobs) he was still writing papers, tending to his farm in the countryside when he got the opportunity, mentoring various policy leaders across Africa, and running 10k daily. It was both and honour and a delight to work with him and we will miss him enormously, personally and professionally."
Biography
Benno was appointed Governor of the Central Bank of Tanzania in January 2008 and remained in post until 2018. He presided over Tanzania's macroeconomic stabilisation and implemented prudent policies overseeing its strong economic performance over the past years. He supported the expansion of Tanzania's financial inclusion by licensing commercial banks, introducing agent banking and tapping into the growth of mobile financial services.
He started his career at the University of Dar es Salaam in the early 1980s before joining the World Bank as a lead economist covering east Africa.
Benno is well known for his involvement in setting up and developing one of the most effective research and training networks in Africa, the African Economic Research Consortium. He served as its first Research Director and later as its Executive Director.
In 1997, he received an honorary doctorate from the International Institute of Social Studies (ISS) in The Hague in recognition of his contributions to capacity-building and research on Africa. Following his PhD degree in economics from Northwestern University in Evanston, Illinois, Benno taught economics at the University of Dar es Salaam, and has published and taught widely on growth, regional integration, adjustment, governance, trade and investments.