Introducing the new AIG Fellow: Georgina Wood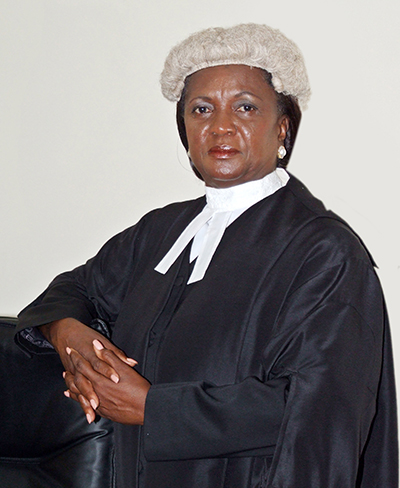 We are delighted to announce that former Ghana's Chief Justice Georgina Wood will be the new Africa Initiative for Governance (AIG) Visiting Fellow of Practice for 2017-2018 at the Blavatnik School of Government.
The AIG Fellowship is awarded each year to an individual from West Africa who has demonstrated evidence of outstanding contribution to the public good, through exemplary leadership in public service. Wood was the first woman to occupy the position of Chief Justice of Ghana in 2007 – at the time, she was the highest ranked woman in Ghana's political history. After a stellar career in Ghana's public service and judiciary, she retired in 2017, but is still a member of the Council of State of Ghana. She also serves on the board of international justice and human rights organisations such as the Global Justice Center.
Justice Mrs. Wood (rtd.), said: "I am honoured to serve as the 2017-2018 Africa Initiative for Governance (AIG) Visiting Fellow of Practice at the Blavatnik School of Government. I look forward with excitement, to utilising this platform to contribute to the deepening of democracy and good governance in Africa. I believe that a strong public service anchored on leadership with integrity is one of the key drivers of development that can transform the lives of our people positively."
Professor Ngaire Woods, Dean of the Blavatnik School of Government said: "This is a further exciting step in our partnership with Africa Initiative for Governance. Chief Justice Wood has made an outstanding contribution to public service in Ghana. We look forward to learning from her during her Fellowship at the School." 
Our students and faculty will benefit enormously from hearing about Chief Justice Wood's experience and expertise in the Ghanaian public service and international human rights.
The AIG Fellowship is part of the five-year partnership established in 2016 between the Blavatnik School and AIG, which brings outstanding senior practitioners from West Africa to the School as AIG Visiting Fellows. The inaugural AIG Fellow of Practice was Professor Attahiru Jega, former Executive Chairman of Nigeria's Independent National Electoral Commission (INEC).
Aigboje Aig-Imoukhuede, AIG Founder and Chairman, said: "The AIG Fellowships were instituted to enable Fellows expand their knowledge and leadership in the field of public policy and, after the Fellowship period at the School, help to drive AIG's vision for transformational public-sector leadership across Africa. We are very pleased to have Justice Mrs. Wood (rtd.) as the AIG Fellow for 2017 to 2018. Her trail-blazing experience is truly inspirational and her wealth of knowledge will be of continued benefit to our continent and to young people who aspire to do great good in public service."
As part of the partnership, AIG also provides scholarships for exceptional West African students to study for a Master of Public Policy (MPP) at the Blavatnik School.
During time spent in Oxford as part of the Fellowship, Chief Justice Wood will meet with the School's faculty and students and in particular, she will spend some time with the new AIG Scholars, who have just started their Master of Public Policy.