11 May 2023, 09:00 - 18:30
Blavatnik School of Government and online
Free – register to attend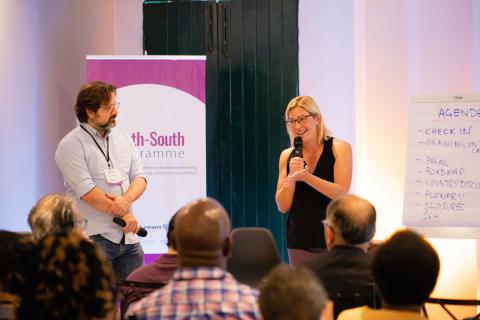 Join the Lemann Foundation Programme for a full day of discussion on the transformative power of diverse coalitions and shared learning across the Global South, as we celebrate the first year of the South-South Programme and the launch of a global public goods library focused on foundational learning and education policy.
The South-South Programme was developed as a partnership between the Lemann Foundation Programme and the Lemann Centre for Leadership and Equity in Education. It started with a mutual understanding that advances in foundational learning could come from sharing experiences between Global South countries and that concrete policy changes can be enacted when diverse stakeholders come together behind a common goal.
In its first year, the Programme had as participating countries Pakistan (with ITA's support) and Kenya (with Zizi Afrique's support) and Brazil as the host country. Fellows selected from the education field in each country had an opportunity to share experiences and visit the city of Sobral in Northeast Brazil, an exceptional example of educational policy transformation under challenging conditions. Over time, fellows built local coalitions and advanced their own reform priorities in education.
The first session 'How to Address Global Needs: Coalitions and Potential' will feature the leaders of the programme's NGO partners who will share their experiences of creating and empowering coalitions in their countries and building a transnational network via the South-South Programme.
The second session 'Global Public Goods' will explore the concept of Global Public Goods, their potential in informing educational policy action, and the strength of focusing on Global South experiences.
This will be followed by a discussion on active learning pedagogy and its role in developing global public goods. The Blavatnik School's Case Centre on Public Leadership specialists will be present to talk about the case method, and attendees will have the opportunity to experience some of the material first-hand in three separate sessions.
In the afternoon, Luis Benveniste (World Bank), Clare Leaver (DeliverED and RISE), and Filipe Recch (Lemann Foundation Programme's expert in education) will wrap-up the South-South Programme celebration focusing on next steps and discussing 'global needs in education'.
 
For those that would like to continue discussing education policy on the Global South, you are welcome to join the MPP-led panel 'Evidence-based Hubs in Education' just afterwards. The panel will be chaired by Calum Miller, COO, Blavatnik School of Government. If you are interested, please sign-up on the event page.
 
Timetable
Time 

 Session

09:15 – 09:30  
Welcome 
Ngaire Woods, Dean, Blavatnik School of Government
Anna Petherick, Associate Professor of Public Policy, Director of the Lemann Foundation Programme
Rachel Hinton (Global Education Research Lead, FCDO)
09:30 – 10:45
How to Address Global Needs: Coalitions and Potential
Chair: Filipe Recch, Lemann Foundation Programme
Anna Penido (Brazil: Lemann Centre for Leadership and Equity on Education)
John Mugo (Kenya: Zizi Afrique)
Baela Jamil (Pakistan: ITA Center of Education and Consciousness)
10:45 – 11:00
Break 
11:00 – 12:45
Global Public Goods 
Chair: Anna Petherick
What can the Global South teach the world in terms of GPGs?
Filipe Recch, Lemann Foundation Programme
Martin Carnoy, Stanford Graduate School of Education
What are Global Public Goods? – active learning pedagogy
Anna Petherick 
Interactive sessions
12:45 – 16:00
Break
16:00 – 17:00
High-level panel: Global Needs in Education
Luis Benveniste, World Bank
Clare Leaver, Professor of Economics and Public Policy, Co-director of DeliverED and Research Coordinator, RISE
Filipe Recch, Lemann Foundation Programme
17:15 – 18:30     
MPP-led panel: Evidence Hubs and Education Policy Impact
Please sign up separately to this event if you wish to attend.
Partners