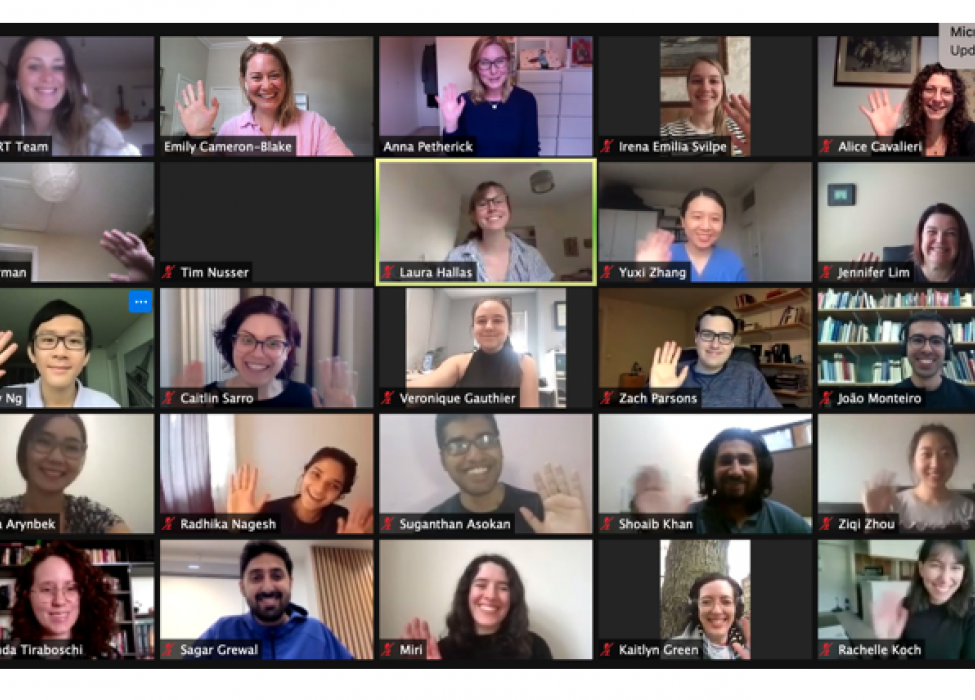 The Blavatnik School team behind the world's most-cited dataset of pandemic policy decisions is concluding three years of real-time information-gathering, and celebrating the 1,500 global volunteers who powered the project. They are also challenging governments to replicate their data approach in time for the next pandemic.
The Oxford COVID-19 Government Response Tracker (OxCGRT) has been used by governments worldwide to inform their pandemic responses. Launched in March 2020 just after the UK went into lockdown, it has tracked and recorded, in real time and for every country in the world, evolving policies on vaccination programmes, mask mandates, lockdowns, school closures, travel restrictions, income support, and more. Relied on by governments and journalists throughout the COVID-19 crisis, it is now a huge resource for researchers and policymakers as they try to prepare for future pandemics.
The tracker answered the question both decision-makers and members of the public were constantly asking during the heat of the crisis: 'What are other countries doing?'. It has been referenced in the UK's House of Commons, in speeches by the prime ministers of New Zealand and Spain, and hundreds of times across the worldwide media. The team behind it have published multiple analyses of COVID-19 policy using its data, from briefings for top decision-makers to academic papers in Nature Human Behaviour and PLoS ONE. Its data has appeared everywhere from the Bank of England blog to a major OECD report, and it has more than 3,000 citations on Google Scholar.
But this resource might never have been available. It was the product of a Blavatnik School class, convened online by faculty members Professor Thomas Hale and Dr Anna Petherick just after the UK went into lockdown. Our Master of Public Policy students, representing dozens of countries, talked about what their own nations were doing in response to COVID-19. Tom and Anna, realising the potential to offer structured global insights on the developing crisis, created an online database with help from a willing volunteer, and asked students to start filling it in. 
'I quickly went from thinking of OxCGRT as a fun little exercise, to realising that we could not put it down', says Anna. 'Our graphs were suddenly in briefings to the UN Secretary General. The Financial Times needed our API running smoothly because our data was automatically spilling into its live charts.' 
As Blavatnik School students signed up, then other Oxford University students, then volunteers from all over the world, the project mushroomed. Over 1500 volunteers from over 100 different nations have gathered data in real time from 187 countries and 200 subnational jurisdictions (such as the US and Brazilian states). With the data freely available to all, data visualisers from major media outlets as well as the Our World In Data team brought the tracker's findings to life for the public. 
'Our volunteers weren't doing something quick and easy', says Tom. 'They had to undergo detailed training on how to research a country's COVID-19 policies and how to then code that in the database. They did that detailed policy research week in week out, meticulously entering it in the right format to the database twice a week, every week, over almost three years.
'Volunteers gave up so much time because they wanted make a contribution amid this global crisis', says Anna. 'Many were doing degrees or research in health and public policy, and so the project aligned with their interests and skills.'
Now, the tracker represents a vast resource that health experts, researchers, policymakers and historians will draw on long into the future. With 21 indicators for 387 jurisdictions over 1,095 days, it holds roughly 8.9 million data points.  
The team will celebrate the volunteers' service at an event tomorrow featuring the volunteers themselves as well as the Director General of the World Health Organization and the WHO's special envoy on COVID-19.
They are also looking to the future, and challenging governments to take preparation for the next pandemic much more seriously. As part of this, they have proposed a data framework  that governments and multilaterals can use to embed data systems for themselves, based on what the team has learned over the last three years. 
'Global pandemic response systems remain roughly where they were in 2020', says Tom. 'Among the many lessons countries are still not learning, perhaps the need for good-quality sources of data is the most fundamental. We hope governments and multilaterals will take up the baton we're extending.'