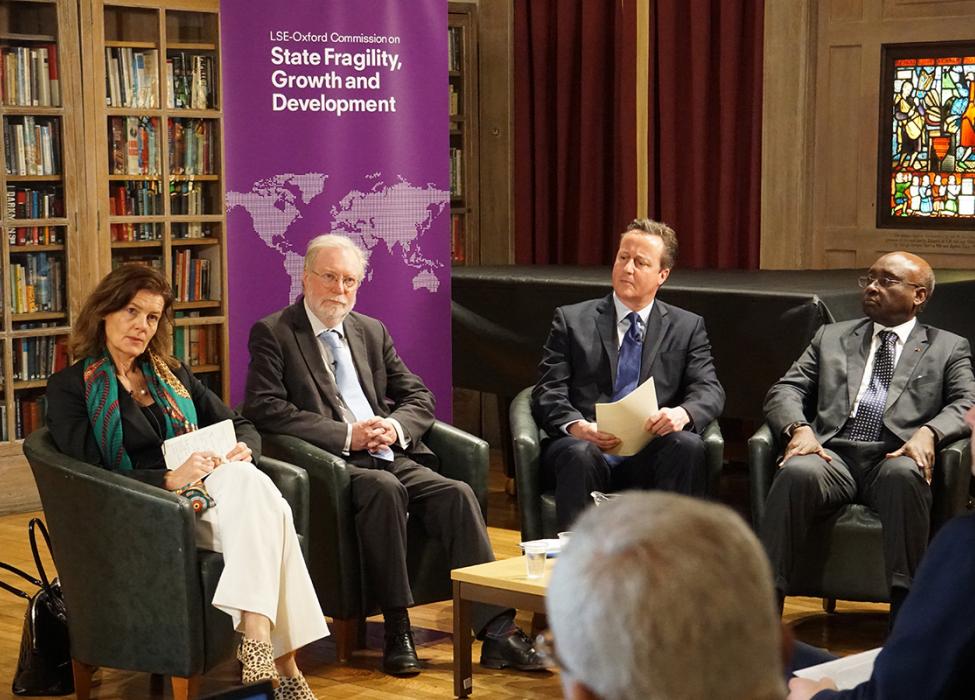 Former UK Prime Minister David Cameron and the Blavatnik School of Government's Professor Sir Paul Collier spoke last night at the official launch of the LSE-Oxford Commission to guide policy on economic growth in fragile and conflict situations.
Speaking in London to an audience of ambassadors, MPs and senior policymakers from the UK government, as well as academics, NGOs, businesses and the media, Mr Cameron – who co-chairs the Commission – underlined the importance of tackling global poverty and of changing the approach to aid.
Mr Cameron said: "This is an issue whose time has truly come. Soon, more than half the world's poor will live in fragile states and regions. State failure is not a one-way street. And with our findings we can set out the road map of recovery for more countries than ever."
The Commission on State Fragility, Growth and Development will address fragile and conflict situations globally and generate policy recommendations for governments, international donors, and NGOs to better support economic growth in affected countries.
The Commission will be co-chaired by Donald Kaberuka, former President of the African Development Bank, and Adnan Khan, Research and Policy Director of the International Growth Centre. Professors Sir Paul Collier (Blavatnik School of Government) and Tim Besley (LSE) will be the academic directors. In addition, eight leading figures from the public sphere, academia, and the private sector will serve as commissioners – including the Blavatnik School's dean, Professor Ngaire Woods.
Professor Collier said that state illegitimacy is one of the key reasons for state fragility, making tax collection and reform difficult. He said that governments in developing countries must build trust to combat fragility, running effective services and providing quality infrastructure, as well as promoting a strong private sector. "Citizens will buy into their state when they are successful," he continued. "Failure demotivates citizens. Tackling violence in fragile states relies on catching its causes earlier and stopping it."
Mr Kaberuka shared his experiences from the Ebola crisis and highlighted the importance of a fair taxation system that delivers services in building state legitimacy and public trust.
Professor Woods talked about the tensions and political pressures that stop funds reaching the correct places. She said that collaboration between donors, technology in the form of cash transfers, and new donors with innovative approaches are all reasons to be optimistic for the future.
The panel then took questions from the audience covering issues such as corruption, displacement, and UK aid.