Meet the MPP class of 2019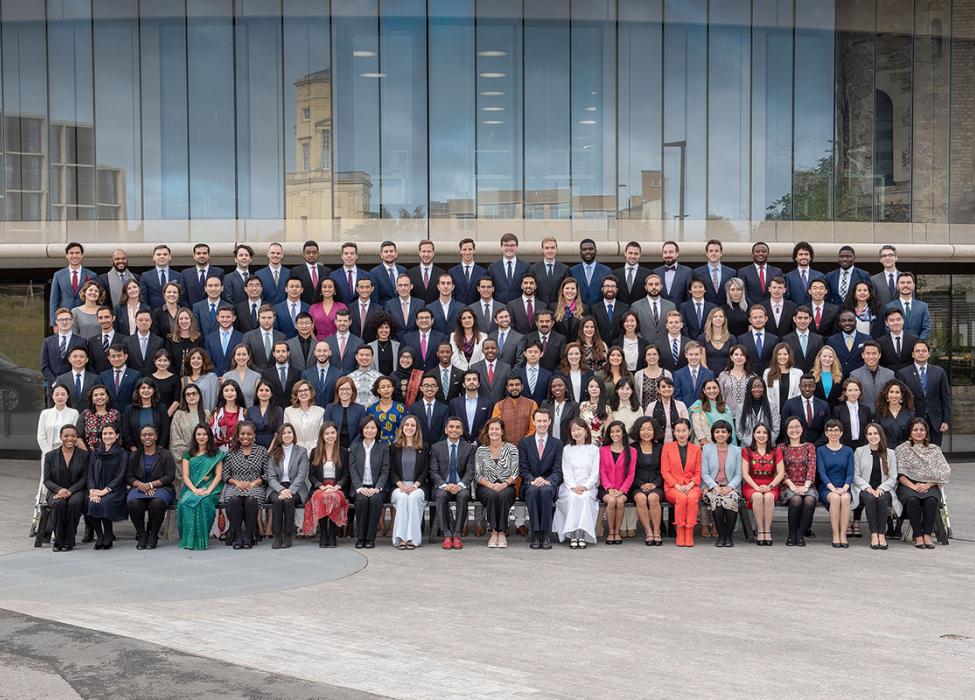 The new Master of Public Policy students join the Blavatnik School today from 50 countries and territories, including – for the first time – the Bahamas and Uruguay.
With 77% of the 2019 class receiving full or partial funding, this year sees the School continue in its success to extend the scope of scholarships available from the School and wider university with our first ever Roma Education Fund and Westpac scholars, and our first Vicky Noon and Standard Bank Africa Chairman's scholars. This shows how financial status need not be a barrier to studying at the School and a wide range of support is available for those looking for financial assistance to fund their studies – and now is the time for those who want to be part of next year's class to start looking at funding options.
The students in the new MPP class of 2019 have an age range of 22–49, and come from a vast range of backgrounds and experiences, all sharing a strong commitment to public service and the common goal of improving government around the world.
Their profiles are online from today and their stories should serve as encouragement for those considering applying for the MPP, regardless of background. As ever, this year we have an interesting and inspiring array of stories: from an Afghan activist defying the odds to champion women's education in Afghanistan to a Croatian Roma employing policy change to defend human rights, and from the first African-American female First Captain at the West Point Military Academy, to a boundary-pushing tech entrepreneur increasing voter turnout in US elections. The class of 2019 also includes eight students from the UK, including a human rights lawyer, and a civil servant working for the UK's Department for International Development. 
The new students have a full schedule of induction activities over the next two weeks, from an introduction to the case method and their first policy challenge, to activities that will root them in the wider culture of Oxford, such as an introduction to rowing and a scavenger hunt with an Oxford twist. The induction has been carefully designed to help them get to know each other, integrate them into life at the School and prepare them for the intellectually stimulating academic environment that they will inhabit over the coming year.
Anyone who is interested in applying to join us next year can take a look at their profiles, which offer an insight into their background, interests and experiences, and are an invaluable resource to understand what makes a successful applicant.
Admissions to the MPP are open until 10 January 2020, but we recommend that applications are submitted before the winter holidays to ensure you receive assistance in case of issues or questions.
MPP class of 2019 in numbers
2019 students receiving funding
MPP class of 2019 by gender
Where do this year's students come from?