Inspiration from across disciplines at the third Kyoto Prize at Oxford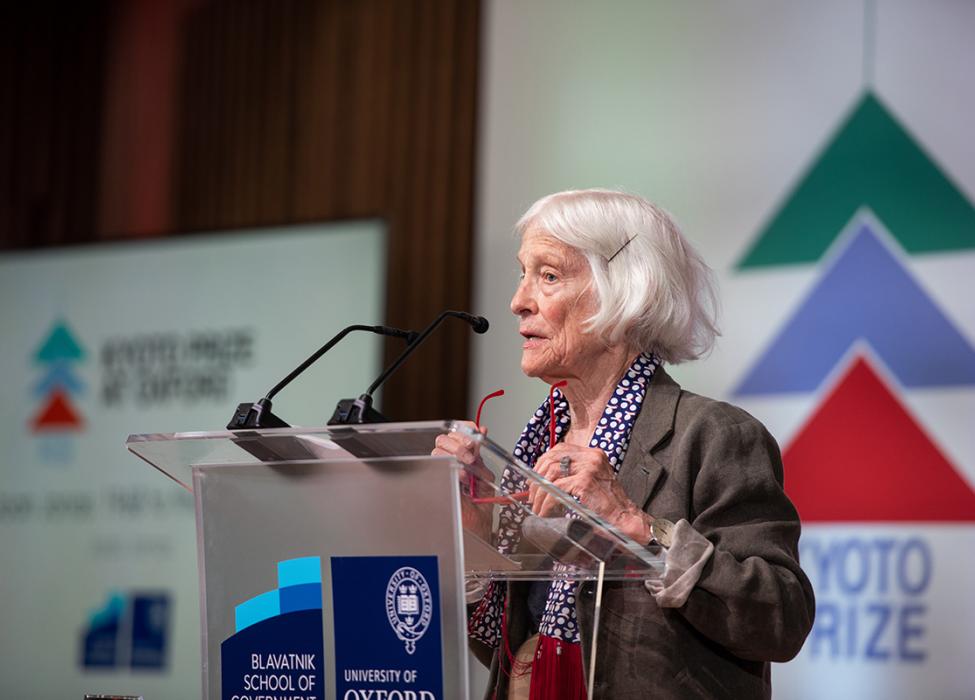 From advancing algebraic analysis and developing novel ways to understand the brain to pioneering new forms of contemporary art, the three Kyoto Prize Laureates convened at the Blavatnik School of Government last week for the third Kyoto Prize at Oxford. They shared their incredible achievements and inspiration through a series of public lectures.
Neuroscientist Karl Deisseroth (2018 Kyoto Prize Laureate for Advanced Technology) is a pioneer of optogenetics, a breakthrough method for studying the brain which utilises light to activate neurons. The light activation allowed to observe the effects and the control of key behaviours such as pleasure, reward, and social interaction, as well as anxiety and depression. He illustrated this in his 'Illuminating the brain' lecture.
In his lecture 'Fifty years with algebraic analysis', mathematician Masaki Kashiwara (2018 Kyoto Prize Laureate for Basic Sciences) run through the events and collaborations that brought him to establishing the theory of D-modules, which was instrumental in the creation and development of a new branch of mathematics called algebraic analysis.
Acclaimed artist Joan Jonas (2018 Kyoto Prize Laureate for Arts and Philosophy) has been at the forefront of contemporary art since 1968. Inspired by art history and rituals of different cultures (including Japanese Noh theatre), she integrated performance art and video art to develop a new form of art. In her lecture 'Joan Jonas: 1968 to the present' she took the audience on fascinating trip through the years.
The three Laureates also engaged in the Leadership Panel at the Sheldonian Theatre and chaired by Ngaire Woods, dean of the Blavatnik School of Government. An invited audience, including students from the Blavatnik School, asked questions that explored each Laureate's individual notion of leadership, including the challenges they encountered in their careers, their experiences of collaborating across disciplines, and their hopes for the future.
A crucial part of the Kyoto Prize at Oxford is the opportunity for the Laureates to engage with an array of academics, researchers and students from across the wider University, so this year saw the involvement of Oxford's Department of Psychiatry, the Mathematical Institute and the Ruskin School of Art.
The Kyoto Prize is awarded by the Inamori Foundation each year to honour those who have contributed significantly to the scientific, cultural, and spiritual betterment of humankind. In recognition of a shared commitment to international understanding, the pursuit of knowledge and the advancement of society, the Kyoto Prize at Oxford was founded as a partnership between the Inamori Foundation and the Blavatnik School of Government, on behalf of the University of Oxford.
The Kyoto Prize Laureates for 2019 will soon be announced. Please visit the Kyoto Prize at Oxford website to find out more and subscribe to the newsletter.