In-country Public Leaders Programme
An in-country programme for large cohorts of talented, mid-career public servants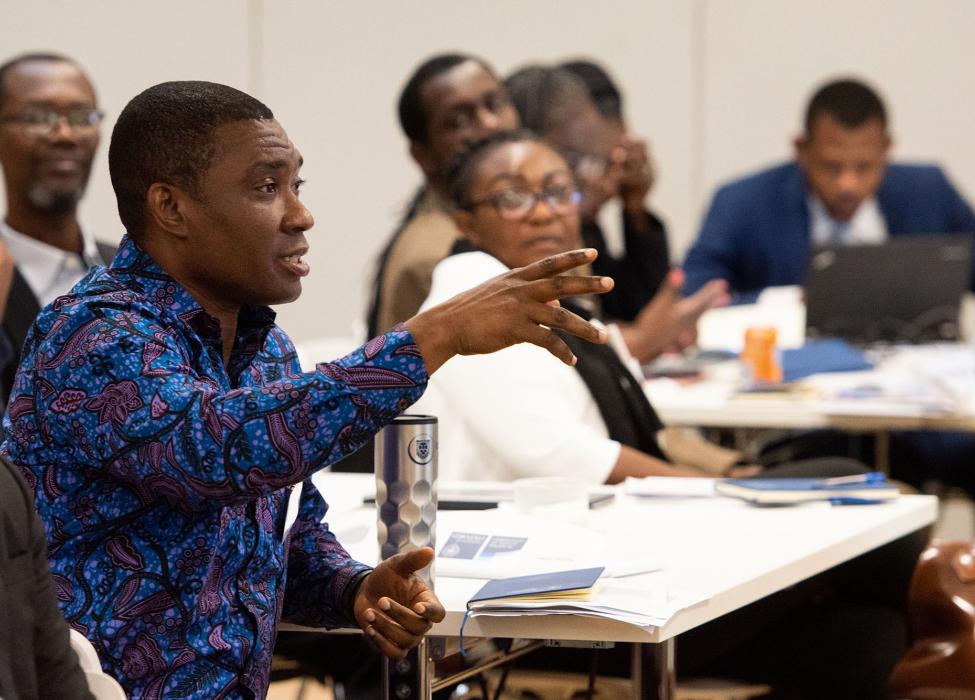 Our Executive Public Leaders Programme curriculum is available in-country to institutions who are training large cohorts of talented, mid-career public servants.
Like our flagship Executive Public Leaders Programme, this programme covers: confronting global challenges, communicating internally and externally, harnessing digital technology, decision-making under pressure, organisational effectiveness, negotiation, and integrity in public life.
Participants from a single country will get world-class instruction in a seven-week programme that begins online and culminates in a one-week residential programme in their own country.
The programme is in four phases:
First, a week of daily programming. These sessions are offered live online for those participants with strong internet connectivity, and in asynchronous recordings and discussion boards for those with poor or intermittent internet access.
In each of the next several weeks, participants work through asynchronous material on their own schedule.
The third phase is the most intense portion of the programme: a one-week residential course. Oxford faculty fly out to the country and join the participants in residence throughout the week to focus on group work, including case studies, simulations, and work in small teams.
In a fourth and optional final phase, participants take up a practical project of change management inside their own government department or organisation, working either alone or in small groups of two or three. This phase concludes with a short residential module at which the participants review one another's projects and recommit to the leadership principles of the programme, having applied them in practice.
We welcome enquiries on potential partnerships with organisations and ministries for this and other executive education programmes. Please email Minna Helenius-Brown at eplp@bsg.ox.ac.uk to discuss your interest.
AIG Public Leaders Programme
Our inaugural in-country programme will run in Nigeria, in partnership with AIG (the Africa Initiative for Governance and the Aig-Imoukhuede Institute), starting in September 2021.
The AIG Public Leaders Programme affords 50 high-potential men and women working in the Nigerian public service a unique opportunity. Through blended classes hosted online and in Abuja, participants will acquire a range of vital leadership skills, conceptual frameworks and practical tools that will empower them to be more effective as they lead their departments and organisation through the challenges of an increasingly complex and dynamic world. 
The Aig-Imoukhuede Institute is gathering competitive applications (with final admissions decisions to be made by the Blavantik School) and is funding academic scholarships for all Nigerian public servants who are successful in the application process.
Apply to the programme through the Aig-Imoukhuede Institute's website.
The programme complements the Blavatnik School's wider partnership with AIG.