06 December 2023, 18:00 - 19:00
Blavatnik School of Government and online
Livestreamed - scroll down to view
This event is free - please register below to attend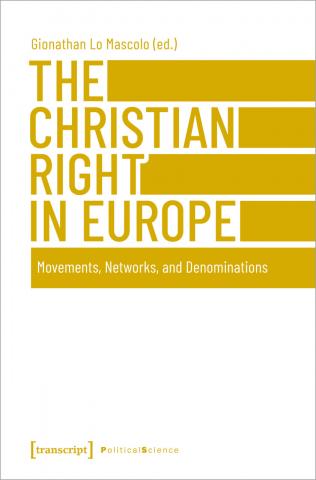 'This authoritative book brings a wealth of insights and knowledge to examine Europe's Christian Right, with links to right-wing populist parties and political movements across the region. The book is a must-read for anyone interested in the state of politics in Europe today.' - Jeffrey Haynes, Emeritus Professor at London Metropolitan University
What is the relationship between anti-democratic voices on the far-right and in pockets of European Christianity? The Alfred Landecker Programme is pleased to host the presentation of the ground-breaking book The Christian Right in Europe: Movements, Networks, and Denominations, edited by Gionathan Lo Mascolo. From LGBTQIA+ rights to abortion, traditionalism, and anti-Islamic sentiments, the book showcases the interwoven narratives and networks in over twenty European countries, providing a transnational perspective on the rise of the Christian Right in Europe.
Speakers will comment on the main findings of the book and discuss the (geo)political implications with reference to democratic backsliding in and beyond Europe, the Russo-Ukrainian war, and the next presidential elections in the USA. This event is co-hosted with the Centre for Theology and Public Issues (University of Edinburgh).
Speaker biographies
Gionathan Lo Mascolo is a researcher focusing on the connectivity of religion, extremism, and far-right politics in Europe. He consults European parties, intergovernmental institutions, and religious organisations on extremism, radicalization, and terrorism. He holds a B.A. in Intercultural Theology and Migration from FIT Hermannsburg, an M.A. in Terrorism, Security and Society from King's College London and is a fellow at the Center for Analysis of the Radical Right.
Anja Hennig is postdoctoral researcher in religion and politics at the European University Viadrina, who writes about topics in morality politics, such as abortion, gay rights, and bioethics, the radical right, and gender issues. Her regional focus is East Central Europe, and Poland in particular. Among her most recent publications are 'Illiberal Cultural Christianity? European Identity Constructions and Anti-Muslim Politics', (with Oliver F. Hidalgo in Religions); the co-edited volume (with Mirjam Weiberg-Salzmann) Illiberal Politics and Religion: Concepts, Actors, and Identity Narratives (Campus/Chicago University Press, 2021); and 'Political Genderphobia in Europe: Accounting for Right-Wing Political–Religious Alliances against Gender-Sensitive Education Reforms since 2012' (Zeitschrift für Religion, Gesellschaft und Politik)
Marietta van der Tol is Alfred Landecker postdoctoral research fellow at the Blavatnik School of Government. She leads the interdisciplinary networks 'Religion, ethnicity and politics in German, Dutch and Anglo-American contexts: nationalism and the future of democracy' (with Dr Sophia Johnson) and 'Protestant political thought: religion, state, nation'. Her forthcoming book (CUP) Constitutional Intolerance: The Fashioning of the Other in Europe's Constitutional Repertoires explores debates over diversity in France, the Netherlands, Poland and Hungary from the perspective of toleration.
Blavatnik Book Talks: The Christian Right in Europe: Movements, Networks, and Denominations