Envisioning the public service of the twenty-first century – insights from the PeopleGov International Conference
Following the success of the People in Government Lab's first international conference in July 2022, the team reflect upon three key insights into how governments are shaping public service in the twenty-first century. 
Estimated reading time: 5 Minutes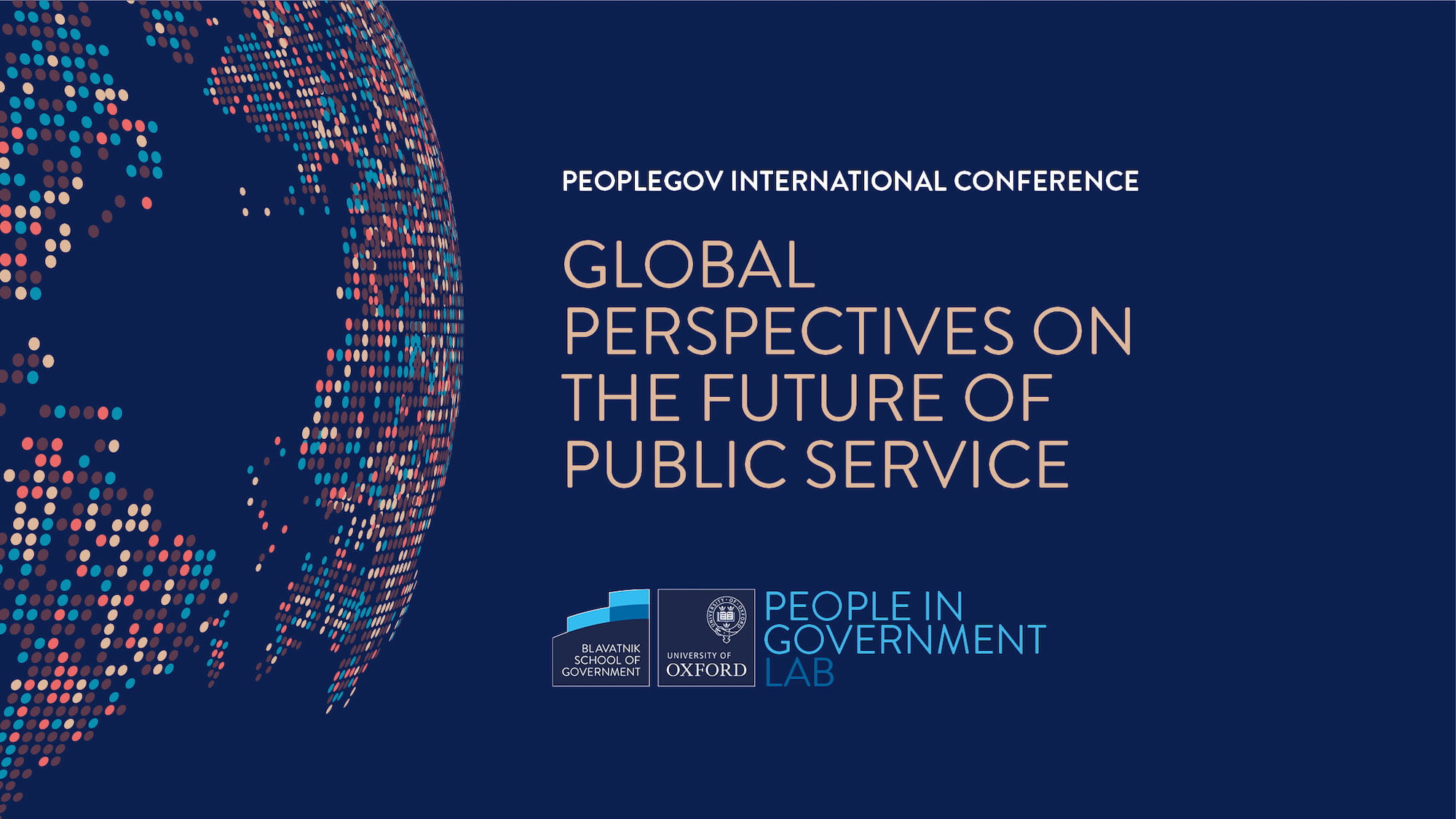 In July 2022, the People in Government Lab held an international conference to discuss and envision the public service of the twenty-first century and to present the results of two of our main research projects. The event focused on three key insights:
public service transformation and the agenda for the future
new managerial skills, technology adoption and innovation in government
building collaborative bridges between practitioners, academics, and decision-makers. 
We hosted a wide range of speakers from 14 countries all over the world, from OECD officials and civil service directors to practitioners from leading research centres and think-tanks, and academics working on topics related to people management. 
Once again the Blavatnik School of Government convened an international conversation at precisely the right moment, to discuss the most important challenges of our time. It was a privilege to join colleagues to discuss what our governments had learnt from Covid. It was also reassuring to understand how much we had in common, and the extent to which we could support each other by sharing experiences and expertise. 

Pamela Dow, Executive Director, Government Skills and Curriculum Unit, UK.
Public sector transformation and the agenda for the future
The COVID-19 pandemic led to overnight public sector changes where, in many cases, departments that had previously never worked together suddenly had to work as a whole; new ways of working emerged, and bureaucracies were forced to act more rapidly and to increase coordination, cooperation, and flexibility across sectors and institutions. Most of the speakers agreed that these changes were, in reality, an advancement of pre-existing trends, for example, according to Peter Woolcot, the Australian public service commissioner, "these changes to the nature of public sector work were an acceleration of previous decisions and redesigns that had not yet been deployed, where partnerships, integrity, feedback, and listening to other organisations became imperatives".
Rainer Kattel, professor of innovation and public governance at UCL, proposed focusing on the longer term to face the challenges arising from remote and hybrid work, as there is a need to attract talent, train officials, and reshape skills to lead remotely. For this, precise remote work approaches and metrics should also be put in place, and public sector leaders will need to take a much more proactive role in developing the skills of people, and instead of reacting, defining the direction their organisations will go.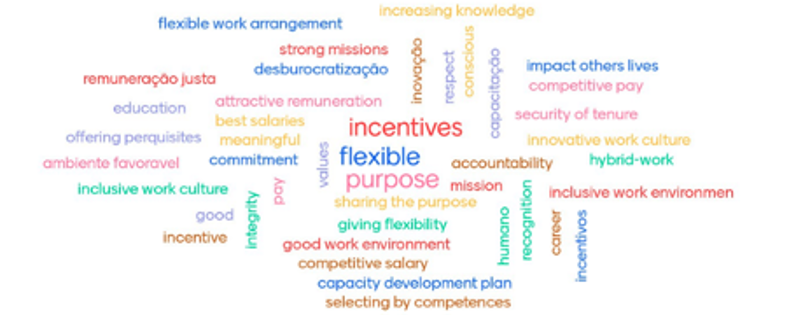 In this context, Pedro Arcain, a postdoctoral fellow at the People in Government Lab, highlighted key recommendations based on our policy report Addressing challenges to remote and hybrid working in public organisations. First, public organisations should improve the regulatory framework and policies for remote and hybrid work and adopt manuals to evaluate organisational needs and to define specific programmes and management tools. Second, they should strengthen managerial practices such as leadership skills and team collaboration and communication, and improve induction and support for new team members, enacting supportive systems to improve public servants' well-being, and improving planning and time management skills.
My main takeaway from the session was the way that the challenges and opportunities we face in thinking about the future of the public service transcend jurisdictional boundaries. It was fascinating to see such a global conversation, revealing shared challenges, fears, values and aspirations.

Thea Snow, Director of the Centre for Public Impact in Australia and New Zealand
New managerial skills, technology adoption and innovation in government
Technology not only represents a way of solving current public service issues, but also an opportunity to explore new areas and develop new managerial skills and leadership schemes. According to Daniel Gerson, head of the public employment and management project at the OECD, it is not only about managing the status quo, but also about leading with a "directional focus"; leaders must be more aware of opportunities presented by technologies and how to make the most of these, to coordinate people to achieve updated goals. For Pamela Dow, the UK government's executive director of the skills and curriculum unit, we need to move away from the idea of single leaders and build cohorts of leaders to bring organisational competence and confidence.
Felipe Melo, director of the civil service in Chile, believes that the pandemic opened a gate to build a link between efficient service delivery and the introduction of technology, while Noella Edelmann, senior researcher at the Department for E-Governance and Administration at Danube University Krems, in Austria, believes a digital mindset is essential for building digital competences – that is, soft skills are required for digital leadership to encourage new forms of working. Shahar Bracha, former head of the government ICT authority in Israel, supported this notion. He believes that "being ready" is a mental shift as the technology needed for this is already there.
As part of this discussion Elise El Nouchi, research analyst at the People in Government Lab, shared the results of our report Questioning hierarchies: Senior leaders' views on how global civil services changed during the pandemic, in which we interviewed 14 heads of civil service from countries on all six continents to understand how they interpret the transformations that have occurred in civil services during the pandemic, what they are doing to institutionalise and deepen them, and what they perceive are the next frontiers for change.
Building bridges between practitioners, academics, and decision-makers
My main takeaway from the conference is the importance of continuing to build bridges between different sectors and disciplines in order to create more effective and responsive public services. The path forward should follow a campaign-oriented mindset: establishing agile governance in a key area, protecting it against lapsing back, and then using that success in order to build momentum for the next campaign. Agility, creativity, and open-mindedness will be critical in meeting the many challenges we face in the years ahead.

Diogo Costa, President, National School of Public Administration, Brazil

 
One of the People in Government Lab's goals is to create spaces to share experiences around pressing public service issues continuously. With this in mind, we invited speakers from 14 countries, ranging from practitioners, academics, and decision-makers, so that we could not only hear different perspectives but also bridge the gap between them. Most of the challenges discussed are global in nature, making events such as the PeopleGov International Conference critical opportunities to learn from each other's lessons, reflections and aspirations.
More than 260 people attended the online conference, which was simultaneously translated into Spanish and Portuguese. The recording is available to watch on our YouTube channel. Download the full conference agenda.
The People in Government Lab is a research programme at the Blavatnik School of Government, University of Oxford