Catalyst for digital regulation
COVID-19 can push developing countries to improve the governance of digital technologies.
Estimated reading time: 6 Minutes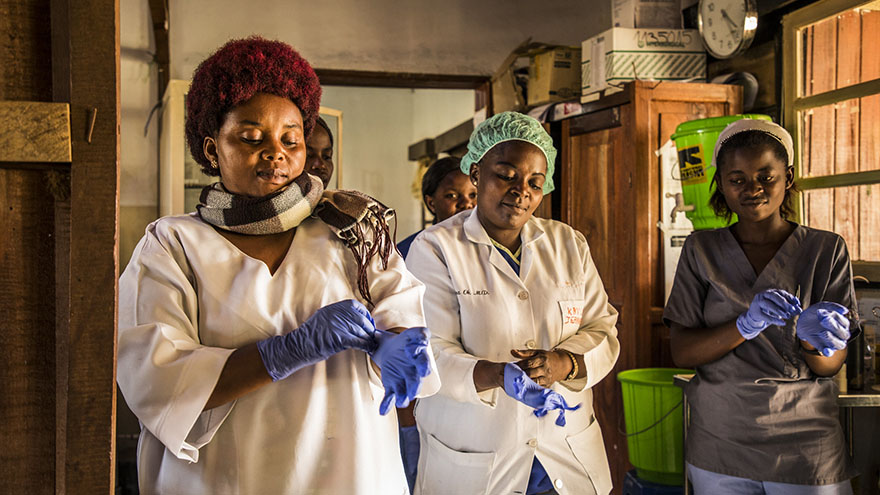 Countries around the world are adopting increasingly stringent policies to contain the spread of COVID-19, and digital tools have been important allies in governments' responses to the virus. The internet has of course proved invaluable to fill the void left by social distancing, allowing individuals to continue to work, study, and stay connected. Data from digital devices has also been used to track the spread of the virus and to map how populations move between locations.
On Easter Sunday, the UK Health Secretary Matt Hancock announced plans for a new NHS app to identify and contact people who have been in contact with COVID-19. Companies are already stepping up and offering innovative solutions of their own - such as the contact tracing API recently announced by Apple and Google. Location data has already been used to trace the virus in countries such as Italy, Spain, Norway, and Belgium.
The use of location data and tracking apps has sparked a heated debate in these countries, and some experts claim there is not enough evidence to support the immediate deployment of these technologies. But for developing countries the risks are even greater. Poor and fragile countries will be hit the hardest not only because their health system is ill-prepared to cope with the pandemic, but also because they lack the right policy and regulatory environment to support the use of digital tools.
One concern is that governments using emergency powers are trying to expedite the implementation of new technology tools, often ignoring legitimate social concerns and the lack of appropriate safeguards. For example, less than half of low-income countries have data protection and privacy legislation in force. In the absence of such laws, there are no clear rules establishing what type of information is being collected, for how long and where their data is stored, and who has access to it. This risks undermining the effectiveness of developing countries' responses to the virus and exposing already vulnerable citizens to additional harm. In Jamaica, the government has used COVID-19 as justification to fast-track the implementation of a highly controversial digital identification system. The Jamaican government hopes the new ID system can help security forces to enforce curfew rules and to identify citizens eligible to receive social benefits. A national ID system had already been declared unconstitutional by the Supreme Court, who found that it undermined the right to privacy.
Another key issue from a regulatory perspective is how to ensure that countries will roll back extraordinary measures when the need to fight COVID-19 subsides. Some of the most realistic lockdown exit plans rely on the use of an unprecedented digital surveillance apparatus, which will significantly increase governmental intrusion into citizens' private lives. The Indian state of Karnataka, for example, is using a new mobile app to check compliance with quarantine rules. The app not only follows users' movements through GPS, but also asks them to submit hourly selfies to prove they haven't left the house. The government of Ghana launched a location tracking app that will inform the Immigration Service telephone numbers of people who had recently been to COVID-19 hit countries to monitor whether or not individuals are required to go into self-quarantine. In Saudi Arabia, the app "Tawakkalna" (meaning "rest assured") will help the government to monitor people self-isolating and in quarantine and to manage movement permits.
Intrusive measures such as these may only be justified during a state of emergency, and even under extraordinary circumstances should be subject to the rule of law. But without the institutional checks and balances in place, these newly-built techniques for citizen monitoring and control could easily be expanded to other use cases and get entrenched in the long run. Improved legal certainty will not only benefit individuals - in particular the more vulnerable ones - but will also support businesses, as it minimises their risks.
The expanded use of some digital technologies by governments also dovetail with the interests of the private sector and it could become difficult to divest power from the big tech firms who have accumulated it during the crisis. Data can be very valuable in the fight against the virus now, but it can be also valuable for commercial exploitation at a later point. The private sector is playing a critical role in finding innovative solutions, but in the absence of clear rules and processes governing these technologies, there are no assurances that health data provided to fight the virus now won't be used for different purposes in the future - for instance, shared with health insurance companies. Big tech companies are already seeing an increase in their user base - with Google's YouTube audience soaring in the past weeks. The pervasiveness of their devices and applications also make them strong candidates to win the battle for the market of digital contact tracing solutions and could entrench their dominant position even further.
But not all is doom and gloom. Despite the many challenges, COVID-19 could be a catalyst for positive regulatory change in developing countries. The absence of laws and policies governing the digital space raises important concerns for low- and middle-income countries, but it also presents them with an opportunity to use the crisis to build a positive regulatory legacy. As our research at Digital Pathways shows, good governance of technology is key to help the poor and most marginalised people to harness the benefits of digital transformation.
The crisis has brought to light regulatory issues that have long been overlooked by policymakers. The National Bank of Ethiopia announced a directive allowing non-financial institutions to offer mobile-money services. Alongside opening the financial services market to telecom companies, the measure also encourages people to go cashless and to avoid trips to the banks, helping to control the spread of Coronavirus. In Ghana, the Monetary Policy Committee (MPC) waived the requirements for additional documents (such as ID and proof of address) to open a basic mobile wallet, making mobile money technology more accessible - in particular to women and vulnerable individuals. The South African telecom regulator released additional broadband spectrum to meet the increase in internet demand during the lockdown. The new licensees are required to support and create virtual teaching and remote classrooms, paving the path to expand the use of educational technology solutions. These are only a few examples of the many ways the pandemic can push developing nations to ramp up the use of digital services in a more inclusive way.
It is true that developing countries often lack the capacity and institutions to design and enforce digital regulation, and trying to build the plane while piloting it will undoubtedly be a difficult task. But there is no better time to take action than now. COVID-19 has exposed existing fragilities in developing countries' technology governance regimes, but for governments it also represents a golden opportunity to bridge regulatory gaps and to design and implement important digital regulation that will outlive the crisis.
Beatriz Kira is a Senior Research and Policy Officer for Digital Pathways at Oxford, which builds on the work of the Blavatnik School's Pathways for Prosperity Commission. Image: Health workers during the Ebola outbreak in Beni, Democratic Republic of Congo, January 2019. Photo: World Bank / Vincent Tremeau.