Benjamin Ignac, standing up for Roma rights with the Roma Education Fund scholarship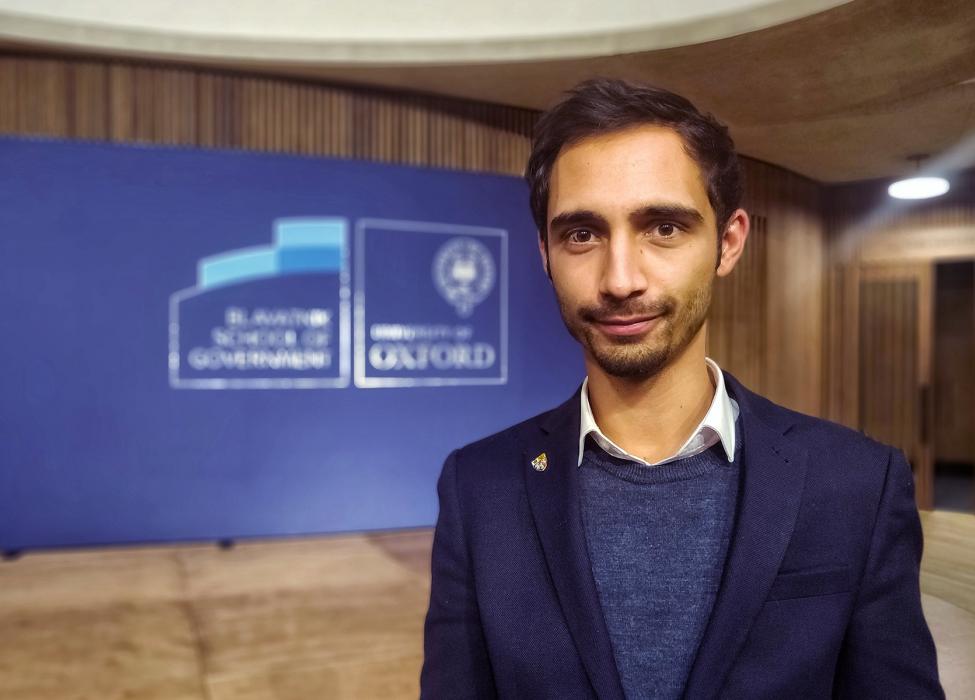 Benjamin Ignac (MPP 2019) joined the Blavatnik School from a career trajectory that has taken him from carrying out research for NASA to campaigning for Roma rights with the European Roma Rights Centre (ERRC). He is the School's first Roma Education Fund scholar – the scholarship is aimed at applicants who identify as Roma and aims to increase representation from the Roma community in the field of policymaking. "Without this scholarship, it wouldn't have been possible for me to come and study at Oxford," Ben says. He found out about the Master of Public Policy from his boss at the ERRC, who encouraged him to apply for the scholarship. "I don't come from a public policy background – I'm a geographer by training – but when I looked at what the course entailed, I realised I was already doing a form of public policy."
Ben graduated from the University of Oklahoma with a BA in geography. During his studies, he undertook research on audience segmentation and public awareness of climate change at the Climate Adaptation Science Centre, focusing specifically on the student demographic. This was followed by a six-month internship as a geospatial analyst at NASA, monitoring the environmental impact of climate change.
After leaving the US, Ben joined the Budapest-based European Roma Rights Centre (ERRC), where he started as an intern in the communications and advocacy department – his first experience in this field – before becoming manager of the department.
"The ERRC is the legal engine of the Roma rights movement in Europe," Ben explains. "It focuses on strategic litigation, working on high-impact cases that will bring systemic change – for example, where a whole community has been barred from accessing a public good."
Ben's role at the ERRC involved a mixture of campaigning and research: raising awareness of the ERRC's work, reporting on rights violations, empowering people to use the legal tools available to them, delivering human rights education sessions and undertaking research for litigation and advocacy purposes.
"Desegregation and access to quality education was one area I worked on, and it remains one of the major issues facing the community." Growing up in Croatia, Ben has direct experience of this issue, having spent his first two years of primary school in a segregated system. "I had two separate experiences in the same school in terms of quality of education." In Croatia, March 2010 saw a ruling by the European Court of Human Rights that the separation of Romani children into separate classes (often with sub-par education in comparison to their non-Romani peers) based on ethnicity was unlawful discrimination, which led to reform in Croatia; however, the effects of segregation remain an issue within the community at large.
Other areas that Ben worked on during his time at the ERRC include combating antigypsyism in law and policy; the statelessness of Romani people; access to water, sanitation and healthcare; preventing illegal evictions; racial profiling and police violence; and increasing representation in textbooks and European curricula. "The Roma community is a big part of European culture, history and society. With around 15 million people, it constitutes the biggest minority in Europe but remains largely invisible – so why don't we learn about our origins at school?"
Having worked on the areas of social justice and environmental policy as separate issues, Ben intends to use the MPP as a way to further explore these areas of interest and see where they overlap.
"I'm not interested in being a single-issue person. The MPP – and in particular the optional modules on offer – will allow me to explore my interests and consider potential career paths. I want to use the opportunities available to me at the Blavatnik School to effect change at a higher level in a variety of policy areas."
In addition to the appeal of exploring a broad range of interests, Ben was drawn to study the MPP due to the School's emphasis on responsible leadership and a dedication to public service: "I went to a United World College [a global network of schools with an international focus], and the education there was leadership-focused with an emphasis on making education a force to unite people for peace and a sustainable future. The Blavatnik School continues this ethos and goes beyond, encouraging positive leadership and collaborative efforts."
An action-packed induction period gave Ben and his classmates a whirlwind introduction to life at the School, its values, and an insight into what to expect from the coming year. The benefits of being part of such a diverse cohort became evident almost immediately – from gaining unique local perspectives from a classmate on a regional-focused exercise, to learning how to collaborate effectively. "Even in the first couple of weeks, we had the chance to work with lots of different people. This was great not only as a valuable bonding experience, but also for being exposed to different personality types and learning how to work with them," says Ben.
Talking to his classmates also helped dispel a sense of imposter syndrome that many students experience when they first arrive in Oxford. "Through talking to my peers, I realised that everyone is in the same boat – you're not alone. The talk from dean Ngaire Woods during the induction was also really powerful, and served as a reminder that we've been chosen to be here for a reason."
"If I had to use one word to sum up my first impressions of the School, I would say 'monumental'. I'm looking forward to building meaningful friendships over the course of the year and challenging myself academically."
Ben's commitment to public service is clear: "During my time at the United World College, we were taught the concept of 'learn, earn and return'. I recognise that I'm in a privileged position within the Roma community, and I want to use this position to think about how I can bring positive contributions to people who do not have these privileges."
November 2019