An NGO founder combatting maternal mortality in Pakistan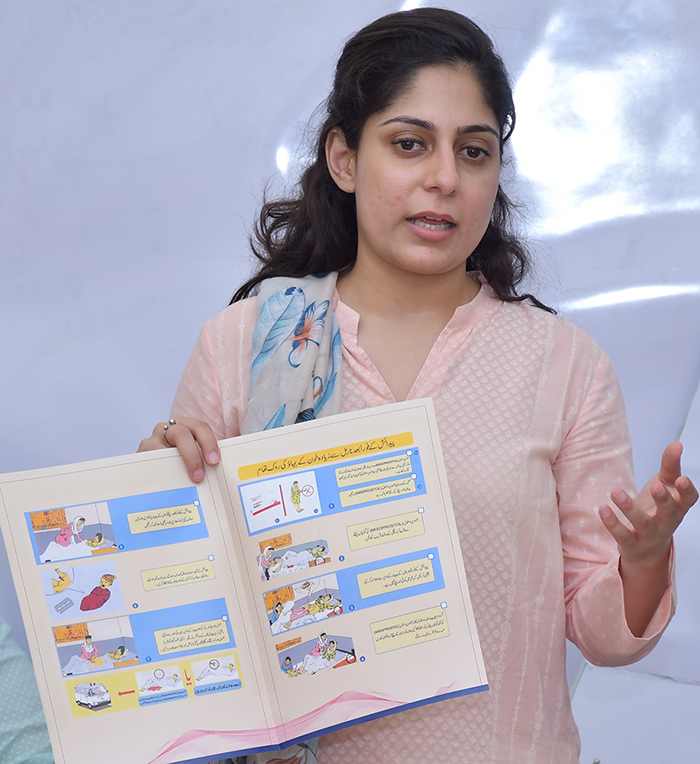 Mehreen Shahid (MPP 2013) is the founder of Safe Delivery Safe Mother, an NGO combatting the leading causes of maternal mortality in Pakistan through cost-effective and innovative solutions in challenging environments. She also advises Pakistan's public sector on key national priorities, such as poverty alleviation, health, housing and education.
Undertaking the Master of Public Policy (MPP) came at a crucial time in Mehreen's career, as she sought to transition from the private sector to pursue her passion for development and public policy reform. Mehreen came to Oxford as a recipient of the Annemarie Schimmel scholarship, which is awarded to one Pakistani woman each year to undertake postgraduate study in the UK (see some external funding and scholarship options). "I applied for the scholarship thinking there was no way I would get it, given the odds," she says. "I was delighted to be selected as I wouldn't have been able to do the MPP without the funding I received."
During the MPP, Mehreen was introduced to public health and the interaction between science, technology and public policy.
"The MPP was instrumental in defining my journey forward as it allowed me to discover and develop my interest in public health."
Amongst a busy schedule of sports, studies and socialising, Mehreen found herself doing additional reading around the health elements of the science module. "We looked a lot at strengthening public health systems within developing country contexts, and I was always thinking about this in relation to Pakistan."
Mehreen values the support she received from faculty throughout the year and in developing her summer project. "I had the opportunity to go to the African continent and was excited to explore health systems within a new context. I still wanted my work to be relevant to Pakistan, so my research focused on non-communicable diseases and strengthening public health systems." After working with her supervisor to define the focus of her project, Mehreen worked independently to design the research instruments, map out supervisors and interview public health practitioners and experts in her focus countries, Uganda and South Africa.
"Having the freedom to design and carry out research independently as part of my summer project was a fantastic experience. I learnt invaluable lessons from a research perspective and was able to overcome challenges in the field."
Since graduation, Mehreen has worked on a number of exciting projects in the field of public health: at the Clinton Foundation in New York, addressing pressing national health issues such as the opioid crisis in US college communities, and at the World Bank, implementing a routine immunisation programme for children in Pakistan by supporting federal and provincial governments. She has also worked as a consultant at McKinsey & Company, acquiring extensive private and public sector experience in Pakistan and across the Middle East.
It was during her time at the World Bank that Mehreen founded Safe Delivery Safe Mother (SDSM), after winning the D-Prize award, a US-based competitive financial grant. "Around 14,000 women die every year in Pakistan due to complications during childbirth," Mehreen explains. "Postpartum haemorrhage [PPH], which is the loss of excessive blood after delivery, is the leading cause of maternal mortality, yet around 70% of these cases are preventable and treatable."
One element of SDSM's work is providing training to government-deployed health workers and birth attendants on the causes and risks of PPH, and how to prevent and treat it. Mehreen developed a two-part PPH curriculum: a clinical skills module, delivered by doctors, and a behavioural skills module, delivered by Mehreen. The latter focuses on the socioeconomic constraints that are often the primary factor preventing maternal healthcare access; for example, health workers learn how to effectively counsel women and their families on preparing for deliveries. "On average, around 50% of women deliver at home or at a community-based health facility," says Mehreen. "And for many women, there is still a prevalent family tradition of delivering with the village dai [unskilled birth attendant]. We work to ensure that a skilled birth attendant is present during delivery." The curriculum has been officially integrated into the training undertaken by all health workers in the maternal health department of Punjab, Pakistan's most populous province.
Sharp problem-solving skills and creative thinking are essential assets in Mehreen's work, which often takes place in challenging settings. She has developed a set of pictorial curricula and pamphlets which cater to low literacy levels, and has designed a safe delivery kit that costs just 1.5 USD, consisting of basic but lifesaving items. To ensure that SDSM's work continues to deliver impact, Mehreen has developed a robust monitoring and evaluation framework using a digital app to collect key maternal health indicators at the district level, which currently do not exist in Pakistan.
The organisation has trained over 700 health workers so far, which will impact over 200,000 deliveries annually. It is now seeking to address other leading causes of maternal mortality and to expand its work nationally. In doing so, Mehreen has received support from the Blavatnik School community: "Oxford really goes a long way. My friend Rafiullah [Kakar, MPP 2013] is currently in Quetta, a city in the Balochistan province. He told me that when I'm ready to expand SDSM's work in Balochistan, he would facilitate and support us in implementation."

Mehreen has faced numerous challenges in building the organisation, whether through local government pushback or funding opportunities falling through. "There have been moments when things have seemed impossible, but as a team we always rise from the midst of crises through innovative problem solving and collaborative teamwork".
"When people ask me when my journey started, I say it began with a scholarship to study at Oxford's Blavatnik School. I was given the opportunity to build my skills and am now at a place in my career where I'm pursuing a mission I strongly believe in, and one that is urgently needed in Pakistan."
Mehreen was an Annemarie Schimmel Scholar
April 2020