'A year in review' – our annual report is out today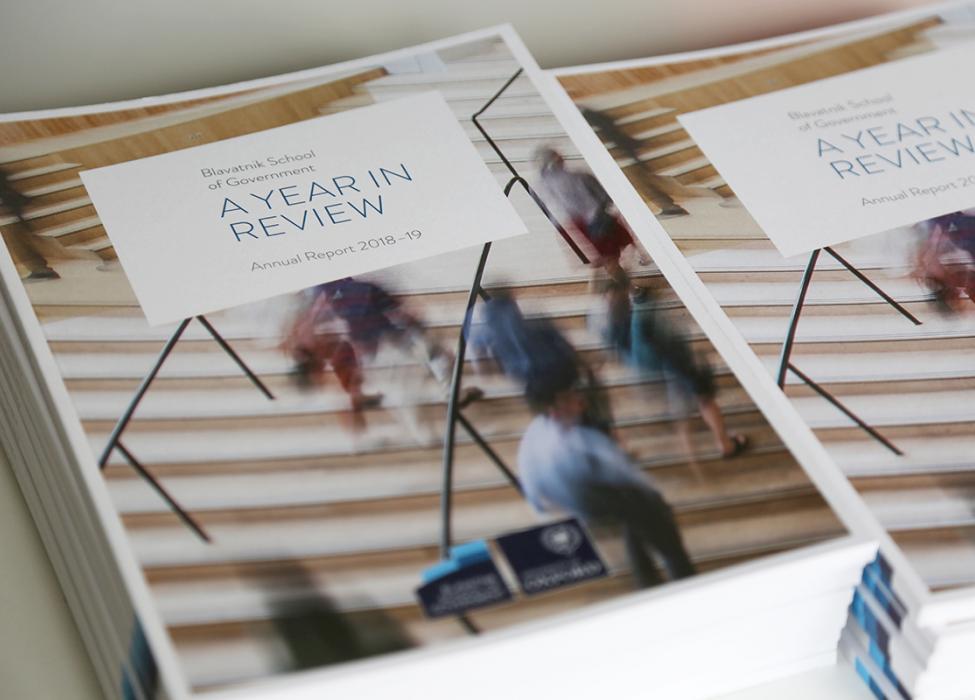 The Blavatnik School's annual report is available to download from today, showcasing highlights from our most recent teaching, research and engagement activities.
This year, our 119 Master of Public Policy (MPP) and 25 doctoral (DPhil) students hail from 54 different countries and territories. Since the inaugural MPP students in 2012, we have welcomed students from 119 countries and territories – the annual report includes a world map to help visualise what that means, as well as some student profiles to give you a flavour of the students' diversity of background and experience.
Likewise, our 534 alumni take our community and our mission across continents and sectors, connecting and finding support in one another. Some of them have stood for, and won, elected office, others have been appointed senior public officials. In the report you will find a summary of their achievements, and a selection of alumni profiles and interviews.
Applied research is at the heart of the School's academic community. From exploring the concepts of 'relative poverty' and the Big Tech's 'platform power', to improving education using teacher bonuses and investigating how the idea of merit influences views on tax, you will find snippets of research that our faculty are currently undertaking. You will also find examples of how they have engaged with policymakers and advised governments, whether supporting the Ghanaian civil service in becoming more efficient, or testing out ways of securing the right to work for refugees in Ethiopia.
Financially, we continue to diversify our research portfolio, and for this year we forecast a 59 per cent growth in our research-related income, and a 53 per cent growth in executive education revenue. 
Over the year we have also hosted a variety of inspiring speakers and guests, including current or former heads of government from six different countries, leaders from business, technology and the arts, and two Nobel Prize Peace winners (Juan Manuel Santos and Malala Yousafzai).
"In the annual report I hope you will find that in a world where people are shouting at each other, we have started conversations; that amidst the geopolitics of division, we have built bridges. That we can do so is testament to the support of many who share our vision" said our dean, Professor Ngaire Woods.
Covering the period between April 2018 and March 2019, the annual report includes all this and much more. View the full report to find out more about the many ways in which we're working to improve public policy and governance around the world.