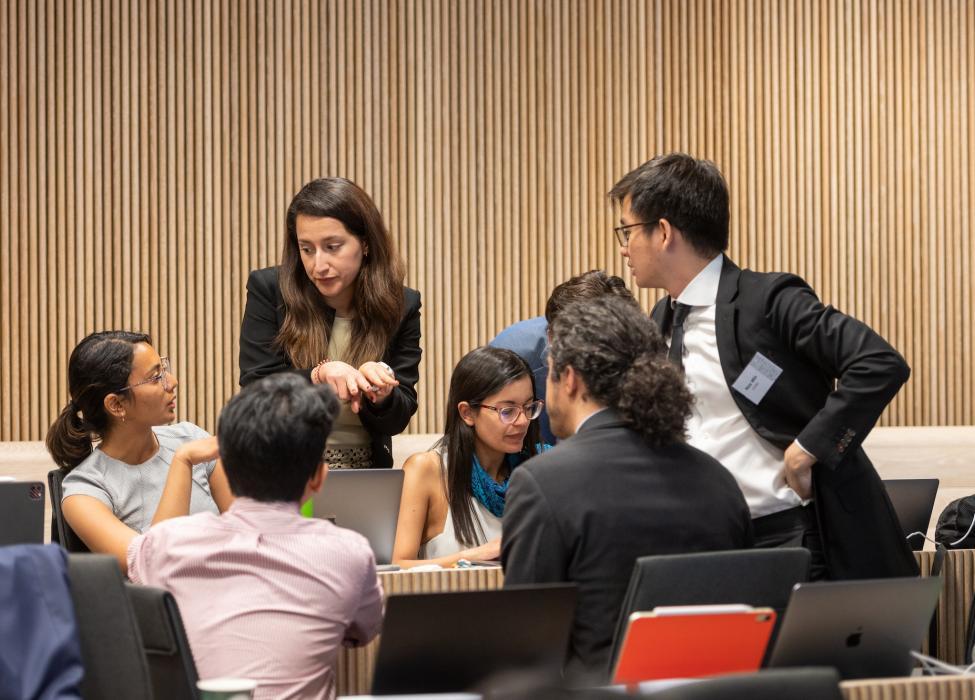 This week we welcome the inaugural class of the MSc in Public Policy Research. 
Launched just last year, the MSc is our newest programme and is aimed at people who want to pursue a career in applied research to better inform policy. It is designed mainly for graduates who have already completed our Master of Public Policy or a similar degree, and we are delighted that five of our own alumni are coming back to form the first MSc class.
Each of the MSc students was selected for their academic excellence and commitment to building the skills to undertake rigorous and impactful policy research in their respective fields. Here's a bit more about each of them:
Ren Chung Yu is an activist and non-profit professional from Malaysia who is interested in researching gender-based violence responses, gender and economic development, and men's roles in achieving gender equality.
Kevin Myers previously worked as a consultant and as a research analyst with the Nowak Metro Finance Lab. During the MSc, Kevin hopes to gain the tools needed to strengthen the bonds between local, state, and federal governments in the US.
Logan Williams recently worked on a collaboration project between the University of Oxford and the UK Army, where he focused on climate security policy within the Ministry of Defence. Logan hopes to pursue further research into the intersections of climate change and national security policy.
Agnes Nakirya has 11 years' experience in in governance and systems strengthening, access to justice, education, programme design, implementation and evaluation. Agnes is interested in researching public sector systems reform and management, behaviour change and collaboration in the public sector.
Kotaro Oriishi has spent five years working for the government of Japan across various departments. During the MSc Kotaro hopes to develop his academic knowledge of the relationship between governance of cyberspace and intelligence policy. 
Six new DPhil in Public Policy students are also starting their three-year programme with us today. During their DPhil (as a PhD is known at the University of Oxford) they will undertake original research in an area of interest, with the aim to make a real contribution to the development and analysis of public policy. 
As ever, the DPhil class of 2022 is made up of academically outstanding candidates from a range of different academic and professional backgrounds. Here's a few lines about each of them:
Nandini Gupta's research at the School will look into how public service delivery can be improved in low-income democracies like India with particular focus on issues of state capacity, local governance and citizen accountability.
Natalia Brigagão is a human rights advocate whose research at the School will draw from egalitarian theory to harness human rights law's potential to redress inequalities.
Utkarsh Saxena is interested in research questions at the intersection of development economics and law, firm dynamics, and political economy. 
Valerie Monchi's research will explore the moral case for diversity.
Sharada Srinivasan's research will examine how investments in technology can advance human progress and expand opportunities for all.
Manuel Ramos Maqueda will partner with governments across low- and middle-income countries to explore how to improve the delivery of public services during his DPhil.
Graduates of the DPhil in Public Policy will be prepared to lead on devising, implementing, and evaluating innovative policy solutions. They will also join a growing community of DPhil alumni who are working at the nexus of policy and research globally. Follow our alumni news page for further updates.
For those who have been thinking about studying public policy in Oxford next year, applications for 2023 entry are now open for our DPhil, as well as for our MSc and MPP. For further information about what's available and how to apply, visit our 'Study with us' pages and remember that the application deadline is Friday 6 January 2023.