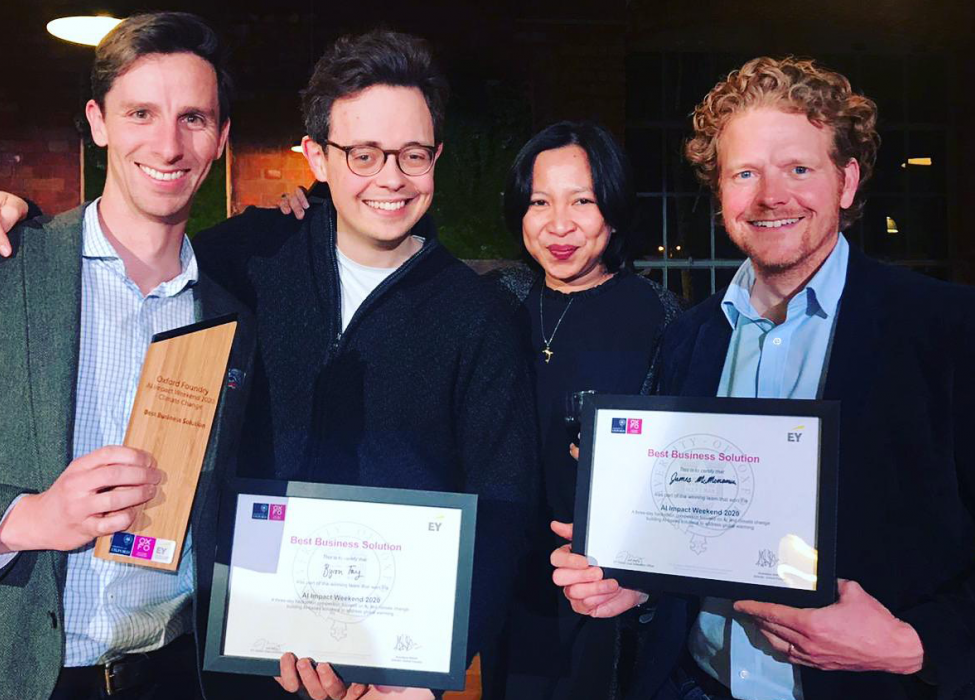 From joining debating societies to being members of sport teams, our Master of Public Policy students are active in many different ways across the University. Earlier this month, six MPP students took part in the Oxford Foundry's AI Impact Weekend 2020, which challenged participants to build an innovative, viable AI-based solution to address one aspect of climate change. The challenge was open to students across the University, encouraging them to form teams across disciplines for an opportunity to learn from each other and expert mentors.
The weekend began with educational games and a high-profile panel discussion to familiarise participants with the topic, followed by a mixer event to form teams. The rest of the weekend entailed creative problem solving and solution building, culminating in a chance to pitch proposals to an audience of peers and professionals, as well as an expert panel who made a judgment on the strongest proposals. Each proposal was assessed on technical strength, societal considerations, business case, and overall innovation.
Byron Fay was part of the team that won Best Business Solution, which came with a £2,000 prize. His team developed a concept and technology prototype for using AI to better predict bushfire risk, which would be pitched to the Australian insurance market before further expansion. Byron has a background in climate change policy, including fire management, but no prior experience with AI or machine learning.
"It was an exciting, challenging and mind-expanding experience," he says. "I actually came to the weekend with a fairly clearly formed idea, so it was hard to let go when other team members wanted to take it in a different direction, but I was glad I did. The collaborative process is powerful and was ultimately the reason for our success." Byron's team consisted of a sustainable infrastructure expert undertaking the Executive MBA at Saïd Business School; two DPhil candidates (one from the Doctoral Training Centre and another from the Department of Physics) who built the AI prototype; and a DPhil candidate from the Department of Zoology. The team envision that their proposal could be used by government, emergency services and communities, as well as insurance companies. "I went into the experience with no idea whether something useful would come out of it, so was really pleased that we managed to develop a concept with potential."
Andrea Terminel Lembert and Jacob Lerner were part of one of the final eight teams selected to pitch to the judges. Their team's proposal sought to address the ineffectiveness of many reforestation and afforestation projects. Currently, many trees die shortly after planting, leading to a waste of financial investment, time and carbon sequestration potential. Jacob explains: "Our proposal was to use AI to determine the optimal species and ecological mix for a given piece of land based on soil, weather and social factors in the area and its surroundings, and model how that ecology might fare based on predicted changes to those factors under global warming. We would help corporations and governments plan effective reforestation and afforestation projects, and provide a web dashboard for them to monitor projects based on our algorithmic analysis of more up-to-date satellite imagery." The team are now looking to enter the idea into other innovation competitions.
For the MPP participants, the AI Impact Weekend required them to engage creative thinking, teamwork skills and adaptability to work on one of the most significant challenges for society – and in public policy. For Andrea, taking part in the challenge has given her a fresh perspective on ways to address climate change: "I walked away from the experience in awe of my team and how passionately we worked, mesmerised at the potential of using AI to drive nature-based solutions to climate change, and hopeful for the regenerative potential in the decade ahead."