Learning across disciplines to be a successful policymaker
From economics and law to political science and philosophy, we believe that successful policymakers need to be able to draw on insights and approaches from a variety of disciplines.
The multidisciplinary content of the course is one of the features that make our Master of Public Policy stand out from the rest. The course pivots around six Core modules, four Applied Policy modules, two Option modules and a Summer Project – all complemented by the Professional Skills programme.
You might find that the structure and convenors, and choice of elective elements differ from year to year, but usually the MPP journey follows the path illustrated In the infographic below.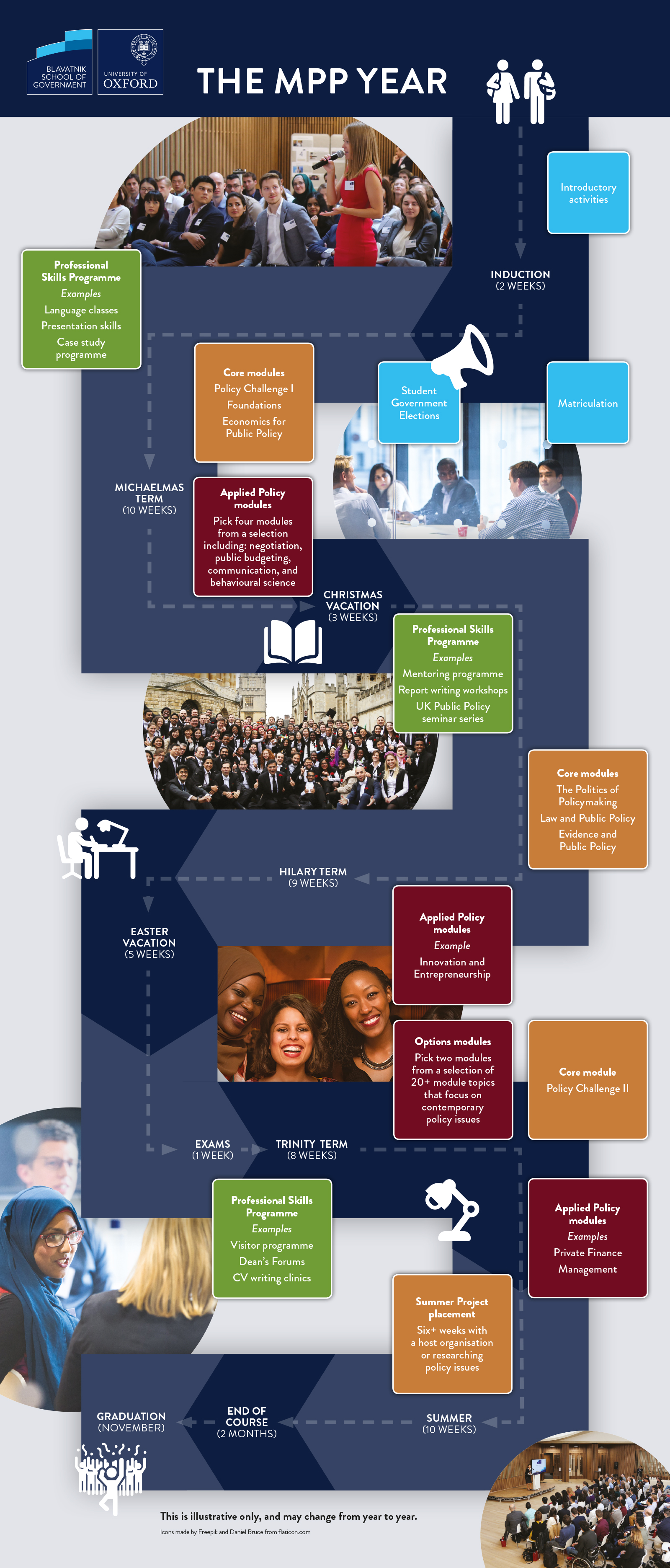 One of this year's Core modules is Foundations, convened by Professor Jonathan Wolff. We asked him to explain what the course involves:
"The Foundations module equips students with the reflective and critical skills to evaluate the moral commitments that do and should inform public policy. It starts by asking philosophical questions such as: What is the aim of government? What are the limits on its action? Who gets what? And who decides? The course then moves on to look at such issues as the ethics of immigration, historical injustice, freedom of speech and religion, and the conflicts between individual ethics and the demands of a public role."
Professor Pepper Culpepper is the convenor of Politics of Policymaking (or POP) – a Core module for 2017-2018. He says about this year's course:
"POP is a course designed to help students think politically. The course gives you conceptual tools to help build coalitions, overcome obstacles, and better develop political strategies to achieve your goals in leadership and public policy. The course draws on scholarship and leverages the varied professional experiences of our international MPP student body."
Another Core module is focused on the use of evidence in policymaking. Dr Julien Labonne, who this year convenes the Evidence and Public Policy Core module with Dr Martin Williams, said:
"We look at questions such as: How do policymakers know whether their policies meet their intended objectives? Can they improve the way policies are implemented? Given limited government budgets, these questions are increasingly at the heart of public policy. The aim of the Evidence and Public Policy module is to provide students with an understanding of how policymakers gather, assess and use evidence in practice."
Professor Karthik Ramanna, Director of the MPP, added:
"Addressing the great public challenges of the 21st century –  demographic shifts, technological unemployment, and terrorism, to name a few – require a range of academic tools from economics and statistics, to law and philosophy. But, in addition to this, they need more practical and applied skills in active listening, empathy, and the ability to build coalitions across a wide range of ideologies. The distinctiveness of our MPP is its focus on blending analytical intelligence across disciplines and skill sets, in ways that also combine attention to values and emotional intelligence."
Admissions are open until 19 January 2018 – get started on your application now, and you could join us next September.