14 June 2023, 17:15 - 18:30
Blavatnik School of Government and online
Livestreamed - scroll down to view
Free – register to attend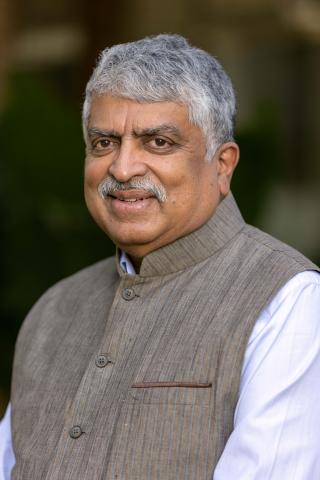 Digital Public Infrastructure (DPI) is about enabling a technology-led model for a nation's growth that is collaborative, equitable, and democratises opportunity at population scale. It is based on a design strategy with layered building blocks, and an innovation ecosystem. Professor Ngaire Woods hosts Nandan Nilekani who will share the journey of India's digital transformation using DPI.
Nandan Nilekani is the Co-Founder and Chairman of Infosys Technologies Limited. He was the Founding Chairman of the Unique Identification Authority of India (UIDAI) in the rank of a Cabinet Minister from 2009 to 2014. Most recently, Nandan has co-founded and is the Chairman of EkStep, a not-for-profit effort to create a learner centric, technology-based platform to improve basic literacy and numeracy for millions of children.
He was inducted as an International Honorary Member of the American Academy of Arts and Sciences in 2019 and in 2022, Nandan was appointed the co-Chair of the G20 Task Force on Digital Public Infrastructure. He also won the Business Standard's Lifetime Achievement Award in 2022.
Nandan Nilekani is the author of Imagining India, co-authored his second book with Viral Shah, Rebooting India: Realizing a Billion Aspirations and co-authored his third book with Tanuj Bhojwani, The Art of Bitfulness: Keeping calm in the digital world released in Jan 2022.