12 February 2019, 17:30 - 19:00
Blavatnik School of Government, Radcliffe Observatory Quarter, Woodstock Road, Oxford, OX2 6GG
The event is now at capacity
Oscar-winning film director Peter Jackson will be in conversation with Professor Ngaire Woods, Dean of the Blavatnik School of Government, about his latest film They Shall Not Grow Old.
Using original footage and audio of World War I from the Imperial War Museum and BBC archives, They Shall Not Grow Old is an extraordinary experiment in film-making which creates direct empathy with soldiers, exploring the reality of the front line using only the voices of those involved.
The role of governments in peace, security and armed conflict is one of the core topics of research at the Blavatnik School, and the School also hosts the Oxford institute for Ethics Law and Armed Conflict, which focuses on all aspects of armed conflict, including the recourse to war, the conduct of war, and post-conflict governance, transition and reconstruction.
It's important to have watched the film in advance of the event – you can view it on BBC iPlayer.
This event is now at capacity. The talk will be livestreamed and recorded on the Blavatnik School of Government YouTube channel.
Speaker biography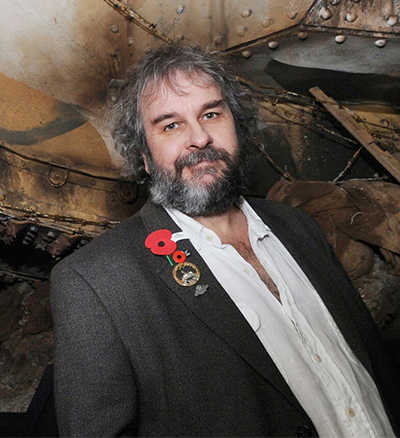 Peter Jackson's most highly acclaimed cinematic achievement is considered to be his screen adaptation of J.R.R Tolkien's The Lord of the Rings trilogy. The project kicked off in 1999 with Jackson not only directing the films but co-writing and producing with long time collaborators Fran Walsh and Philippa Boyens. The Lord of the Rings films earned a total of 30 Academy Award nominations, and won 17 including Best Picture for the final film. In 2010, Jackson plunged back into Middle-earth directing, co-writing and producing a further trilogy of films based around the enduring popular masterpiece novel The Hobbit, penned by J.R.R. Tolkien. Each film earned around a billion dollars at the box office worldwide and the trilogy gathered a total of seven Academy Award nominations.
Between trilogies, Jackson fulfilled a childhood dream helming a remake of King Kong. The films picked up three Academy Awards and a BAFTA. An adaptation of Alice Sebold's acclaimed best selling book The Lovely Bones followed, and was released in 2010.
In 2010 Jackson received a knighthood for his services to film and in 2012 was appointed a Companion of the New Zealand Order of Merit.