Saving a dissident with law and diplomacy
How can a government lawyer extract a Chinese human rights activist from the US embassy in Beijing without blowing up relations with China?
Blavatnik School of Government and Zoom
Open to the public
This event is free - register below to attend
In April 2012, the escape of a Chinese dissident from house arrest in Dongshigu Village, Linyi City to the US embassy in Beijing put the Obama administration's diplomacy skills to the test. Chen Guangcheng is a human rights organiser whose activism around China's family planning policies landed him in prison between 2006 and 2010. After he was released, Chen Guancheng and his family were placed under house arrest.
Chen Guangcheng made his escape from house arrest to the US Embassy on the eve of the United States' and China's annual negotiations on strategic and economic issues. Negotiations between United States and Chinese officials involving Chen Guangcheng's fate were conducted under top secrecy, at the Chinese government's insistence. By 19 May 2012, Chen Guancheng was able to leave China for New York to take up a residency at New York University. 
For this special discussion, Professor Harold Hongju Koh, the US State Department's legal adviser at the time who was instrumental in the negotiations analyses the lessons this case can teach us on harnessing international law in diplomatic disputes.
Please note: this event will also be livestreamed on our YouTube channel.
About the speaker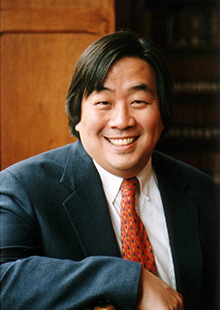 Harold Hongju Koh is Sterling Professor of International Law at Yale Law School. He is also currently Eastman Visiting Professor at the University of Oxford. He returned to Yale Law School in January 2013 after serving for nearly four years as the 22nd Legal Adviser of the U.S. Department of State.
Professor Koh is one of the US' leading experts in public and private international law, national security law, and human rights. He first began teaching at Yale Law School in 1985 and served as its fifteenth Dean from 2004 until 2009. From 2009 to 2013, he took leave as the Martin R. Flug '55 Professor of International Law to join the State Department as Legal Adviser, service for which he received the Secretary of State's Distinguished Service Award. From 1993 to 2009, he was the Gerard C. & Bernice Latrobe Smith Professor of International Law at Yale Law School, and from 1998 to 2001, he served as U.S. Assistant Secretary of State for Democracy, Human Rights and Labor.
Professor Koh has received seventeen honorary degrees and more than thirty awards for his human rights work, including awards from Columbia Law School and the American Bar Association for his lifetime achievements in international law. He has authored or co-authored eight books, published more than 200 articles, testified regularly before Congress, and litigated numerous cases involving international law issues in both U.S. and international tribunals. He is a Fellow of the American Philosophical Society and the American Academy of Arts and Sciences, an Honorary Fellow of Magdalen College, Oxford, and a member of the Council of the American Law Institute.
Recommended reading
The high-stakes negotiation secrets of Hillary Clinton