10 June 2022, 15:00 - 16:00
Blavatnik School of Government and Zoom
This event is free - register below to attend
Over the past three decades, political polarisation has taken on increasing significance in American politics, with notable acceleration in the past six years. After reviewing several events, this talk by Professor William D. Ferguson will relate these developments to interactions between political/economic interests and two types of conceptual frameworks: worldviews regarding government and class interests, and a contrast between class-oriented as opposed to ethnic/racial identities.
A simple model based on pure interests can account for many developments between the 1930s and mid-1970s, but it cannot account for subsequent developments. After offering some background on shared mental models, narratives, political entrepreneurship, economic shocks, and rising inequality, this talk will address interactions between interests and the contrast between a laissez-faire/trickle-down worldview on the one hand and a regulatory/class conflict worldview on the other.
Whereas this broader approach can account for many developments between 1978 and 1990, it fails to address many subsequent developments. For the post-1990 period, this talk will sketch a more comprehensive model that also incorporates a contrast between class-based and racial/ethnic shared identities, with attention to interactions with both interests and worldviews and how political entrepreneurship, with attendant narratives, has framed such interactions. Accelerating polarisation ensues. Discussion will close with several ideas on reversing polarisation, beginning with inclusive counter-narratives and attention to providing economic benefits for the less well off. 
This event will also be streamed live on our YouTube channel.
About the speaker
William D. Ferguson is the Gertrude B. Austin Professor of Economics at Grinnell College. His current research focuses on institutional political economy of development, with attention to collective-action problems and political settlements, using game-theoretic logic. His recent book, The Political Economy of Collective Action, Inequality, and Development, proposes a framework for development theory that combines a typology of political settlements with analysis of associated developmental collective-action problems. This book offers a sequel to his 2013 book, Collective Action and Exchange: A Game-Theoretic Approach to Contemporary Political Economy, which begins with microfoundations of collective-action problems before proceeding to a game-theoretic approach to power, informal and formal institutions, policymaking, and economic growth. Most recently, he is one of six co-authors of Political Settlements & Development: Theory, Evidence, Implications. In 2010-11, while visiting the Ostrom Workshop at Indiana University, he discussed his first book manuscript with the late Elinor Ostrom. Professor Ferguson's earlier research concerns theory of implicit bargaining power in employment relationships. He has taught classes on political economy, applied game theory, labor economics, and policy analysis. He is past Secretary-Treasurer of the Midwest Economics Association and chair and (key) founder of Grinnell's Policy Studies Concentration. Professor Ferguson lives in Grinnell, Iowa with his wife, Claudia Beckwith. They have 30-year-old twins, Caitlin and Taylor.
About the moderator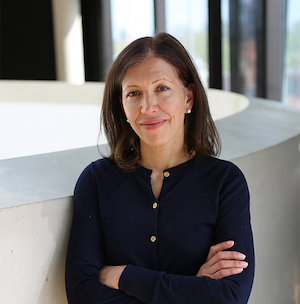 Dr Maya Tudor's research investigates the origins of stable, democratic and effective states across the developing world, with a particular emphasis upon South Asia. She was educated at Stanford University (BA in Economics) and Princeton University (MPA in Development Studies and PhD in Politics and Public Policy). She has held fellowships at Harvard University's Belfer Center for Science and International Affairs, Oxford University's Centre for the Study of Inequality and Democracy, and Stanford University's Center for Advanced Study in the Behavioral Sciences.
She is currently working on two book manuscripts, a comparative study of nationalisms and democracy in Asia and a critical review of nationalism research (Cambridge University Press). Her last book, The Promise of Power (Cambridge University Press, 2013), was based upon her 2010 dissertation, which won the American Political Science Association's Gabriel Almond Prize for the Best Dissertation in Comparative Politics. The book investigates the origins of India and Pakistan's puzzling regime divergence in the aftermath of colonial independence. She is also the author of articles in Comparative Politics, Party Politics, Perspectives on Politics, Annual Review of Political Science, and Indian Politics and Policy. Her writing has also appeared in Foreign Affairs, The Hindu, New Statesman, Washington Post, and Indian Express.
Before embarking on an academic career, Maya worked as a Special Assistant to Chief Economist Joseph Stiglitz at the World Bank, at UNICEF, in the United States Senate, and at the Bangladesh Rural Advancement Committee. A dual citizen of Germany and the United States, she has lived and worked in Bangladesh, Germany, France, India, Kenya, Pakistan, the Philippines, the United Kingdom and the United States.