Blavatnik School of Government, University of Oxford, Radcliffe Observatory Quarter, Woodstock Road, Oxford OX2 6GG
How the Information Underground is Transforming a Closed Society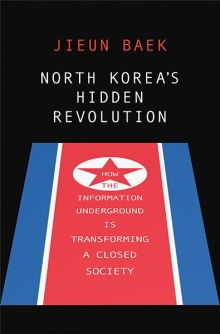 One of the least understood countries in the world, North Korea has long been known for its repressive regime. Yet it is far from being an impenetrable black box. Media flows covertly into the country, and fault lines are appearing in the government's sealed informational borders. Drawing on deeply personal interviews with North Korean defectors from all walks of life, ranging from propaganda artists to diplomats, Jieun Baek tells the story of North Korea's information underground—the network of citizens who take extraordinary risks by circulating illicit content such as foreign films, television shows, soap operas, books, and encyclopedias. By fostering an awareness of life outside North Korea and enhancing cultural knowledge, the materials these citizens disseminate are affecting the social and political consciousness of a people, as well as their everyday lives.
The author will donate proceeds from book sales to organisations that send information into North Korea. 
Read some articles about the book including the New York Times, Foreign Affairs and others.
Author Jieun Baek is currently studying for a DPhil at the Blavatnik School. The event will be moderated by Maya Tudor, Associate Professor of Government and Public Policy at the Blavatnik School
The event is free and open to the public, and will be followed by a drinks reception. To attend, please register here.
The event will be streamed live and recorded on the Blavatnik School of Government YouTube channel.
About the author
Jieun Baek is a doctoral candidate in Public Policy at the University of Oxford. Previously, she was a research fellow at the Belfer Center for Science and International Affairs at Harvard University. Her book, North Korea's Hidden Revolution: How the Information Underground is Transforming a Closed Society was published by Yale University Press in November, 2016 (UK date: February 7, 2017). Baek worked at Google, where, among other roles, she served as Google Ideas' North Korea expert. She has spoken on NPR, PBS, and WSJ, and has written for The New York Times, Foreign Affairs, and various Harvard publications. Baek co-produced a 53-minute documentary on divided Korean families since the Korean War called Divided Families and works with North Korean defector organizations that send information into North Korea. Baek received her bachelor's in Government and master's degree in Public Policy from Harvard, and her hometown is Los Angeles. Visit her at www.JieunBaek.com