Karthik Ramanna, Sarah McAra
Top five tips for teaching cases online
With classes heading online during the pandemic, our Case Centre team shares their tips for teaching case studies online.
Estimated reading time: 4 Minutes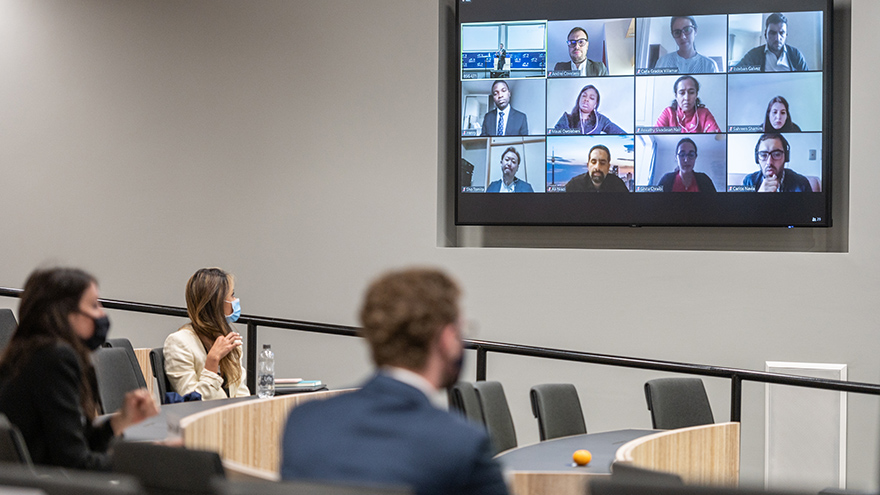 The case method can be a powerful teaching tool for bringing engaging discussions to online and hybrid learning environments. By construction, the case-method classroom requires active participation, so it can help to avert the 'Zoom fatigue' that comes from one-way online learning. Here are a few tips to keep in mind for effective online case teaching.
In the virtual classroom, you will likely cover less material than in a traditional class setting – the flow of the conversation might be a little slower, and technical problems can add delays. You may want to cut down your usual teaching plan to ensure it focuses on the essential topics. As with designing any case session, the learning objectives can help guide you as you rethink the discussion plan. What are the two or three key lessons you want students to take away? Remember, the more focused your learning objectives, the more likely students will remember the session with the passage of time.
Use shorter 'pastures' and more targeted questions to keep students engaged
While the interactive nature of a case discussion should keep students engaged online, you may need to be more deliberate in helping to raise and sustain energy levels. An in-person case session typically has three 'pastures', or discussion sections, that frame the conversation. For a virtual session, you might want to use more, shorter discussion sections with more targeted questions. You can also take advantage of the technology available in an online or hybrid session to add variety to your delivery: use breakout rooms for small-group discussions and paired role-plays, or use quick polls to gauge student sentiment around a particular decision – just remember to build in some transition time to use these tools.
Know the online platform as well as you know your physical classroom
The instructor's role as an orchestrator of the classroom becomes even more important in the virtual environment. Be prepared to manage the unique technical and logistical features of the virtual classroom. On the technology side, make sure you have clear sight lines, can see students' names, and that you have a plan for displaying the whiteboard – and arrive early to test it all out. During the session, you might need to do a bit of extra work to coordinate the conversation. You'll want to scan the 'room' to make sure you see all of the students who want to participate, not just those on a screen in front of you. You can also reflect the classroom sentiment back to the students, who might not have the same comprehensive view as you: 'I see a lot of people shaking their heads, does anyone want to comment?' Or, 'A lot of hands went up right away – let's hear from some of you.'
Plan and delegate
Running a case discussion online takes a lot of coordination and energy. Try to leverage the technology to streamline classroom management, such as assigning students to breakout rooms in advance or adding automatic timers for breakout discussions. Alternatively, if resources allow, you can delegate the technical management to a technical facilitator. The facilitator can monitor who is allowed into the online classroom, manage breakout rooms, and serve as the go-to contact for potential technical problems. This person can also help prompt you to stay aware of and engage with everyone online – e.g., alert you to 'raised hands' online that you may have missed.
Invest (continuously) in online learning norms
Building a learning community is a key part of any case discussion. After all, students are responsible for teaching each other in a case session, which requires a level of trust in and commitment to each other. Some of the norms of a physical classroom still apply: focus on active listening, wait until you're called on to speak, and so on. But online, the instructor might need to be more active in fostering a sense of community. You can use breakout rooms to allow for more small-group discussions, helping students to build collegiality. You can also give students forums outside of the case session to chat more informally – whether about the case or for more casual conversations. And you can use the chat function to allow more students to share their views, but be sure to set community standards here as well to ensure the chat remains constructive. As in all other matters, culture trumps everything else – no matter how good your learning technology, no matter how good your lesson plan, if you don't have the right learning culture, student outcomes will suffer.
To learn more about teaching cases in online and hybrid settings, join our Case Method for Public Policy workshop this June.
Karthik Ramanna is Professor of Business and Public Policy and director of the Case Centre on Public Leadership at the Blavatnik School. Sarah McAra is senior case writer at the Blavatnik School's Case Centre on Public Leadership. See more on the case studies and how they work on the Case Centre on Public Leadership's page.
Photo: MPP students during induction in September 2020 by John Cairns