Stronger and more connected: how my MPP class is adapting to the coronavirus situation
Estimated reading time: 5 Minutes
Image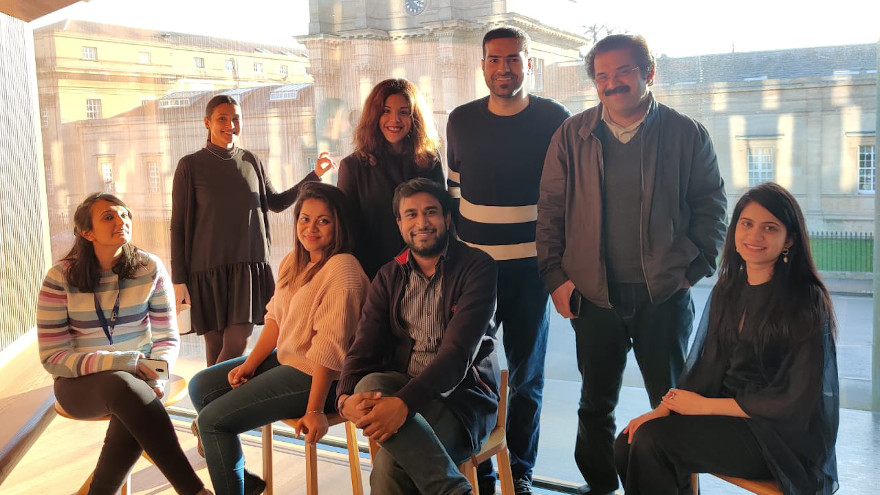 Steeped in tradition and pioneering innovation,
the Blavatnik School of Government has created a unique place for itself in
this historic University. Its unique multi-disciplinary approach – drawing
strength from a range of subjects including philosophy, law, political science,
economics – and its focus on evidence and practice has strengthened my ability
to rigorously analyse and effectively tackle complex global challenges facing
the world today. This opportunity has also given me a brand new, additional
family of students coming from over 50 countries, with varied backgrounds and policy
interests.  Diversity at the Blavatnik School
is not only evident in the student body, but also in the curriculum, the research
focus, and faculty making the MPP at Oxford one of the most international
policy programmes.
The MPP class of 2019 last gathered together in the Inamori Forum precisely two months ago on the last day of Hilary Term. We had two excellent reasons to celebrate. One, it was the end of a long and rigorous academic term, jam-packed with Politics of Policymaking theories such as regulatory capture, principle-agent problem and two-level games and Evidence for Public Policy concepts such as Hawthorne effect and publication bias. Secondly, it was the beginning of the Easter break. After the long and never-ending winter, we could not wait to welcome spring, go out for long walks and picnics to Port Meadow, go punting on the rivers Cherwell and Thames, or just make use of the beautiful terrace in our home, the Blavatnik School building. Hence, to celebrate, we decided to have a 'talent night'. The students put together quite a show, for the delight of our faculty and our dean Ngaire Woods. From dancing to the tunes of Bollywood songs and listening to our very own Chinese opera singer, to laughing at the impressions of fellow students by our favorite class comedian and, of course, a performance by the class rock band 'Moral Hazard', we had it all.
Unfortunately, the talent night on 13 March also
happened to be the last time we would assemble as full group. I wish we had
known that, so that we could, at the very least, say proper goodbyes. A few of
us returned to our countries of origin and to our families, others took up work
assignments with international organisations to respond directly to the
COVID-19 crisis, and some, like me, stayed here in Oxford because it was just
too hard to leave yet. However sad most of us felt at the prospect of
continuing our degree online, the grit, resilience, and compassion shown by my
wonderful classmates very quickly overpowered the initial sorrow. I feel so fortunate
to be a part of this thriving community that consists of people doing grocery
runs for each other, organising virtual pub quizzes, conducting online cooking
sessions, and delivering elaborate online tutorials to ensure that we stay connected
and support each other. We've even continued our tradition of celebrating a
different country represented in the class every week by moving our 'Friday
Telegram' online.
Furthermore, in the wake of the pandemic, my classmates have shown incredible resolve and have already started working on cutting-edge research, including supporting projects such as the Oxford COVID-19 Government Response Tracker that aims to track and compare policy responses around the world. Similarly, the Blavatnik School has demonstrated tremendous agility and adaptability by rethinking the policy challenge and including the recent coronavirus developments in the briefings, as well as by ensuring that all students have a summer project to engage with, including research assignments with Blavatnik School faculty. As the University of Oxford leads the way in the race for a Coronavirus vaccine, and almost all the 100 major academic departments pursue relevant and breakthrough research, I'm left inspired and only ever more proud to be a part of a great academic institution such as Oxford.
Over the last two weeks, our final academic term began, and once again – this time online – we came together to discuss complex policy challenges. We're debating multifaceted issues such as the ethical issues linked with priority ventilator distribution, the changing landscape of education delivery because of the pandemic, and the threats to freedom of speech and expression in the digital era among several other topics. It almost feels like we never really separated. The past month has confirmed that the strong bonds and friendships we have forged during this year will remain forever. This abrupt end to physical classes was not the end of building this community in any way; in fact, it's just the beginning. While we are confident that we'd all be able to come to Oxford to graduate together at the grand Sheldonian Theatre and see each other again, until then, we're going to be making full use of Zoom calls and online social events.
Studying at the University of Oxford has been everything I imagined and more. I've attended debates featuring thought leaders at the iconic Oxford Union; had a three-course dinner at the famed Christ Church grand dining hall; studied in the ornate rooms of the Bodleian Library – really feeling like I was "standing on the shoulders of giants"; visited the many rich museums the University has to offer; and most importantly, made lifelong meaningful connections. The experience has been both humbling and very exciting.
Dhruv Gupta (MPP 2019) is currently studying for the Master of Public Policy at the Blavatnik School of Government.