Reapplying to the MPP: a success story from the class of 2020
Places on our MPP are competitive and limited, but we encourage unsuccessful applicants to reapply.
Estimated reading time: 4 Minutes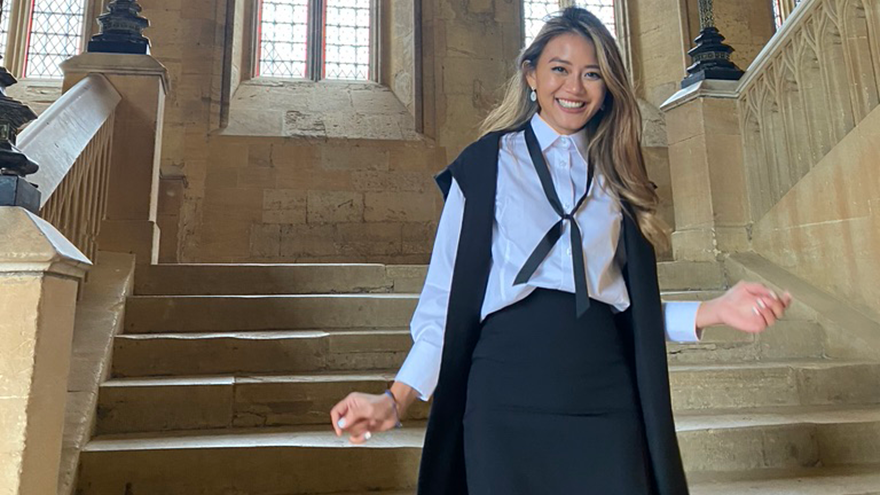 Each year between January and March, the Admissions team at the Blavatnik School of Government are tasked with sorting through hundreds of applications for the Master of Public Policy (MPP). While reading inspiring accounts of commitment to public service from across the globe is undoubtedly a benefit of the job, making the final selection is a much more challenging task. Due to the MPP's limited class size, each year there are many excellent applicants who do not gain a place on the course. For this reason, we are always keen to encourage unsuccessful applicants to consider reapplying. In fact, a number of MPP students over the years have come to the School after facing rejection the first time around, like Allisha Azlan (MPP 2020), who shares her first-hand experience of reapplying and turning rejection into a learning opportunity.
What was your motivation for applying to the MPP the first time around?
I had been working in the US for three years as a journalist focusing on wrongful convictions and other criminal justice issues. It was time for a change, and I wanted to expand my knowledge in the criminal justice field. As a journalist, I had the chance to speak to people affected by policies. I wanted to take a step back and explore how those policies are made, and how to reform policies to become more reformative and rehabilitative, rather than punitive. I had an acquaintance in Oxford who had a great experience studying at the University, which was what initially led me to apply for the MPP at the Blavatnik School.
What were your next steps after your application was unsuccessful?
I was still seeking change, and a friend in Kenya suggested it would be a good place for a new start. I had already been considering it while awaiting the outcome of my application, but it was a risky move as I had security and stability in the US. I took rejection as a sign to take the leap. I sold all my things, packed up a couple of suitcases and left for Nairobi in April 2019. The following month, I started an internship at the UN Office on Drugs and Crime, where I later became a consultant. Looking back, the initial rejection was a catalyst for one of the best decisions I've ever made, which ultimately led me to studying on the MPP this year.
Did you know immediately that you wanted to reapply, or did this decision come later?
I was reluctant to reapply at first – I think this is a natural reaction when you've faced rejection. I was really enjoying my time in Nairobi and at the UN, but I still had the desire to be in a learning environment. It was tempting to think there was no point in reapplying to the Blavatnik School – I'd already been rejected, so why would I be accepted after just a year? But my dad encouraged me to reapply – he said it was worth a try, and he was right!
What did you do differently the second time around?
I approached my application very differently. I'm from Malaysia, so I decided to look up Malaysian students on the MPP at the time and contacted them to ask for advice. I was really nervous about approaching them and thought they would be too busy, but I got a response within 15 minutes from one student! The main advice they gave – and the major difference in how I wrote my application – was to focus on the three elements that the School looks for in its students: academic excellence, leadership, and commitment to public service. My first application had been more journalistic in style – it was quite anecdotal, and in hindsight it probably didn't really address these three points.
The other major difference was that I had an extra year of professional experience to draw upon. Previously I had only worked in journalism and in the US context. Working in Nairobi gave me experience in policymaking and development project implementation, both within the context of an intergovernmental organisation. I could show that I was versatile and open to working in new environments.
Now that you're studying on the MPP, do you see the value of having that extra year of experience?
Absolutely – I learnt a lot during that one year, and can add so much more to classroom discussions based on the extra experience. The MPP looks at policy issues in a global context, so being able to talk about working in an international development context helps a lot in classes and case studies. The extra year of work experience also serves as a useful reference point to which I can apply some of the lessons from the MPP; for example, I can look back and see where processes could have been made more efficient or where certain policies could have been improved.
What is your advice for staying positive and taking rejection constructively?
Keep in mind that the MPP is an extremely competitive programme. I was heartbroken by the first rejection and didn't want to face that again, but you can use it as an opportunity to grow and develop. Take some time to reflect on how you can fill in any gaps in your application. When you're drafting your statement, put some thought into how your additional experiences address those gaps, keeping in mind the three core criteria. Now that I'm here, I'm having the best time of my life and I'm so glad I didn't let myself be put off from applying again.
If you're thinking about reapplying and in need of inspiration – or wondering what you can do to strengthen your application – we hope Allisha's story will provide some hope and useful ideas. Make sure you focus on our selection criteria and remember that each admissions cycle is unique. If an applicant is not selected one year, it doesn't mean that they won't make the cut the following year. Good luck!