Policing for the people
Estimated reading time: 2 Minutes
Image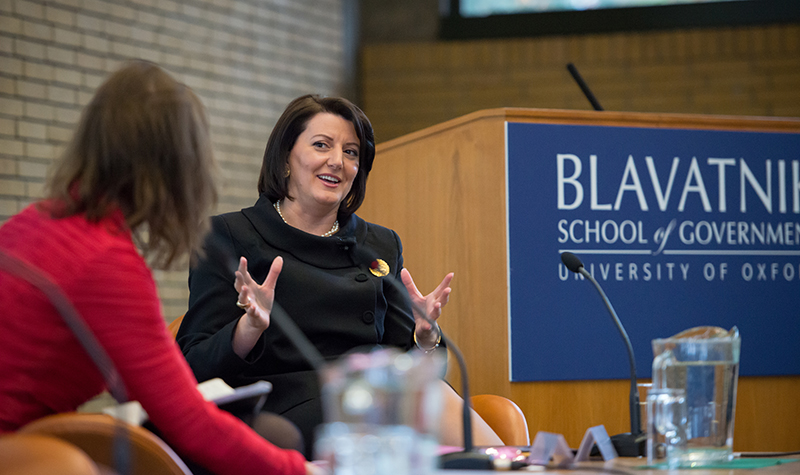 At the Blavatnik School's
Challenges of Government Conference
, Atifete Jahjaga, the current president of Kosovo and former Deputy Director of the Kosovo police, shared insights on how she transformed her nation's police force (you can watch
her full talk here
). Under her leadership, the police transitioned from one of the most hated and distrusted institutions to one held in high public regards that contributed to societal reconciliation and safeguarded an environment in which hope could flourish.
As Kosovo moved from dictatorship towards a liberal society, its police had to overcome many challenges, since its institutional culture was shaped by the nation's repressive past. President Jahjaga emphasised that understanding the importance of the multiculturalism and multi-ethnicity of her country was key to overcoming barriers to change. 
In order to reconcile the different parties and give new opportunities to Kosovo's people, it was paramount to rebuild a capable, trustworthy, and impartial police force that can provide security to everyone in the communities. The police needed a new identity.
One step towards this new identity was made by changing the ethnic makeup of the police's staff and bringing in more women. Citizens were encouraged to apply for a career in the police force, quotas for women were established, and a particular effort was made to recruit members of ethnic minorities. 
Having more female police officers did not only help increase public trust in the police, it also helped tear down traditional gender roles within society. 
Members of different ethnic groups were put on joint patrols in areas with mixed ethnicities to promote mutual understanding. A new police academy was established and the uniform redesigned. Change was happening – and the new uniform turned into a symbol for this change.
Additionally, widespread recruitment campaigns and advertisements brought the citizens closer to their police. They were invited to become part of it. That helped take away their fear of the police.
President Jahjaga also explained that the international community was particularly helpful in the process. Experts came from around the world to share their profound experiences in democratic policing and helped combat organised crime. And technology became a powerful asset in the promotion of security, democracy, and inclusion. Yet, she also pointed out how important it would be for the fight against international organised criminal organisations that Kosovo becomes part of Interpol and Europol.
A policy advisor from a South Sudanese ministry asked the President if she could share insights on how to deal with ex-combatants. In the President's opinion, Kosovo fared well by allowing them to also apply for positions within the police, but then noted that it was essential to have strong selection criteria and a zero tolerance policy towards hatred and violence. However, she added that every country is historically and culturally unique and that there is no blueprint solution that would be blindly transferable to every state.
During a discussion on the importance of community policing, President Jahjaga said: "Every police officer is a community police officer – even a general like me. We live in the communities and – like it or not – it is your duty to protect everyone." To Professor Ngaire Woods' question about what she wished she knew when she was on active duty in the police, she responded that she would have liked to have understood that serving the people is the prime cause.