October has come again
Estimated reading time: 2 Minutes
Image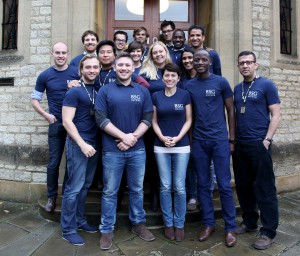 October has come again: another academic year has passed, a new academic year has begun and another Oxford Half-Marathon has been run by the BSG team!
Our MPP Class of 2012 will soon be coming back to graduate having all passed their exams with overall impressive results. At the same time the arrival of our MPP 
Class of 2013
has brought the School back to life after our MPP summer hiatus.
During the past few weeks I have had the great pleasure of seeing the results of our 2012/13 admissions process come to fruition in a MPP class of 65 individuals from 39 different countries and territories. It has been an extremely rewarding experience seeing them going from an application number on a screen to individuals of flesh and blood whom I have had many great conversations with and who I look forward to sharing our school with the coming year!
It is, however also time to think of the admissions process for the MPP Class of 2014, which opened on 1 September 2013 and ends on 24 January 2014. Running the
Oxford Half-Marathon
for the second time last Sunday with 15 other BSG students and members of staff illustrated what teamwork, preparation and commitment can help you to accomplish. These are the same attributes that you should use in writing your application: Use your peer network, read all relevant material and commit sufficient time to make your application an outstanding one!
On this note I would encourage all applicants to apply as early as possible. If you apply early you will be able to receive guidance from the central Graduate Admissions Office of the University, whereas if you apply just before the deadline the admissions office will be too busy to offer last minute guidance.
When applying be aware that the Graduate Admissions Office initially handles all graduate applications and no materials should ever be sent directly to the School unless we contact you to request it. For information on the technical aspects of application please see the
Graduate Admissions Webpage
.
Please also note that you can begin the
online application process
using the Embark System at anytime; save your progress and then return to the application earlier. I would recommend you do this straight away to familiarise yourself with the form.
In particular, the four things you should start now are: Funding, References, Transcripts and Language Tests. For further information on the exact requirements of the below please see the
Graduate Admissions Application Guide
and the
BSG Website
.
Search for Funding


Use the University's Funding Search Tool to establish which funding opportunities you are eligible for and how to apply for them. You can also find information on the BSG Website and the Graduate Admissions Website.


Use your own network to establish which scholarships external to the university you are eligible for and how to apply for them.


Try to diversify your funding applications so that you are not solely reliant upon a single funding application.


Secure your References


Read the section on references in the Graduate Application Guide.


Contact your referees to ensure that they are willing to give you a reference.


Enter their details into the Embark Application Form.


Ensure that the references are submitted before deadline of 24 January 2014.


Order your Transcripts


Read the relevant section on transcripts in the Graduate Application Guide.


Make sure that you have the necessary transcripts.


Scan them and upload them to the Embark Application Form.


Schedule  language tests if necessary


Read the relevant sections on English Language on the BSG website


If you do not qualify for a language waiver, please schedule a time for a language test as soon as possible to ensure that your results will be published and available in time.


Follow the above and you are off to a good start!
For now I wish you the best of luck with your application preparation and I will be back with another blog post in a month's times!
Image: The 2013 Half Marathon Team of students and staff. Copyright: Blavatnik School of Government, all rights reserved.