My summer project: Design Government Initiative in the UAE
Estimated reading time: 3 Minutes
Image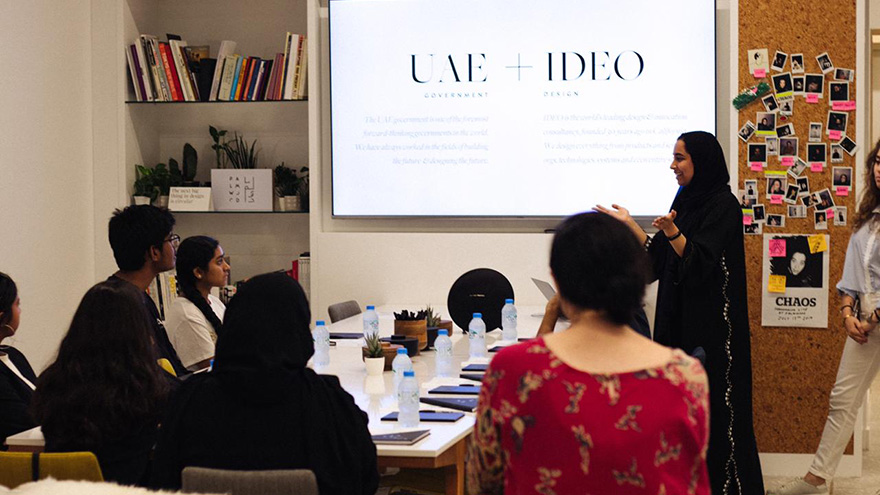 The United Arab Emirates (UAE) is only 48 years old, and its government institutions are just as young. While young, the UAE is an ambitious country, not just in its skyline (having the tallest building in the world), but also in its innovative approach to government structure – being the first country to have a minister for youth, Artificial Intelligence, and happiness.
I am doing my summer placement at a new government
venture, Palmwood – a creative organisation founded
by the UAE government and global design firm IDEO. Building on a deep-rooted
tradition of collaboration, Palmwood uses a multidisciplinary approach with a
human-centred focus that involves research and rapid ideation – in fact, the phrase
'design thinking' was coined by IDEO, which has practiced human-centred design
since their inception in 1978.
Palmwood aims to
establish a new standard for innovative solutions for governments and organisations,
providing a platform to develop the creative capability of the people of the
UAE, and stimulating new conversations about what is possible through design.
Under Palmwood, I
have been focused on the newly launched D.Gov (Design Government) Initiative, which aims
to develop a new generation of government talent. Under this initiative, I
helped design and research the simulation bootcamps for the cohort of the
programme.
The D.Gov Initiative introduces the design thinking methodology to government employees. Design thinking is a problem-solving method that puts humans at the centre of ideation and promotes co-creation between policymakers and citizens. A government which adopts design thinking focuses on satisfying the aspirations and needs of the community, promoting a culture of design, and developing and launching initiatives, policies and programmes with a human-centred core.
This approach encourages organisations to focus on the
people they are creating for, which naturally leads to better products,
services and internal processes. By training and equipping current government
employees with the design thinking tools and skillset, and encouraging them to
apply them to policymaking, we hope that, over time, governments will be in a
better position to rebuild the bridges between government and those being
governed.
One of the participants highlighted the importance of the initiative beautifully when she told me: "We are no longer creating policy for the people; we are creating policy with the people".
It must be said that design thinking is not a completely new policy instrument in the UAE. Historically, leaders of the country opened their living rooms for the public to come in and voice their concerns, and such practice played a key role in influencing policy. However, as the country developed, grew in size and started to streamline its policy process, this practice was hard to maintain and policymakers slowly lost the connection with their citizens.
While the programme is just in its pilot phase, it is already very promising. Government is often perceived as if it works from an ivory tower; this programme is trying to break that stereotype and incentivise policy reform from the ground up. One of the participants highlighted that, when they first joined public service, their goal was to bridge the gap between people and government, but they lost drive when they got caught up in the bureaucracy.
Incorporating the design thinking process in policymaking can help deliver better government and public service, because in the end that is the goal of public service: to serve the people. With governments facing increased pressure to think about how they can better adapt to the present situation, I think D.Gov is one first, solid step in bringing governance to the 21st century in the UAE.
Maitha AlMemari is a Master of Public Policy student, currently in the UAE for her summer project.