The health-security nexus: Reassessing priorities after COVID-19
Estimated reading time: 6 Minutes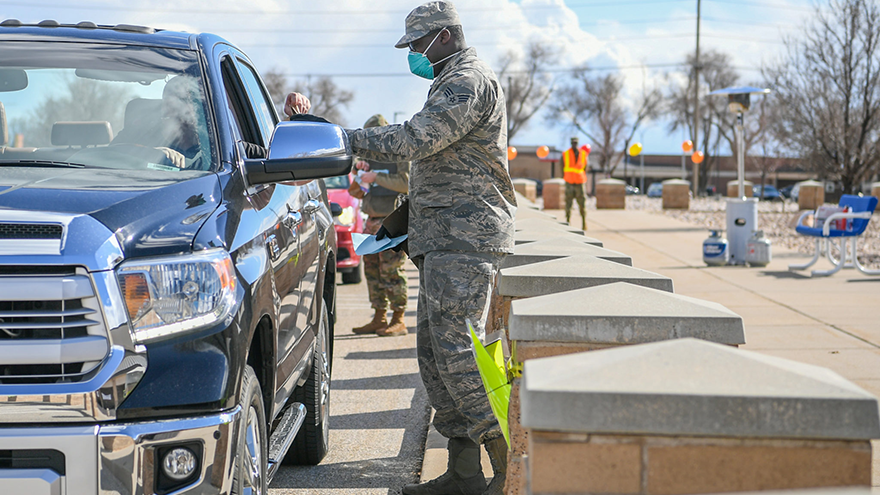 The devastating toll of the coronavirus pandemic has ignited a debate about the intersection of public health and national security. Once recognised as global leaders in pandemic preparedness, the United States and the United Kingdom have struggled to integrate policy responses to COVID-19 into existing security frameworks and to allocate resources accordingly. Indeed, public health spending in both countries pales in comparison to spending on counter-terrorism, even though more America lives have been lost to the pandemic than in all US wars since World War II and the number of COVID-19 deaths in the UK far exceed those attributed to terrorism in the last 50 years. Consequently, some academics and policymakers have questioned whether the prevailing notion of national security – a state's capacity to defend its territory and protect its citizens from attack or other external dangers by maintaining armed forces – is insufficient. Instead, as Max Boot, Oona Hathaway, Samantha Power and Ben Rhodes rightly argue, our conception of national security should be broadened to include health security, public health systems and the associated global health governance regime. Still, caution should be taken so as to not develop an overreliance on the military to fight disease.
There is, however, no universally agreed definition for the concept of health security, either among analysts or within the World Health Organization. The concept first gained prominence in the 1990s with the emergence and re-emergence of infectious diseases, including the global HIV/AIDS pandemic. In 2000, the United Nations Security Council adopted Resolution 1308, which identified HIV/AIDS as a threat to peacekeeping operations in sub-Saharan Africa – the first time a health crisis was framed as a threat to international peace and security. After 9/11, attention shifted from naturally occurring infectious diseases to the potential proliferation of biological weapons and, specifically, their use by terrorists. The evolution of the health security concept culminated in 2009, when the Obama administration released the first National Strategy for Countering Biological Threats, which emphasised the need to strengthen public health capabilities to reduce biological threats. The UK government, for its part, categorised infectious diseases as a top-tier risk in the 2010 and 2015 National Security Risk Assessments and published its first cross-government Biological Security Strategy in 2018.
Together, the US and the UK became leading proponents of health security. In 2014, the Global Health Security Agenda encouraged the international community to strengthen national and global capacity to prevent and respond to disease. But despite growing global recognition of biological threats, public spending on health security remains low relative to other national security priorities: the US spent an average $186.6 billion per year in the last 15 years on counter-terrorism and a paltry $1.39 billion on programmes to prevent pandemics and infectious diseases. The 2019 budget of the Centers for Disease Control and Prevention was slightly more than 1 percent of that of the Pentagon. Meanwhile, the UK has spent more than £2 billion per year on cross-government counter-terrorism activities, but since 2014 reduced public health funding by £850 million. This asymmetry in government expenditure and the deleterious effects of COVID-19 warrant a reassessment of national security priorities.
If we broaden our thinking about national security to include health issues, what should the resulting policy and spending priorities be? Several views have emerged from recent debates:
Protect the health and wellbeing of the general population: In particular, universal access to health care, sustainable financing for health systems, and the development of pandemic response plans for national and local governments, as well as regular exercises to test them, would help ensure that we are prepared for the next pandemic.
Invest in global health security preparedness: Preventing disease outbreaks abroad will avoid interruption in global supply chains and ensure that developing countries and vulnerable communities are protected. 
Prepare for a potential renewed threat from bioterrorism: The COVID-19 crisis exposes a vulnerability to biological threats that terrorists might seek to exploit. Still, despite advances in the biological sciences, there have been few instances of bioterrorism to date.
Although the identification of health as a security issue may lead to greater prioritisation and funding, there are trade-offs. Characterising a disease as a security threat could give impetus to law enforcement policies designed to control it, rather than programmes designed to ameliorate or eradicate disease. Securitising health might also create a path dependency on the military, encouraging an overreliance on the armed forces to deal with health crises. Should the military be called upon to perform traditional defence activities, such as fighting wars, its involvement in the health sector could prove unsustainable due to limited resources. Finally, in the past, the securitisation of health has resulted in health being used as a justification to advance military or intelligence objectives, as in the CIA's use of a vaccination campaign to find Osama bin Laden in Pakistan. This can lead to stigmatisation of outside assistance in health emergency operations, and health workers themselves may become security targets.
The coronavirus pandemic has highlighted the acceleration of many of the trends that date back to the earliest days of the conceptualisation of health security. Unlike past pandemics, COVID-19 has undermined critical infrastructure due to lockdown restrictions and laid bare the deeply rooted structural inequalities that underlie public health systems. The story of COVID-19 will therefore be less about the pathology of the disease as about its effects on the international order and on inequality globally, regionally and locally, particularly its disproportionate impact on people of colour – illustrated most recently by the George Floyd protests. The world now has an opportunity to reshape the global health agenda and reset national security priorities. Still, infectious diseases and more traditional security issues are not mutually exclusive and investing in public health can simultaneously help further national security interests. One possible way forward is to develop a new global health agenda grounded in justice, fairness and collective responsibility, rather than narrowly focusing on security threats like bioterrorism. Such an agenda should aim to redress asymmetries in global health institutions and invest in health systems to improve the wellbeing of global populations before the next pandemic emerges.
This article was originally published on OxPol, the University of Oxford Politics blog.
Nima Gerami is a Visiting Scholar at the Blavatnik School of Government and a Visiting Fellow at the Oxford Institute for Ethics, Law and Armed Conflict. He is also an expert consultant at the National Defense University in Washington, DC. He is currently undertaking a project assessing ways to prevent nuclear proliferation in the Middle East in the aftermath of the US withdrawal from the Iran nuclear deal.
Amanda Moodie is a Policy Fellow at the National Defense University's Center for the Study of Weapons of Mass Destruction in Washington, DC.
The views expressed here are the authors' own and do not reflect the official policy of the National Defense University, the Department of Defense, or the US government.