Does international cooperation require shared values?
Estimated reading time: 4 Minutes
Image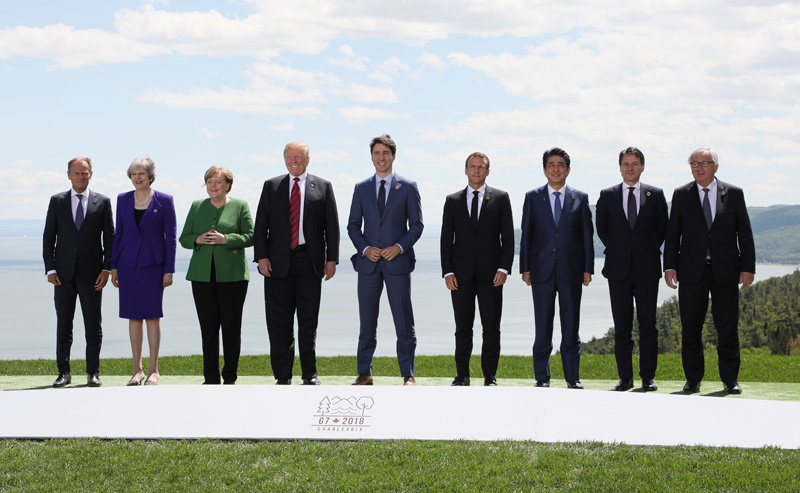 Between escalating trade disputes and the divisions at the G7's summit this month, the breakdown of global governance has become starkly apparent. The United States can no longer be counted on to uphold, much less enforce, existing rules, and countries more broadly cannot be assumed to agree on, much less adhere to, a common set of norms. Does this mean the rules-based world order is doomed?
[caption id="attachment_9101" align="alignnone" width="800"]
Participants of the 44th G7 summit in La Malbaie, 8 June 2018. Image credit: 内閣官房内閣広報室 via
Wikimedia Commons
[/caption]
Over the last seven decades, democratic values have underpinned efforts, led by the US and Europe, to deepen international cooperation. Since the end of the Cold War, when the West claimed victory for liberal democracy, US and European leaders have often cited "shared values" in forums like NATO and the G7 (known as the G8 until Russia was suspended in 2014 for breaching those values in Ukraine).
But the world has changed. Russia no longer needs to be part of the club of Cold War "victors" to advance its geostrategic interests. China was never a member, and yet it has risen to the status of a major world power. These countries, along with other major emerging economies, are increasingly challenging the geopolitical dominance the West thought it had secured.
Even more potent, however, is the challenge coming from within the West itself, where anti-establishment political forces in the US and Europe are winning support by contesting long-accepted values and forms of cooperation.
To be sure, despite the United Kingdom's Brexit vote and America's unilateral diplomacy and trade tariffs under President Donald Trump, the West has not abandoned the notion of shared values. After Trump attempted to bar citizens from seven Muslim-majority countries from entering the US, German Chancellor Angela Merkel 
said
 the policy was "not justified." She was speaking at a press conference alongside Swedish Prime Minister Stefan Löfven, who called it "deeply regrettable." Löfven then pointed out that Sweden and Germany "share fundamental values" and emphasized the European Union's "important role for values and human rights." Merkel, for her part, has cited the importance of shared values in responding to challenges like international terrorism.
But it is folly for European powers to believe that they can rely on shared values to achieve international cooperation, just as it was folly for the West to believe that 
accession
 to the World Trade Organization would somehow turn China into a liberal democracy. European countries are unlikely to persuade China, Russia, or the Trump administration to adopt their worldview.
This does not mean that international cooperation has become impossible, much less that countries have no choice but to steel themselves for a coming age of dysfunctional alliances, proxy conflicts, or even war. Instead, it means that cooperation must be anchored not in shared values, but in shared long-term strategic interests. The imperative for countries now is to determine what their long-term strategic interests are; how they overlap (or not) with those of others; and what systems of mutual accommodation could help to advance them.
In assessing shared interests, trade is an obvious area of concern. Trump's imposition of tariffs on steel and aluminium imports is undoubtedly popular with at least some of his base, but it has infuriated America's closest allies, which have already 
begun retaliating
.
Economists 
predict
 that the Trump administration's tariffs will cause over 400,000 job losses in the US – which translates to 16 losses for every one job saved in steel and aluminium. This approach clearly is not in anybody's long-term strategic interests, even if it does offer short-term political benefits.
Countries' consideration of their strategic interests must also focus on technology. Google and Alibaba now compete for the world's top computer engineers, many of whom are European, in order to win the race to control the world's data, develop quantum computing (on which the next generation of encryption will rely), to create more profitable applications of artificial intelligence.
Europeans have become dependent on such companies, which are all based in China or America. Yet Europe has focused more on enforcing shared values in the tech sector – namely, by 
strengthening
 data privacy regulations – than on developing a 
long-term strategy
 to become competitive. Defining such a strategy could help Europe to identify areas for mutual accommodation.
A third area with potential for strategic cooperation is development aid and investment in the world's poorest and most fragile states. Such cooperation is essential to combat terrorism, human trafficking, and migration. Yet here, too, countries are acting against their own interests, with the US and Europe cutting aid budgets and trying to control immigration at the border.
Meanwhile, China is making major investments in poorer countries, but in ways that the US and Europe consider anathema. Whereas the US and Europe approach development from a poverty-reduction and good governance standpoint, China places a higher priority on supporting infrastructure development as part of its industrial policy. It has even acquired infrastructure in distressed eurozone countries like Portugal and Greece – a move that reflects a lack of strategic thinking on Europe's part.
But neither approach will succeed without mutual accommodation. That is the implication of conclusions reached in April by the LSE-Oxford Commission on State Fragility, Growth, and Development, chaired by former British Prime Minister David Cameron. As the Commission's 
report
 argues, all major powers need to adopt a more pragmatic and patient approach which is focused not on long lists of impossible objectives, but on local needs and capabilities.
In a promising move toward strategic accommodation, China has 
established
 an International Cooperation Agency to accompany the country's ambitious Belt and Road Initiative. The new body will allow aid to "play its important role in great power diplomacy." The US and Europe now need to do more to develop their own long-term strategic objectives and to seek new ways to achieve cooperation internationally.
Systems of mutual accommodation that facilitate the realisation of shared interests are possible. If established international organisations are no longer sufficiently trusted to carry out this function, the US and Europe may well need new domestic arrangements. For example, former US Secretary of State Henry Kissinger has proposed a permanent office within the White House for managing relations with China. As values-based global governance continues to deteriorate, the need for such mechanisms of continuous interaction could not be more urgent.
This piece was originally published by Project Syndicate on 27 June 2018.
Ngaire Woods is the founding Dean of the Blavatnik School of Government and Professor of Global Economic Governance at the University of Oxford.