The "COVID cohort": Redefining what it means to study public policy in a time of global crisis
A look back on studying during a tumultuous year.
Estimated reading time: 4 Minutes
Image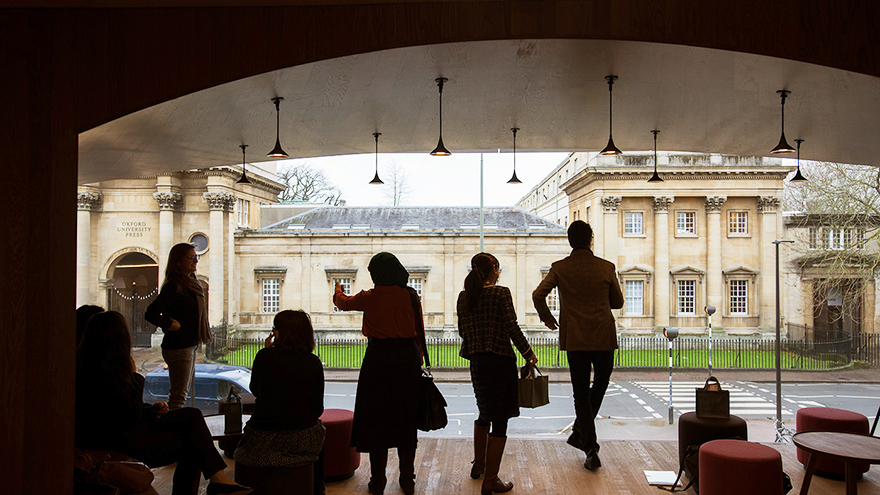 Upon beginning the Blavatnik School of Government's Master of Public Policy in September, I could have never imagined that I would be back at home in Newfoundland and Labrador, Canada only six months later, having traded the 'Window to the World' for calls on Zoom and myriad other online platforms. For those of you who have not seen it, above the entrance to the Blavatnik School on Walton Street in Oxford is the largest double-glazed single pane of glass in Europe – the 'Window to the World'. It fills the School with light, which I view as symbolic of our collective hope for better leadership, service, and governance the world over. But thanks to the committed and innovative community at the School, Zoom has somehow similarly become a window to the world in recent weeks – a thirteen-inch computer screen in my case – but nonetheless a window into the lives and homes of over 120 colleagues from over 50 countries.
Despite this radical shift in education delivery and interaction, our Trinity Term at Oxford contains all academic elements it otherwise would have. Having just finished the first online exams in Oxford's near thousand-year history, we are now completing option courses and short applied policy modules. My chosen topics include 'Governing the Global Economy', 'Identity, Nationalism and Multiculturalism', 'Managing Organisational Performance', and 'Public Budgeting'. It can be difficult to summon our usual vigour when time zones stipulate a class discussion at four o'clock in the morning, but that said, the topics we are studying take on new layers of salience in times of crisis. The global economy, for instance, has not weathered pressure of this magnitude since the Great Depression of the 1930s. To learn about international trade at a time of such disruption will prepare us to act with sharper confidence and vision in our own careers. Furthermore, discussions of identity and nationalism directly relate to government pandemic responses, many of which have been couched in nationalistic language and imagery. This discourse, and the related closure of national borders, calls into question whether or not our world will become more or less global going forward. Governments around the world are also struggling to maintain organisational performance while working from home, and decision-makers are grappling with how to budget for economic stimulus packages without knowing how they will pay for them when the virus subsides. These topics all pose fundamental questions, and the opportunity to explore them in real time with such a thoughtful, inclusive community is one I am very grateful for.
Another academic hallmark of our Trinity
Term is a policy simulation exercise, which this year has been impressively
modified in a short period of time to include a COVID-19 government response
simulation, in addition to climate change and counterterrorism options. This is
a clear demonstration of the School's adaptability to a changing global
reality, and its clear commitment to addressing our world's most pressing
challenges. In addition, our opportunities for learning and development within
the School continue to be augmented by thought-provoking leaders from around
the world. The inaugural installment of the virtual Dean's Forum, for example,
featured Professor Ngaire Woods in conversation with David Simas, CEO of the
Obama Foundation.
With academic delivery expertly intact,
I do not pretend to view our situation with rose-coloured glasses. Warm sunny
afternoons in Port Meadow, late-evening prosecco on the Blavatnik School's rooftop
terrace, early-morning punting on the river Cherwell, and white-tie commemoration
balls are not to be in Oxford this year. Instead, we find ourselves spread
across the world grappling with government pandemic responses and wondering how
we might contribute. The fast-paced and invigorating Oxford social calendar has
been replicated, in part, thanks to faculty and students alike who have taken
the initiative to create virtual common spaces, where we can continue meeting
individually for coffee or lunch, or as a cohort for Friday evening socials.
The Blavatnik School has one of the most active and enthusiastic cohort
dynamics across the University, and if this pandemic has failed in any way, it
has failed in eroding our enthusiasm.
University communities around the world have much to be concerned about in planning for the coming academic year, but let me reassure you, the 'Window to the World' is still there on Walton Street, albeit behind locked doors. The ability to gaze out at the famous Oxford University Press, or at the cyclists racing through the British rain on the street below, has been temporarily exchanged for a kind of microscope on government pandemic responses and their ramifications on all continents, as well as the perspectives of young public policy thinkers who are experiencing these responses firsthand. We undeniably face a reckoning for governments in responding to this pandemic, and in transforming our economies and societies in the months and years afterwards, but likewise, this unprecedented time in our lives represents an opportunity to multiply the value we place on public policy education and the formation of leaders for our world's future. This inflection point for governments around the world is indeed an inflection point for students studying government as well. Enrolment in the Blavatnik School of Government's Master of Public Policy, and in similar programmes around the world, has never been more important.
Michael O'Keefe is currently studying for a Master of Public Policy at the Blavatnik School.