Bringing in the doctors: can academia save government from itself?
Estimated reading time: 3 Minutes
Image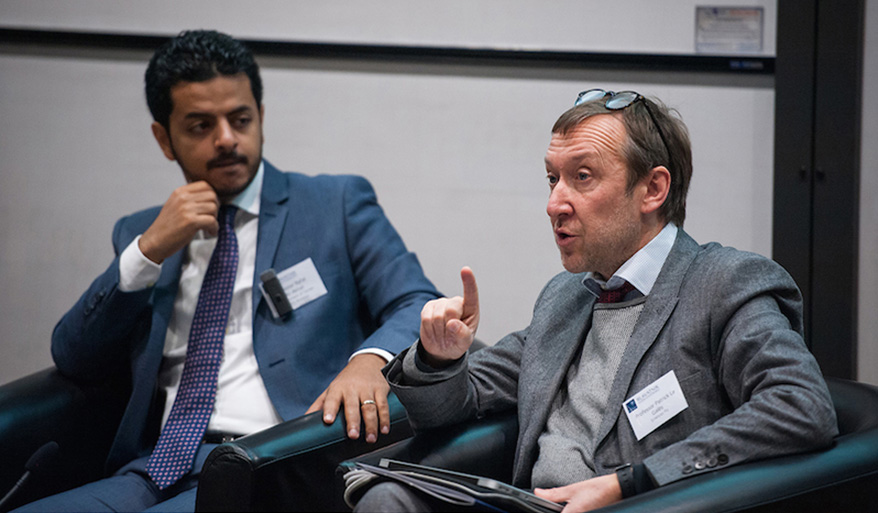 [caption id="attachment_7645" align="alignnone" width="878"]
Patrick Les Galesat the Challenges of Government Conference 2014[/caption]
Academics and policymakers need to work harder to ensure that the best evidence informs and gets translated into the most effective public policies. That is one of the main underlying conclusions from the "Challenges of Government: Flourishing Cities" conference, organised by the Oxford Blavatnik School of Government and held in Oxford last week. Understanding the need for greater policy design, implementation, and evaluation capacity within both developed and developing governments around the world, the conference signalled a willingness on the part of the academics to help national and local governments around the world to do better public policy. But how can these best be tapped into and built upon?
Speaking at the opening plenary of BSG's conference on "Flourishing Cities",
CNRS Director Patrick Le Galès
recalled the words of former German Chancellor Helmut Schmidt that "people who have visions should go see a doctor". And the
doctors
were present
en masse
at these discussions around the future of city management worldwide. One of the conference's underlying themes was specifically a call for "bringing in the doctors" to support policy-makers in turning visions into public policy that will create real, lasting change.
Sitting next to Prof. Le Galès at the opening plenary, and comfortably sharing his experience as the Minister of Youth and Sports of Yemen, BSG alumnus Rafat Al-Akhali represents the ideal class of public servant. He will go out of his way to interact with academic
doctors
to ensure that his
visions
are not only directed toward the most effective and efficient outcomes, but that they are feasible within the predictive power of current research. But how often do such interactions take place? Policymakers are more often informed by public support polls than by sound scientific research. They may not be opposed to talk to the
doctors
, but unless it is their last resort, most politicians and public servants will not make too much effort to take the first step in starting the dialogue.
Wanted: More opportunities for policy-academia exchange
With or without the best information available, the truth is that governments will go ahead and make public policy anyway. Electoral incentives call for grandiose visions of social transformation and infrastructural improvement, even if they hinge on nothing more than a catchy public relations hunch. Here is where the role of academia – and of the social sciences, in particular – can help government avoid the pitfalls of bad policy design.
The creation and maintenance of structured exchanges between the academic and policy-making circles is important for all levels of government, but particularly at the municipal level, where managerial capacity varies so greatly not only across countries but also within the same national context, between richer/bigger and poorer/smaller cities. Governments should pursue a policy of integration of key staff into the world grid of research and knowledge through exchanges with public policy schools, participation in major academic gatherings, the institutionalisation of academic "red teams" recruited from high caliber institutions to conduct complementary policy design and research in parallel to governmental staff. These are only a few of multiple engagement options for policy-makers seeking to draw on academic expertise.
A prescription for policy advice
Of course, policy-makers are busy and oftentimes closed off in hermetic decision-making environments. It is moreover naïve to expect that governments will abide by academic prescriptions if those deviate too widely from political and electoral considerations. So what can academics do? Just like real
doctors
facing a stubborn patient, academia needs to approach policy-makers with convincing, case-specific policy prescriptions. Patients like to think they are unique, rather than just one more
case
. Policy-makers are likewise more likely to listen to academics if they perceive that the advice has been tailored to their specific needs. That means rethinking both the way academic research is conducted and communicated to public policy circles.
One of the strongest messages coming out of the first day of the "Flourishing Cities" Conference was precisely the need for academics to replace once and for all the "best practices" mentality with context-specific research. Academia needs to leave the comfortable assumptions of "rational behaviour" and neat government organisational structures to incorporate the narrow but very real political constraints that dominate public decision-making. More often than not, policy-makers are ready and eager to follow academic advice, but academics must understand and act on – rather than being discouraged by – the ubiquitous role of electoral politics in public policy.
A conference that bridges the divide
The "Flourishing Cities" debate has charted key avenues for policy-academic collaboration, from modelling strategies to craft effective anticipatory urban planning policies (when do cities become
too
big?) to the empowerment of informal social and religious networks to help cities revitalise their public spaces to the overarching goal of building "citizenship". Whether we're bringing in the
doctors
to the policy-making world, or vice-versa, bridging the divide between policy and academia provides a quick, cost-effective way to improve public policy worldwide.
The Blavatnik School of Government is committed to creating capacity and leadership among both academics and practitioners to facilitate the dialogue. Its Master of Public Policy programme fusions policy strategy with academic depth, and even after so few cohorts, the School's impact on the academia-policy nexus is tangible. The youngest-ever Yemeni Minister Rafat Al-Akhali is only one example of many MPPers – past and present – who have left or will leave the
ivory tower
in the pursuit of making government smarter.
Vinicius G Lindoso is currently an MPP student at the Blavatnik School of Government.