Antimicrobial Resistance: Confronting a crisis on an international scale
Estimated reading time: 6 Minutes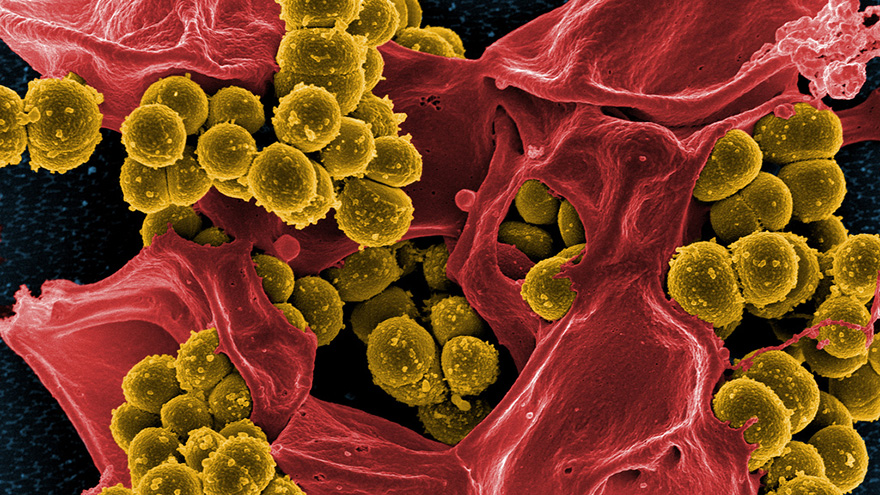 "Antimicrobial resistance is a crisis that must be managed with the utmost urgency. As the world enters the ambitious new era of sustainable development, we cannot allow hard-won gains for health to be eroded by the failure of our mainstay medicines." - Dr. Margaret Chan, Director-General, World Health Organization
According to a
UK government-commissioned report
, nearly 700,000 people die annually
f
rom
antimicrobial resistance (AMR)
. Antimicrobials treat infections caused by bacteria (antibiotics), fungi, viruses or parasites. Antimicrobial resistance arises when these microorganisms survive exposure to drugs that are designed to eliminate them.
[caption id="attachment_8465" align="alignnone" width="880"]
Micrograph of Methicillin-Resistant Staphylococcus aureus (MRSA). Source:
Flickr Creative Commons
[/caption]
Failure to identify and implement effective solutions for AMR could result in approximately 10 million deaths by the year 2050. Moreover, the potential economic consequences are staggering, as
the global cost for treating AMR could reach $100 trillion
.
The World Bank says that
AMR must be urgently addressed
to ensure that United Nations Sustainable Development Goals are met by 2030.
I chose AMR as the topic of
my MPP summer project
, and I used evidence-based data to highlight the environmental threat of antimicrobial contamination of soil and water via pharmaceutical, hospital, and agricultural waste. My research allowed me to formulate recommendations for effectively managing AMR surveillance of industrial pharmaceutical, hospital and agricultural antimicrobial contamination of soil, food, and/or water. I did this by working across the public, private and not-for-profit sectors . I encouraged them to become proactive in reducing AMR and designed a series of recommendations for the UK Department of Health for consideration at the first ever
United Nations General Assembly (UNGA) High-Level Meeting on Antimicrobial Resistance
which took place in New York last September.
Here are a few of those recommendations:
Global cooperation and commitment to act on AMR
A
"One health"
initiative is underway, involving international stakeholders from different sectors in a joint effort to combat AMR.
Collectively, at least 16 other countries have also established
national action plans
for battling AMR. Along with its
National Strategy for Combating Antibiotic Resistant Bacteria
, the United States committed
over $1.2 billion in FY2016
. Understandably, this is a daunting sum for many other countries, but it is in the collective global health interest for nations to commit any resources they can afford.
Education and preventive measures should be readily available
Increasing education about proper use and disposal of antimicrobials should be prioritized on a global scale. Non-governmental organizations should partner with governments, domestic and international organizations to ensure that effective education measures on proper use and disposal of antimicrobials are adopted in both urban and rural areas. Thorough sanitation practices for humans and animals and preventive healthcare measures such as routine vaccinations for common infections should be implemented.
Pharmaceutical companies and healthcare providers should rethink antimicrobial design, diagnostics, and prescribing patterns
An important issue to consider is whether traditional means of synthesizing and manufacturing antimicrobials are the most effective way to decrease the probability of AMR in later years. Ideally,
efficiency and precision should be optimized
in drug development and prescribing so as to decrease the quantity of antimicrobials produced and available for use.
Diagnostics
should be rapid, innovative, accurate, widely accessible and affordable. Yet, profitability is an ever-present concern, and pharmaceutical companies need incentives to bring novel treatments to market. New technologies and a reframed approach to prescribing are effective tools for ensuring that the medications delivered are appropriate and adequate.
[caption id="attachment_8469" align="alignleft" width="300"]
United States Department of Health and Human Services
Secretary Sylvia Mathews Burwell speaks to the United Nations
General Assembly on the United States' role in the global fight against AMR (photo by the author)[/caption]
Quality control is needed at every point in the pharmaceutical supply chain
Several pharmaceutical companies
pledged
to work towards combating AMR by signing the "Declaration by the pharmaceutical, biotechnology and diagnostics industries on combating antimicrobial resistance" at the 2016 World Economic Forum in Davos. Proper pharmaceutical surveillance includes registration for antimicrobials on a global scale, regular and consistent quality standards for antimicrobials, proper regulation of purchasing patterns to reduce the quantity of antimicrobials for sale and in distribution, and monitoring the individual and environmental impact of antimicrobial production and disposal. Furthermore, governments can work with the WHO International Conference on Drug Regulatory Authorities (
ICDRA
) along with the UN and UNEP globally to implement and standardize quality control of antimicrobials. Pharmaceutical companies should continue to commit to being better corporate citizens and assume collective responsibility in conjunction with other stakeholders to maintain proper handling and disposal of antimicrobials.
Surveillance and data collection on antimicrobial waste and contamination of soil must be conducted globally
Effective surveillance methods are essential for working toward lessening environmental contamination from antimicrobial production. Currently, the WHO is offering enrolment in the
Global Antimicrobial Surveillance System (GLASS)
, a program for that tracks emerging areas of resistance, regularly analyze and report surveillance data, and work toward establishing international surveillance systems for AMR.
Consideration of socioeconomic factors in combating AMR is essential
International organizations must address socioeconomic drivers affecting the use and manufacture of antimicrobials. Governments must improve communication among stakeholders to develop solutions for AMR, and cultural considerations and practices will vary depending upon the communities involved. Additionally, priorities and concerns for combating AMR in industrialized nations may differ from those of developing nations.
The use of antimicrobials for growth promotion often results in larger animals that can be marketed faster – potentially resulting in higher profits. In developing nations, AMR may not be as high of a priority of an issue as the lack of access to antimicrobials. Alternatively, efforts to control AMR may be hindered by local politicians, leaders, and community structures for whom economic development, employment opportunities (particularly where jobs are scarce and wages are low) and income from the pharmaceutical industry could be higher priorities than monitoring antimicrobial production and disposal practices that may not be of immediate concern.
Future directions
Common themes of discussion at the UNGA included increasing international political will for effective action on AMR; national action plans for AMR; better AMR surveillance; successful stewardship; access to affordable rapid diagnostics and medications; animal to human transmission of AMR; and increased awareness of challenges faced by developing nations with regard to antibiotics and AMR. Future efforts will focus on the coordination of efforts among the WHO, Food and Agriculture Organization of the United Nations (FAO), World Organization for Animal Health (OIE) and World Bank to execute ongoing AMR plans. In summary, the
UNGA high level meeting on AMR
was an important first step, as 193 countries signed a
declaration
to commit to working together toward fighting AMR – a historic event and the first-ever declaration of this type. A progress report is expected at the UNGA in 2018. It is hoped that moving forward, nations will abide by their commitments so that significant progress toward effectively managing AMR will have been accomplished by then.
Dorkina Myrick is an alumna of the Blavatnik School of Government (MPP Class of 2015) and a physician-scientist from the United States of America. She can be found on Twitter.