Acting boldly on HIV/AIDS
Estimated reading time: 2 Minutes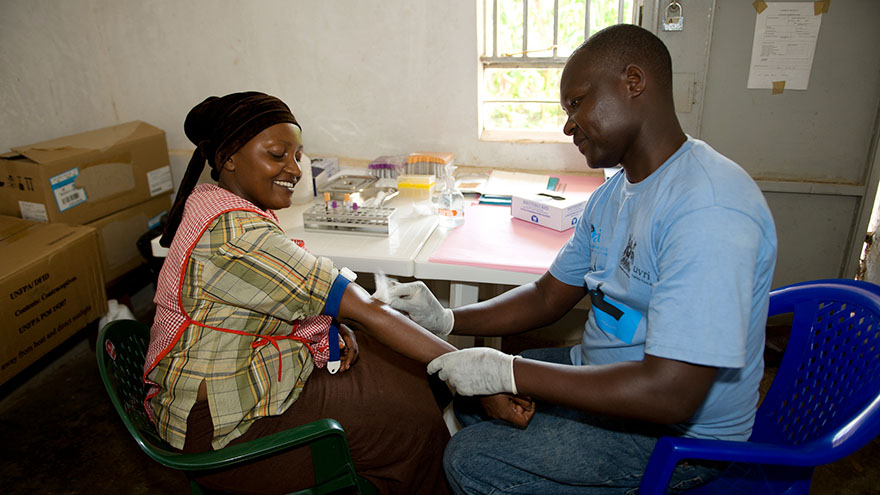 [caption id="attachment_7860" align="alignnone" width="880"]
A woman prepares for an HIV test in Uganda. ©2011, Sokomoto Photography for International AIDS Vaccine Initiative (IAVI)[/caption]
Kenya's HIV/AIDS 2015 conference, Maisha 2015 (meaning life in Swahili), in which I gave a Keynote Address, highlighted the knowledge and advocacy resources that have been mobilized by the country to fight the HIV pandemic.
My speech focused on the mission and messages of
RethinkHIV:
Death sentence to debt sentence: Kenya's long-term HIV liabilities and how to finance them.
The speech was well received by the audience, particularly the Cabinet Secretary for Health and other government officials, as it managed to present in financial and economic language what health professions have been trying to communicate to Treasury officials and international donors, in their quest for mobilizing financial resources.
Clearly, a business-as-usual approach will not help the world in dealing a final blow to the disease. The disease has evolved from being a clinical emergency into a chronic disease, due to the success of treatment through antiretroviral therapies (ARTs). The disease is no longer a death sentence. There is an inherent duty of rescue from continuing to treat those infected for the rest of their lives. This obligation to treat and prevent also flows from the duty of rescue, and implies that countries face long-term financial obligations. These liabilities constitute a hidden debt. Countries have been sentenced to debt: we have moved from a death sentence to a debt sentence.
HIV interventions are no longer an expense item, but rather an investment item with a corresponding return on investment. Frontloading this investment in HIV interventions yields a positive rate of return on investment, which is superior to most commercial returns. Treasury departments should begin to see HIV funding as investment and not expenditure, just like infrastructure for example.
In seeking to fund these future liabilities, bold responses are required from both the policy-makers and the international community. New commitment mechanisms need to be crafted, as the only way to exert concerted efforts on the disease. For policy makers, there is still additional fiscal space to be sought in earmarked taxes, economic growth, prioritizing health, and prioritization of HIV funding. Other domestic sources could be levies on natural resource revenues, social-impact bonds, airtime levies, or national health insurance schemes, among other innovative strategies. Co-financing strategies between health and HIV and other sectors such as education would leverage resources through multiple outcomes. Domestic funding in both prevention and treatment should be scaled up!
For the international community, there is a need to rethink the global financial architecture around funding the disease. Should the Global Fund and MDBs, for example, begin to use guarantee mechanisms to enable countries to borrow for HIV interventions? Should replenishment cycles be lengthened beyond the usual 3 year-cycles, so as to begin to match the long-term nature of the liabilities?
Even a reclassification framework that gives more weight to health access and health quality, beyond income levels, will push more global resources towards countries with the worst health challenges.
It is clearly time to act boldly!
Mthuli Ncube is a Senior Research Fellow and Project Leader at the Blavatnik School of Government, and the principal investigator of RethinkHIV. This blog post first appeared on the Rush Foundation website.