Academia and politics: From lecture halls to policy war rooms
Estimated reading time: 3 Minutes
Image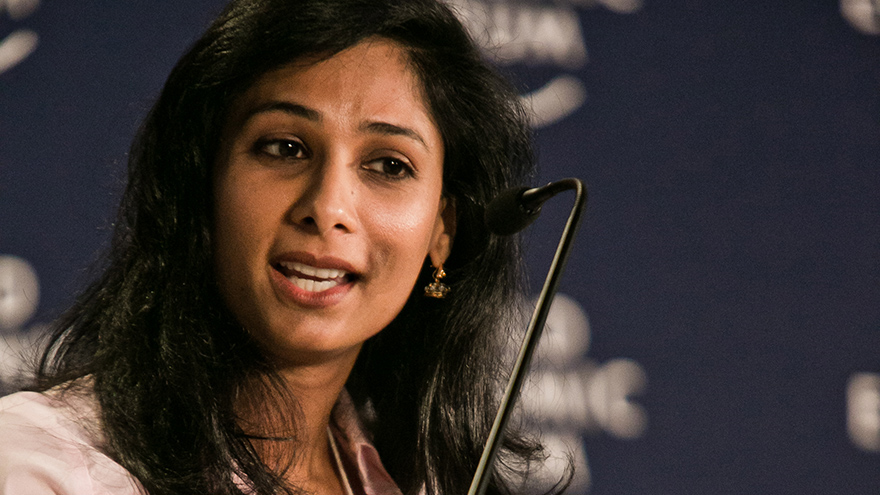 Recently, Harvard University professor Gita Gopinath has been appointed as financial advisor by the office of
Pinarayi Vijayan
, the Chief Minister of Kerala, the southernmost state of India.
The row that followed
has once again opened the debate on the role of academia in the business of government and policy making.
[caption id="attachment_8376" align="alignnone" width="880"]
Gita Gopinath, Professor of Economics, Harvard University, USA; Young Global Leader; Global Agenda Council on the International Monetary System at the World Economic Forum on India 2012. Source: Wikipedia.[/caption]
It is significant that Chief Minister Vijayan leads the current Left Democratic Front government of Kerala and is a member of the Communist Party of India (Marxist). Kerala incidentally boasts bringing to power the first democratically elected communist government in the world under the leadership of Elamkulam Manakkal Sankaran Namboodiripad,
popularly EMS
, in 1957. Quietly heard in the corridors of the Communist Party of India's office was a murmur of disapproval, for Gopinath (whose roots lie in Kerala) is perceived to be a
neo liberal
– an insult for a dyed-in-the-wool communist.
Each regime brings on board people who tow their ideological line and say what they want to hear. This is why Gopinath's appointment, with not much of an earth-shaking opposition from the
politburo
, deserves a blog. It signifies that the left is ready to reassess their positions, change their stances if needed, and be more pragmatic while in power. In the past, they have refused to join coalition governments at the centre, missing great opportunities for both themselves and the country. In appointing Gopinath (she will not be paid and will continue to operate out of Harvard), the Chief Minister is making a strategic shift for the good.
Academia and governments open their doors to each other and the list of people who have moved in and out is fairly long.
Milton Friedman
,
Larry Summers
and
Raghuram Rajan
are eminent economists who have also held public offices at different times. To a lesser extent, very often governments bring on board the
academic expert
, while classrooms welcome the
practitioner's perspective
with admiration. Technical committees on flood management, agriculture, surface transport and dams are always a combination of the theoretical experts on the subject and practitioners. Yet often the relationship is uneasy and strained, and there is more acrimony than acceptance.
Here are some tips to iron out the wrinkles:


Understanding each other's domains: While academics base their theories on verifiability and validation by numbers, politics may not always be about doing what has been proven and tested. The life cycle of each piece of legislation by the parliament is a story of compromises ad concessions. Sections are dropped, new ones are added and the final act takes a different shape from the original draft. When government orders and acts based on technical recommendations deviate from the 'expert speak', what follows is acrimonious public mudslinging. This stems from a non-appreciation of each other's domains. Experts' recommendations are only a guidance, while Parliament's authority in lawmaking is absolute (at least in most countries). Accepting this fact should prevent heartburn.


Sweating the small stuff: I know people who worry about spending $10 or $11 in situations where it hardly makes a difference. Debates and arguments over trivialities happen only because each side does not want to be seen giving in to the other side. The result is a debate that should not have started in the first place. After spending significant time and energy, the big stuff ends up being done hastily as the life span of the committee is painfully close.


It is (almost) never personal: Academics and policy practitioners should accept that difference of opinion is never personal. The reason why both sides have been put together on a round table in the first place is to provide an all-round view. Hearing the practical side is just as important as hearing research findings, and it's rarely the case that practitioners have no theoretical base or academics lack practical sense.


 
It is very important to understand that both sides are seeking answers to the same questions. With respect and mutual acceptance, the quest becomes easier. After all, cooperation has yielded more value than confrontation in human history.
Susan Thomas is currently studying for an MPP at the Blavatnik School of Government. She works with the Government of India and has handled various assignments in corporate and personal income tax, anti corruption and vigilance, capacity building, budgeting and personnel management since 2001.