On the frontline of the COVID-19 pandemic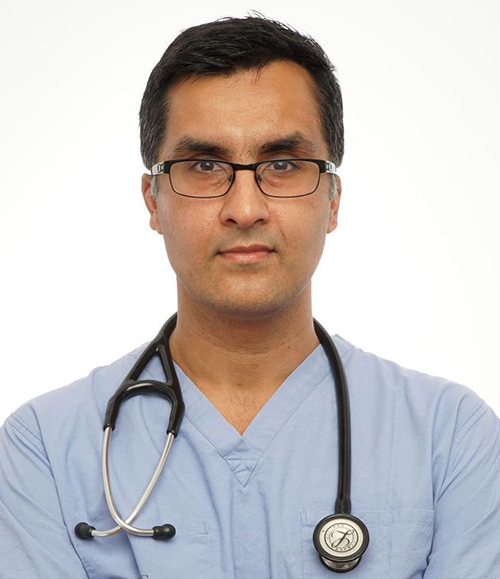 A practising physician in emergency medicine, Adil Shamji (MPP 2017, Canadian) is committed to helping Canada's most vulnerable and marginalised communities. Prior to the Master of Public Policy (MPP), he spent a significant amount of time working in Canada's remote Northwest regions. Occupied by historically neglected Indigenous communities, these are regions where the need for healthcare is most acute.
"I came to the MPP because the most serious problems I encountered were rooted in failed social policy," he says. "I wanted to amplify my impact and understand how to convince politicians to address the social determinants that lead to vast health inequalities."
Returning to Toronto after completing the MPP, Adil sought to carve out a niche for himself at the intersection of medical practice and public policy. Then the COVID-19 pandemic hit. After working alongside the chief of his emergency department to prepare for what was to come, he was invited to work with Canada's largest organisation providing medical care to people experiencing homelessness. The organisation leased out empty hotels across the city to provide shelter; Adil was charged with establishing primary care clinics in the eight hotels with the highest acuity of medical need, offering general practice services in addition to addiction and psychiatry services.
With the rollout of the vaccine, Adil has been working with this same organisation to maximise uptake within the homeless population, many of whom have a complicated relationship with the healthcare system. "We had to leverage our knowledge and trust and it's very much an ongoing process. I'm leaning on everything I've learnt over the years, including behavioural insights that I gained during my time on the MPP."
The past year has only served to deepen Adil's conviction that government would benefit from the involvement of more people with science and healthcare backgrounds.
"Toronto was hit hard by the SARS pandemic in 2003, yet the political memory was short-lived. Many of the same lessons emerging now on how we could have responded to the COVID-19 pandemic are the same as those we supposedly learnt in 2003."
Looking beyond the pandemic, he is keen find a way to increase his interaction with policymakers. "I often reflect on advice that I was given by Ngaire [Woods, Dean of the Blavatnik School] – that I wouldn't reach my final destination as soon as I completed the MPP and that it will take many small steps to get there. I'm taking every opportunity that I can to have an impact and it's great to know that I have the knowledge and support of the Blavatnik School behind me every step of the way."
June 2021