Yemen's youngest minister, now a Fellow of Practice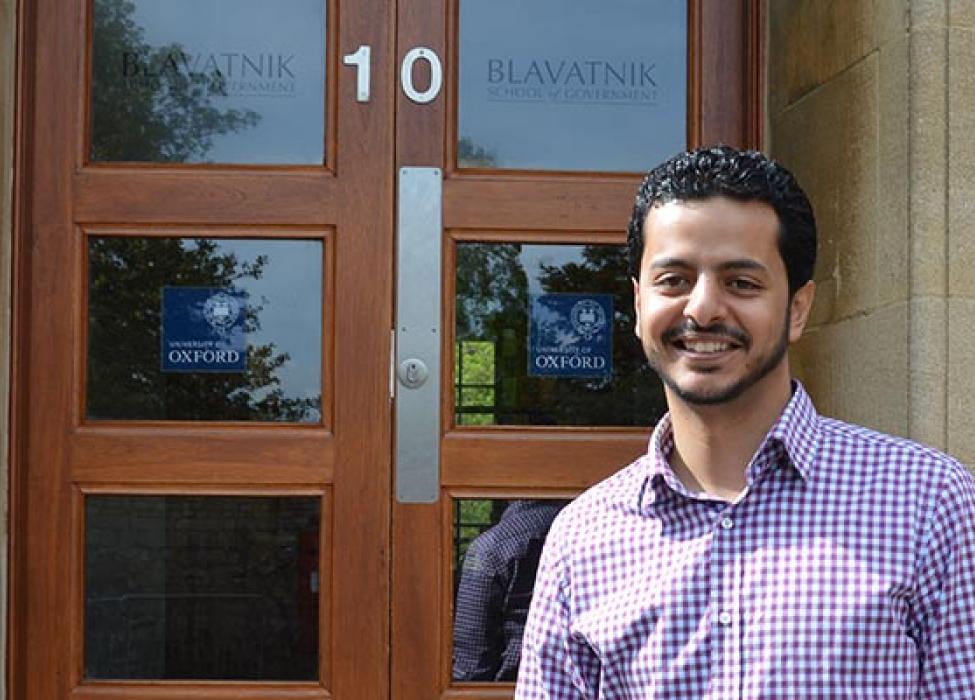 MPP alumnus Rafat Al-Akhali's public service career path brings exciting opportunities for driving change at the heart of his country's government.
An alumnus of the Blavatnik School of Government's first MPP class, Rafat Al-Akhali now works for the Executive Bureau in the Government of Yemen. It's a challenging role that puts him at the heart of governmental innovation at a time when his country is in a period of political transformation. Following the 2011-2012 Yemeni revolution, a new constitution is currently being drafted that will officially federalize the state and devolve power to six regions across the country.
Rafat readily admits that when he applied to the Blavatnik School, he didn't have a big career plan for his future. All he knew was that after gaining his MBA from Montreal, he was not satisfied by the work he found in IT consultancy. He was looking for something more, something that would feed his passion for public service, his desire to drive positive change.
He already had some experience of government through his advocacy work. He founded an advocacy group, Resonate! Yemen, when he was a student. It's a youth-run foundation that aims to bring the voices and ideas of young Yemeni's to Yemen's public policy discourse and supports youth action on issues of national and international significance.
What he found at the Blavatnik School was the time, space and intellectual stimulation to encourage him to reflect on his future and challenge himself into new ways of thinking. He began to get a clearer idea of what steps he might take to achieve his ambitions of public leadership and positive influence.
"The course gave me the chance to think about what I wanted to do and how to get there if I wanted a role in the political process, which is what I realized I was really looking for."
While he is now on the public service career pathway, Rafat can see this taking him in two different directions, either higher up in the policy arena, as a senior civil servant in one of the ministries, or in politics, as an elected representative in a government. He's currently bridging the two pathways. As well as holding his position with the Executive Bureau, Rafat is a co-founder and member of a newly established political party, which is represented in the National Dialogue Conference of Yemen and hoping for elections to take place later next year. He is also a nonresident fellow with the Atlantic Council and remains engaged with the work of the advocacy group, Resonate! Yemen. 
 On 11 November 2014 alumnus Rafat Al-Akhali (MPP Class of 2012) was sworn into the Yemeni cabinet as the youngest minister in the history of the Republic of Yemen; the Minister of Youth and Sports, a post he held until September 2015 when the conflict in the country meant he came back to the UK. He is now a Fellow of Practice at the School - read his profile here.
May 2014