Zahra Latif, from the third sector to policymaking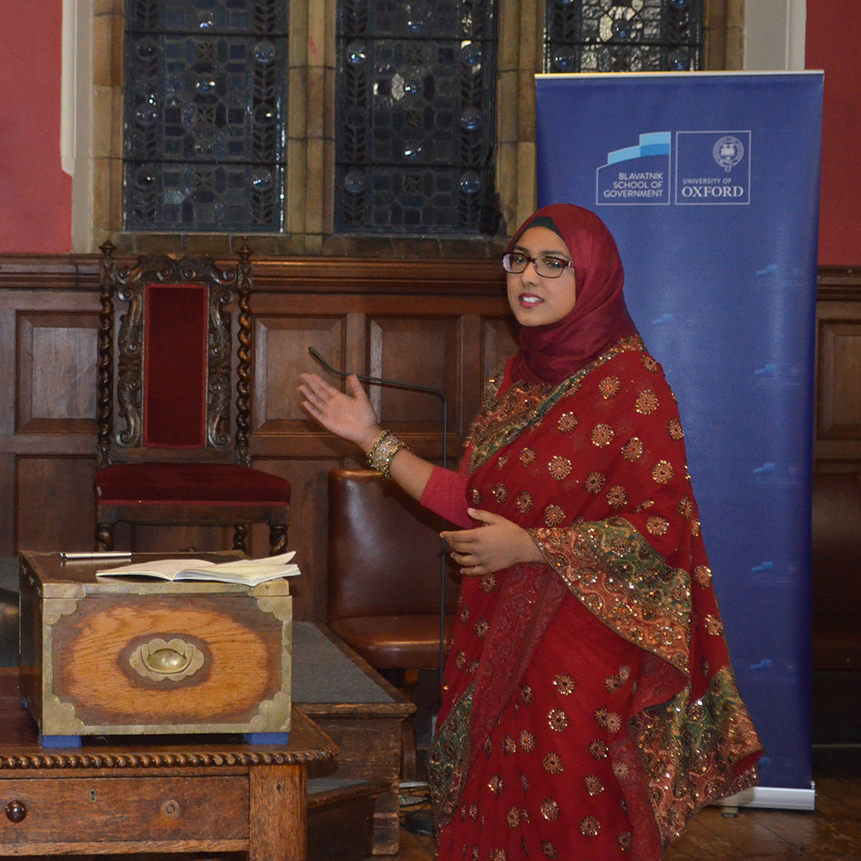 Upon graduating from the University of York with a degree in English Literature and History, Zahra Latif (MPP 2015) joined the Lokahi Foundation, a third-sector "think-and-do tank" which aims to pioneer social change through enhancing positive relationships within diverse communities. This fed her passion for striving to create vibrant and cohesive societies.
Following this, she was Chief of Staff at the Patchwork Foundation, which endeavours to highlight that politics is for everyone by bringing together under-represented groups with political influencers, and spent time working with the National Union of Students on interfaith and cohesion on university and college campuses.
Her decision to apply for an MPP came when she realised that there is a lack of connection between different sectors within society, and in order to create meaningful and lasting social change there is a need for a reshaping of public policy. A British second-generation immigrant, Zahra wanted to gain a breadth of skills that would allow her to help build unified communities in the UK, and provide under-represented groups with a voice in the political arena.
"I wanted to understand how policy was made and influenced, and the ways in which these decision makers' minds worked. I knew in order to do this effectively, I needed an academic grounding so I could fully comprehend the different aspects of policy, from economics to politics. But I also wanted a course which was practically focused. I only applied to the MPP at the Blavatnik School of Government and was overjoyed when I was accepted onto the course and received a Blavatnik School scholarship."
The year has seen Zahra develop her understanding of economics, deepen her knowledge of politics and law, discover behavioural science, and hone her professional skills.
"One of the most beneficial things about studying at the Blavatnik School of Government is that I am just one of two Brits out of out a class of 117. I believe that this is such a huge advantage: not only am I learning about policy and government in 53 other countries from my classmates, but I'm learning so much about other sectors and industries. I hear about real-world experiences, and have learned different ways to tackle challenges – it's really broadened my mind and, as a result, my horizons."
Zahra, who is undertaking her Summer Project at the UK's Cabinet Office, knows she is leaving the Blavatnik School with the skills that will help her make the social change she wishes to make. "One of the things I've learnt this year is that there's no 'silver bullet' that can fix the problems we face in government; politics and effective policy making is all about building relationships. I'm sure that the relationships I've cultivated whilst at the Blavatnik School will provide stimulation, support and productive challenge for years to come; I am so excited to take my next steps, and to see where I (and all my classmates) end up."
July 2016