Weijie Tan, Jardine Scholarship
Policy interests spanning the public and private sectors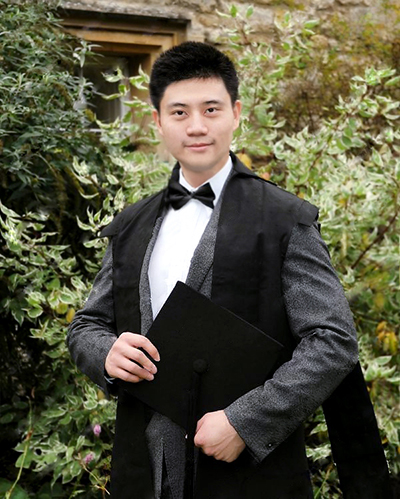 Weijie Tan's (MPP 2017) interest in public policy was sparked while he was in middle school, when he witnessed the impact of the Chinese government's response to an earthquake. "During that earthquake, I saw how the government can play a very positive role in society." Hoping to pursue a career in government, Weijie went on to study Government and Economics at Peking University, and do internships with the United Nations and in Chinese local government.
He later began to see the merits of both the public and private sectors in terms of impact on society. "I decided to study for two Master's degrees: one in Economics and Business, as an inaugural Schwarzman Scholar in Tsinghua University, and in Public Policy, at the Blavatnik School in Oxford. In either sector, you can make a difference." Weijie's policy interests and experiences are correspondingly wide-ranging.
"I'm very interested in Chinese financial policy, but also other areas, such as educational inequality and rural-urban migration. I have volunteered as a teacher in rural areas, not only giving students specific knowledge, but also sharing my own experience, and how I changed my life through education. I was selected as a Global Shaper because of this."
When considering further postgraduate study, the MPP stood out to Weijie as the best way to pursue his commitment to public sector work.
"My previous studies of government were very general; I wanted to have a deeper understanding of public policy. Also, the MPP class is extremely diverse, so I can make friends with students from around the world. Finally, I had the opportunity to talk to our Dean, Ngaire Woods, when she was at Schwarzman College last year. My conversation with Professor Woods strengthened my determination to apply for the MPP here."
After Weijie received his offer to study at the School, the Admissions team encouraged him to apply for various scholarships, and he was awarded full scholarship from the Jardine Foundation, which sponsors students who have the potential to become outstanding citizens. Being a Jardine Scholar has connected Weijie with a network of other scholars, and also gives him access to a variety of social events.
Alongside Weijie's academic aspirations, he aims to make the most of the year by taking part in as many extra-curricular activities as his busy schedule will allow. "I want to experience the culture in Oxford. I enjoy interacting with my classmates, attending networking events, going to the museums, and to the Oxford Union. You need good time management – this is a very important skill that I am developing here."
Weijie has an offer to study for an MBA at Harvard after the course, but hopes to gain further professional experience first. Whether it's in the public or private sector, he is sure he will use the skills he has developed at the School.
December 2017