Safak Muderrisgil, bringing family to Oxford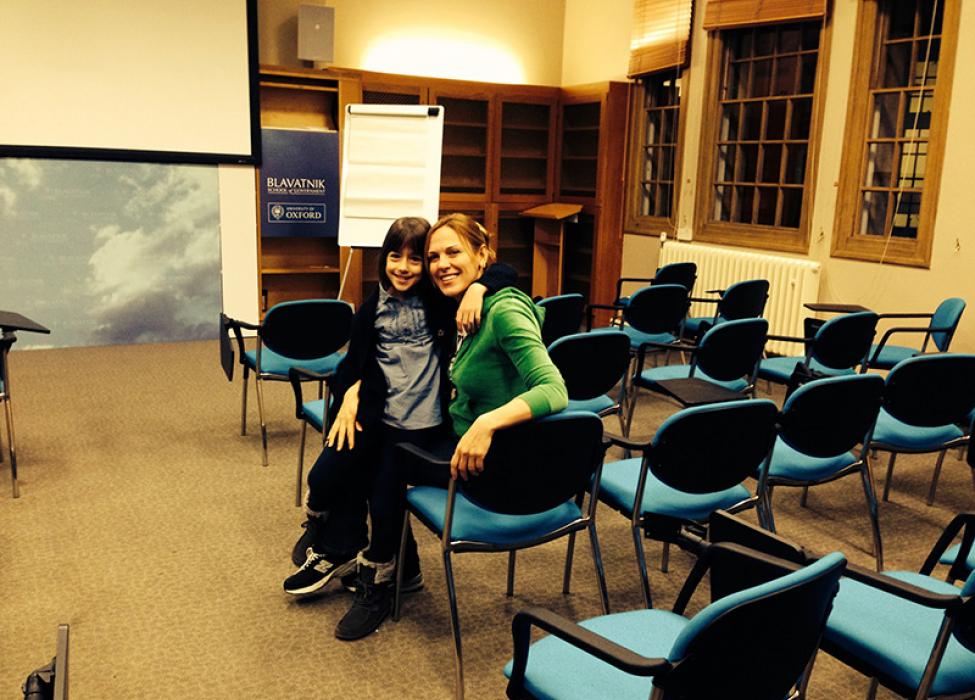 Oxford is a welcoming city for international families.
Choosing to take a break from a successful career and moving to a foreign country to take up a rigorous course of study in a new field would be a big decision for anyone. For Safak Muderrisgil (MPP 2013), from Turkey, there was the added challenge of bringing her 8-year-old daughter, Zeynep.
Before moving to Oxford Safak practiced law for many years and for the past two was advising the (now former) Minister of Social Policy in Turkey. Alongside her legal career she also ran an NGO, which she established 15 years ago. She applied to study the MPP to gain a good grounding in public policy as her career moved towards policy making.
When she came to study at Oxford she also needed to find a school for her daughter Zeynep, who would be accompanying her for the year. "My daughter and I came to Oxford last summer to see how it was and if we could find a good environment for her at the same time. We had some meetings with schools and then we moved here in August. She is now attending a school in Oxford. She is very happy and very positive about it. Her English language improved so quickly, she has been learning English since she was 3 years old but the difference is really noticeable – she is now correcting me!"
Safak admits that it involves a lot of juggling to be both a parent and a student. "The schedule is very busy with deadlines and assignments all the time. You also have to be ready for the classes and do readings in advance. It is not easy but I try to schedule everything and give some time to my daughter. As soon as I finish here at school, most of the time I run home to meet her. I rarely go out at night but sometime I do and I get a child minder to stay with Zeynep."
Safak and her daughter have found Oxford to be a welcoming place.
"Oxford is a child-friendly place. It is very easy to access anywhere in Oxford as it is a small town. The residents are used to international people; that makes it easy for people who want to move over here with their family. Zeynep didn't have difficulty coping with the environment here, as people were happy to bring her in to their circles. That is an important thing."
"There are lots of things to do for children and lots of activities. Zeynep has met lots of writers here, she loves reading and she met a lot of writers whose books she has been reading. That was very exciting for her. The museums are very nice, as are the surroundings. It is really enjoyable being here. Cycling in Oxford is wonderful, we like it so much, we get on our bicycles and we go to Port Meadow. We really like it because both of us like being out in nature very much."
After the MPP Safak and Zeynep plan to return to Turkey. Safak is doing her summer project in the Ministry of Energy and after graduating she hopes to work in a public policy area within government in Turkey using the skills she gained in the MPP.
March 2014