Natalie Barnes, an Australian diplomat branches out into new policy areas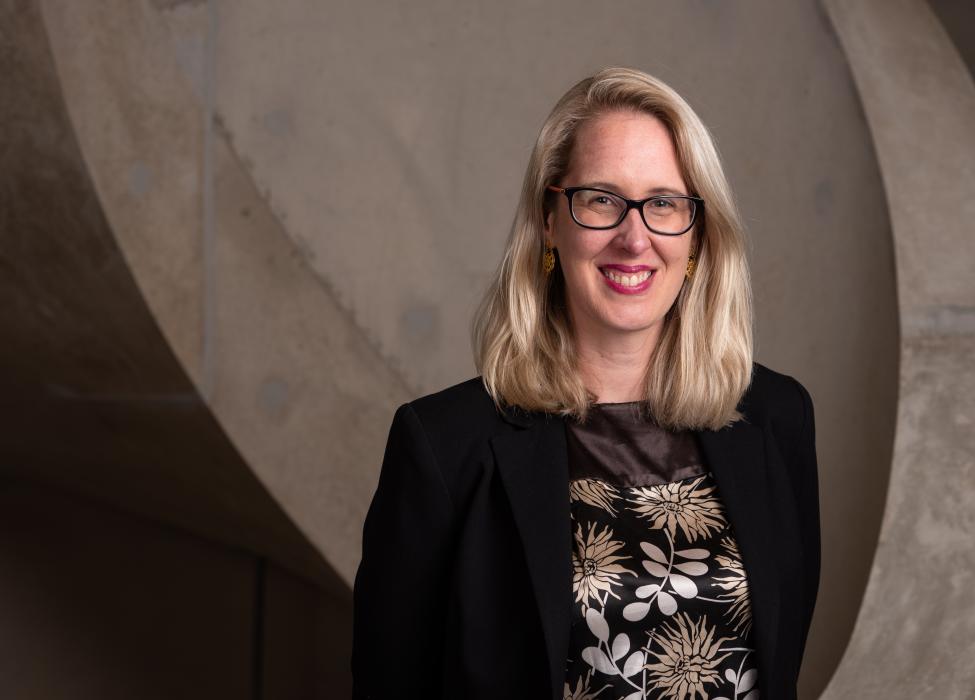 Natalie Barnes (MPP 2018) came to the Blavatnik School with 12 years' experience in the Australian Foreign Service. As a diplomat she has lobbied for human rights and disarmament in North Korea; built a green growth partnership in South Korea; supported Australia to open an embassy in Ulaanbaatar, Mongolia; and negotiated free trade agreements with Pacific Island countries.
As a generalist, Natalie is required to work on diverse subject areas such as international trade, economics, security and politics, using her own insights as well as drawing on expert advice. "The MPP has refreshed my confidence and skills, allowing me to deepen my knowledge on familiar topics like international law and human rights, but also branch out into new policy areas like cyber and energy policy, counterterrorism and encryption laws, drones and civil aviation laws, statistics and behavioural science. For my summer project, I was keen to leverage the multidisciplinary learning experience of the MPP in a practical way and explore what behavioural insights can offer foreign policy."
Immediately prior to the MPP Natalie was based at The Hague as Australian Deputy Permanent Representative to the Organisation for the Prohibition of Chemical Weapons (OPCW). "There was a very active agenda for the council in light of the repeated use of chemical weapons in Syria and the unexpected, quite brazen Novichok attack in Salisbury," she says.
While action against chemical weapons use has traditionally attracted consensus, a lack of unanimity in the UN – with repeated use of the veto in the Security Council on Syria – raised the stakes in the OPCW, which can operate on majority voting if necessary. "The objective was to ensure there was no impunity for those who would use such abhorrent weapons – if action was not going to be possible through the UN, it had to happen in The Hague," says Natalie. "There was a counter-campaign to suggest that certain decisions went beyond the OPCW's mandate. Suddenly this very beautiful, tranquil town became the epicentre of a lot of international diplomatic lobbying, intrigue and action. My time at the School has allowed me to round out the theory of what we were doing in practice."
As a mid-career practitioner, Natalie was drawn to the balance between theory and practice that the MPP offers, as well as the broad range of policy areas covered on the course. The small class size and international character of the MPP were other significant factors in her decision to study at the School.
"Working with classmates from such a variety of backgrounds has taught me that diversity requires proactive efforts on inclusion to ensure individuals can enjoy a sense of belonging, be authentic, and exercise their own voice."
Outside of the classroom, Natalie has embraced the personal development opportunities on offer to those who study at the School, including taking on the role of student representative. "Being able to contribute to the School as a rep has been a real privilege," she says. "It has offered me a chance to explore my leadership credentials, refine my communication skills, work in a great team and deepen ties with this extraordinary bunch of motivated and talented people."
"Overall, the MPP has made me interrogate and challenge my assumptions and make them explicit. In the Foundations module, the professors equipped us with the tools to unpick and debate the ethics and virtues surrounding freedom of speech, feminism, immigration, human rights, and authority and legitimacy to exercise power. I can better identify my own assumptions when consuming the news and have developed a more nuanced framework for analysing contemporary social movements like those propelling Brexit. This was exactly what I had hoped to achieve by the end of the course."
When she returns to the Foreign Service, Natalie will be First Secretary (Political) at the Australian Embassy in Washington.
"I expect to draw on my immediate knowledge from cyber and energy option modules in the MPP, as well as a deeper appreciation for philosophical debates and ethical, strategic and political decision-making I gained from core modules."
"I finish this year knowing I have dear friends all around the world with whom I can cooperate in future to deliver on the school's vision of a world better led, better served and better governed. I can be confident that no matter which country I'm diplomatically accredited to in future, I will have an MPP mate nearby."
The views expressed above are those of Ms Barnes and do not necessarily reflect the views or opinions of the Australian Government.
July 2019