Strategic analysis and policy advice within the European Commission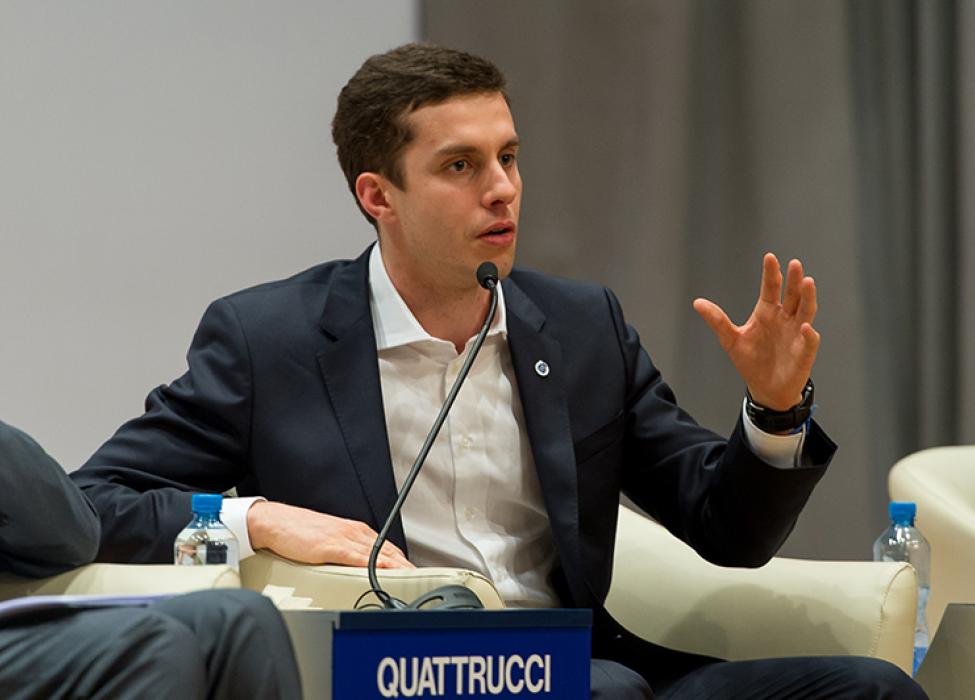 In 2013 Leonardo Quattrucci was a 21-year-old about to finish his undergraduate exams at John Cabot University in Rome, and unsure about what to do next. As an undergrad, he had tried a few things out – "to get my hands dirtier than by just reading books" – from public service at the Italian Parliament and the US Embassy, to organising with student associations, to policy research, particularly on migration.
"When I discovered the Blavatnik School of Government, I realised what this colourful and incoherent blend of experiences I had accumulated meant to me. I could see the underpinnings of my motivation. First, the idea that equity in opportunity is a must but not a given yet. And it should be a given because, for instance, a child has no responsibility for her initial life conditions or where she is born. Second, that principles are necessary but insufficient and incomplete. Realising that vision of intergenerational equity takes practice and pragmatism. Third, that I wanted to be part of delivering that public service – equitable opportunities – and that doing so would have required the hardest preparation for the highest responsibility."
Leonardo continues: "When I saw that the school had gathered a cohort of exceptional people from all walks of life, I decided that this was where I wanted to belong. I was too young and inexperienced – many told me. They were probably right, but I applied. And the privilege of being accepted against the odds speaks more to the School's vision of intergenerational equity and audacious leadership than anything else."
During the MPP, Leonardo found that the challenge of a hugely diverse class taught him the value of service: "There are human interests that go beyond our parties and positions, borders and bonds," he says, "and serving them is what makes as many of us better off. We become individually stronger by being collectively more united. This is not just a theory, but a lived experience."
Working with his classmates also taught him the value of empathy. "All failures are failures of empathy – General McNamara used to say. Empathy is  what allows us to understand and anticipate the other side's constraints and turn them into possibilities. This is true at a negotiation table as much as in our effort to counter radicalisation. is also the type of uniquely "human" intelligence that will make us thrive in the changing workplace. Finally, empathy is how we can feel at home in a globalised world – and make the most of it."
He praises School activities such as the policy simulation of climate negotiations led by Thomas Hale, "instrumental to grow the empathy muscle; by practicing notions of  cognitive science or negotiation techniques in a "real life" situation you make them truly yours and realise how valuable they can be. This was the best learning." There are also "harder" skills which Leonardo acquired at the School and he uses everyday: he says that producing about a policy memo a week, every time engaging with a new matter, and having to present recommendations in concise, digestible and possibly visually appealing ways, were the best rehearsal for his current job and public engagements.
Leonardo in fact is a regular contributor for Alley Oop, a blog of Il Sole 24 Ore (the most popular Italian daily business newspaper) as well as writing for other outlets. This year he also spoke at the Annual Meeting of the World Economic Forum in Davos on New Models for Europe (available to watch via livestreaming) and has written about it in the article The future is becoming a burden on the young. These three principles could change that. 
For almost two years now, Leonardo has been serving in the European Political Strategy Centre (EPSC), the European Commission's in-house think tank that reports directly to the President. "The Centre is a rare form of institutional intelligence, with a mandate to provide the most rigorous and timely strategic analysis and policy advice for policy-making to be evidence-based, as well as to innovate and offer foresight and anticipation," he says.
Starting as an analyst working on the future of work and innovation, he quickly became Policy Adviser to the Head of the EPSC, assisting her in managing six interdisciplinary teams of top-notch analysts. As part of the managing team, the role stretches from strategy formulation and execution, to recruitment and team engagement.
In 2016, Leonardo was also included in Forbes' 30 under 30 for policy, but he keeps his feet firmly in the ground: "Time is always a better – and more impartial – judge of our impact. As far as I can see, though, some of the EPSC's papers have become influential platforms for policy conversations and actions I also believe that the simple fact that a policy-start up like this Centre exists proves wrong the myth that innovation cannot exist in the public sector."
As to what will come next, besides continuing to serve the European Commission and the European project, Leonardo is keen to "give back and give forward".
"At the moment, public entrepreneurship is not a quality of my generation: twenty-somethings insufficiently show up to vote, volunteer or engage in civic discourse – which is not the same of social media buzz. At the same time, we have a problem with intergenerational equity: some of today's pupils risk becoming tomorrow's poor. As someone who has been privileged, I feel a responsibility to give back beyond my circle of concerns; to give forward to those who come next. This is why I am engaged in projects such as Inside Numbers Economic and Society that aims to gamify complex, politically salient issues to make them accessible to the wider public, and the Tecnopia Award in Italy, which explores how digital literacy can help us look at the future of work with optimism, confidence and preparedness. Giving forward should be the new giving back."
January 2017